by The Town of Surfside Beach
The 9th Annual Surfside Rotary Turkey Trot will take place in Surfside Beach, on Thanksgiving Day, November 22, 2018 and will start and finish at the Surfside Pier. 
Festival Promotions, which produces the race, is working to make this the premier Turkey Trot in the Southeast, and is very excited to be working with the Town of Surfside to showcase our beautiful community.
The course is fast and flat and highlights the beauty of Surfside Beach. Runners will start and finish with a view of the beach and will enjoy many of Surfside's great neighborhoods. For visitors to Surfside Beach, this is a fantastic area and somewhere you will want to visit over and over.
With multiple race options including 5K, 10K, 1 Mile and a free "Tot Trot," there is something for everyone. Join more than 1,300 runners for this fun event.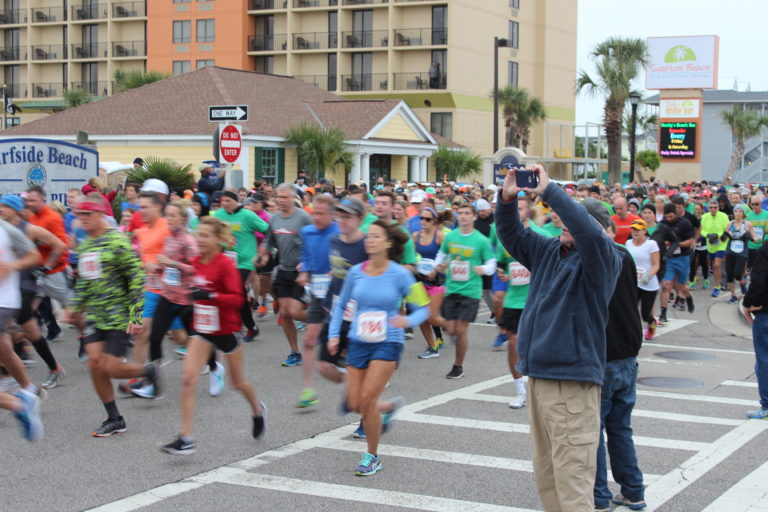 RACE SCHEDULE
Wednesday, November 21:
– 4-7 pm – Packet Pick Up outside beside the Surfside Pier
Thursday, November 22:
– 7- 8:20am: Packet Pick Up at the Surfside Beach Pier parking lot
– 8:30am: 10K and 5K Races Start
– 8:35am: 1-Mile Race Start
– 10:15: Tot Trot Starts
– Kids in the Tot Trot run for free
– Walkers are welcome and encouraged
– Runners/walkers with strollers are also welcome
A contribution is being made to the Surfside Area Rotary Club to support their charitable works in the Surfside Beach community. Go to mbturkeytrot.com to register or for more information.