by the Town of Surfside Beach
Busy on Sunday? If you're looking for something different and unusual to do, why not come to Passive Park on Surfside Drive after 2 pm and listen to the Sunday Serenades? 
Ten years ago, Glenn "Hounddog" Hanson had an idea. A talented guitarist and singer knew how hard it could be to find a public place to play. There are a lot of entertainment venues on the Grand Strand, but most of them are looking for bands, or established talent. Hounddog knew there was a lot of talent out there that needed a place to be heard. He approached the Surfside Beach Town Council with the idea of supporting live music by giving the artists a place to perform. The council agreed to the idea, and a small stipend was placed in the town budget.
The first year of Sunday Serenades were performed at the pier, at the request of the council. For several reasons, this did not work out, and the show moved to the park for its second season. This was where Hounddog wanted to be all along. The natural setting and the mostly acoustic music were made for each other.  
Over the years, the setting has changed. The first few years, performers played on a concrete platform, out in the open. When the town installed the circuit exercise equipment in the park, the platform was taken over by a stationary bike. The bike was moved, and was replaced by a gazebo. Within a few years, the gazebo grew a small stage, and then a roof was put over the stage, to protect the talent from mother nature's ways.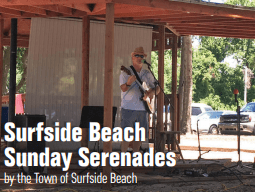 Musicians are given 45-minute sets to display their talents. Hounddog says his only requirement to perform is: "You have to be willing to face the public for 45 minutes." He has a roster of repeat players to choose from. If you are interested in playing in the Surfside Sunday Serenades, please contact Hounddog via email or message him via Facebook. Don't forget to hit "Like" when you go to the Facebook page.