Ringing in The New Year With a New Location
by Melissa LaScaleia
Frank Espinal opened ShipOnSite in 2007, and grew his original three profit centers to eight since that time. The neighborhood pack and ship store has relationships with all the shipping carriers (like UPS, FedEx, DHL, the post office and more), and compares prices and shipping times between them, processing your shipment depending on your needs. They specialize in shipping freight, as well as crating delicate and high-value items. 
ShipOnSite can also sell items for you on eBay and perform office related services. With their PrintOnSite and GraphicsOnSite services, they can develop graphics for any type of media and execute large-format printing. 
To ring in the New Year, Frank is excited about moving his Myrtle Beach store to a larger location, in response to his company's growth. 
This past year, ShipOnSite launched three additional services. One of those is MailOnSite— ShipOnSite's version of a virtual mail service, which operates like your own personal mail manager.    
"With this service, you receive mail at our store, we take a digital image of each piece, and upload it to your online account," Frank says. "We open and scan the mail you want to see, shred what you don't, and the image is uploaded to your account where you can direct us how to act for you further. We can also forward mail that you request to a different address." 
The service is so comprehensive, that they can even deposit checks for you. 
CourierOnSite, another innovation, is a courier service for and between businesses in Horry County. Frank has plans to expand that service into Georgetown County over the course of the next year. And several months ago, he launched a new shipping app.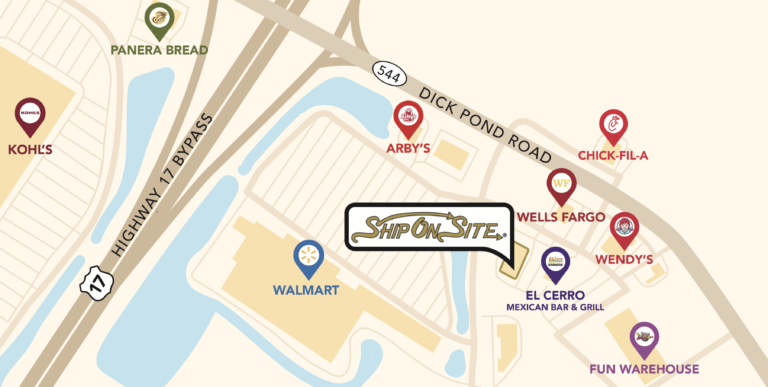 "The app will tie everything together," he says. "It's a pretty robust program, with many features adaptable to everyone's daily needs. On it, you'll have a direct connection to our store, you can get shipping quotes, order courier service, track packages, subscribe to a virtual mail box service and much more." 
This month, ShipOnSite Myrtle Beach is moving to a new location in Surfside Beach. 
"It is 1000 square feet larger than our original store," he says. "We're using the extra space to manage the increase in our in-house printing as well as the expected increase in shipping volume from e-commerce." 
Today, in the United States alone, e-commerce generates 50 million packages per day. In the next five years, that number is expected to double. 
"That's a number that we need to be able to accommodate," Frank says. "From the sheer volume of e-commerce, we're positioning ourselves to be able to be a package hub for our customers." 
ShipOnSite has long been a member of the largest retail shipping trade organization in the country, which developed a business model called Package Hub Business Center in 2019. 
"We enrolled in that business model which connects us to the logistics network of large-scale retailers such as Amazon, Walmart and Target," Frank says. "Which means that ShipOnSite will be better equipped to more thoroughly serve the customers of those establishments, and be a part of e-commerce in a bigger way." 
If a customer is traveling and needs to receive a package, they will be given the option by the e-commerce retailer to have their package shipped to the closest Package Hub Business Center for pickup. ShipOnSite's participation in this program means that Frank can offer the tourist population of Myrtle Beach an additional service to make their stay that much more welcoming and convenient.
"We're continuing to grow as a store," Frank says. "Both in terms of the services we provide, as well as the volume of requests we handle. And I'm excited to see where it takes us. 
Come visit us at our new location in Surfside Beach."
ShipOnSite
M-F 8am-6pm; Sa-Su 9am-3pm