Relieving Pain, Creating Smiles
by Melissa LaScaleia
South Strand Dental Associates is a general dentistry practice that offers a full range of comprehensive dental services for patients of all ages like: deep cleanings, preventative oral care, crown and bridge and extraction services, and cosmetic dentistry. A local orthodontist makes twice monthly visits to their office for orthodontic procedures.
Dr. Daniel Miller III, or Dr. Dan, as he's known in the office, has always been rooted in South Carolina. He was born in Dillon, and spent his teenage years in Murrells Inlet after his family relocated here. He attended Waccamaw High School and then attended Wofford College, in Spartanburg South Carolina. 
"In college I knew that I was interested in the areas of science, health and medicine, but I wasn't sure what specific field I wanted to pursue," Daniel says. "I grew up in a household of dentistry— my dad, Daniel Miller Jr. is a dentist, and his grandfather was a dentist; I finally decided to go that direction too."
Daniel went to the Medical University of South Carolina and graduated in 2004 from Dental School. Directly after graduation, he joined his father's dental practice at the Beach. 
"It's been really good for us to work together," Dr. Dan says, speaking of the business relationship with his father. "We've always gotten along well. He's a great father, and has been helpful to me in my career in every possible way. I've always appreciated him as a mentor. Our personalities are just different enough, which I think makes us work better together. I'm a little more quiet, and he's a little more talkative. I think that makes us a good team— even though we have the same name."
Dr. Miller Jr. has been practicing dentistry for forty-two years, initially in Dillon, SC.
"As a dentist, I like helping people and being able to help people maintain beautiful teeth and smiles," he says. "I also like to relieve pain and suffering, even though that's not a popular thing to reference in dentistry." 
Today the dental practice is jointly owned by Dr. Dan, his father, and Dr. Benjamin Collins— Dr. Dan having become part owner this past year.
"We have a really well-rounded team that covers all age groups," Dr. Miller says.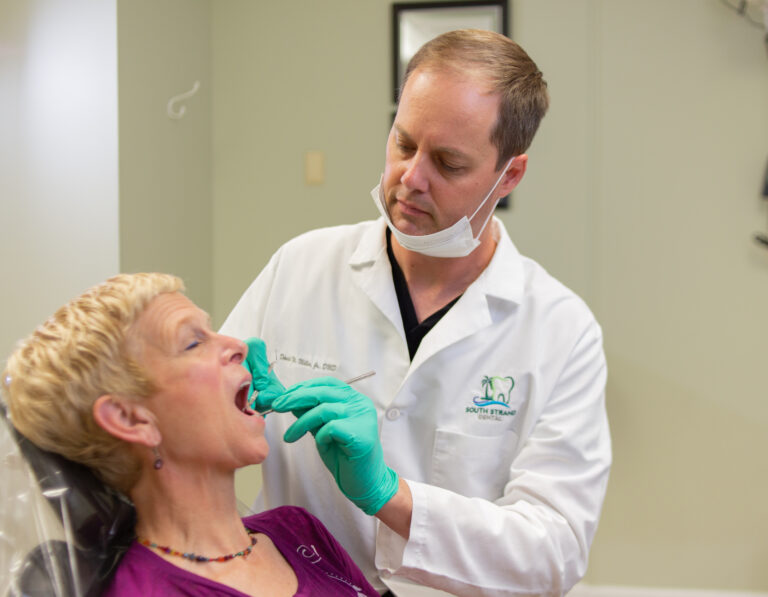 "Our dental office has a family feel to it because of the atmosphere we create as a team, and the care we show our patients," Dr. Dan says. "We take the time to get to know our patients so we can provide them with the best service possible. Many of our patients are retired— it's interesting to get to know them and hear about their lives."
Dr. Dan also loves the rapid changes to his industry, which keeps things fresh, interesting, and always challenging.
"I'm constantly working to stay current with new methods, techniques, and technology to offer the best in dentistry services," he says. "The new ways make procedures more simple, less painful, and our patients' lives easier as well as our jobs easier."
"It's fun to work and live along the Grand Strand because most people I see want to be here and are happy to be here," he adds. "I love playing golf and being outside. My wife, Brianne, is an elementary school guidance counselor. We have two girls: Charlotte, who is 11, and Abigail who is 8. We enjoy all the outdoor activities that we can do together as a family, like kayaking, hiking, and being on the Intracoastal Waterway. I love spending time with my family, that's very important to me." 
South Strand Dental Associates