Big or Small We Pack and Ship It All
by Melissa LaScaleia
"We are in our twelfth holiday season here at ShipOnSite and have been growing as an organization," says owner Frank Espinal. 
"This year, we opened two new ShipOnSite stores: one in Maui, Hawaii, in May; and one inPembroke, NC, about one-and-a-half hours from Myrtle Beach, in mid-October. 
"We're providing FedEx, UPS, DHL, and postal services from those as well as all our locations, as well as freight. The Pembroke location is going to become a full service printing hub for us, for which we're excited."
There are advantages to using ShipOnSite that extend beyond supporting local business.
"I've been in the logistics business for well over thirty years," Frank says. "And I bring expertise as well as a personal level of service to all of my customers. Moreover, I train my employees on that experience; and when we open a new store, I'm training those other store owners to that level, so that there isn't anything that they aren't able to do. 

"The UPS stores here frequently refer business to me for parcel shipments and freight," he adds. "They are trained to fit things in boxes, and if it doesn't fit, they're not able to ship it—they just don't have the means. We custom-make boxes, and crate and palletize things. It all depends on what is being moved, and orchestrating how to safely move it."
From motorcycles to priceless works of art, Frank can handle it— and safely. He has the tools and the expertise to know both how to pack and send, as well as how to receive these types of items safely.
"Certified shippers live by the industry standards when packing an item, and therefore, would know how to unpack them," Frank says. "On numerous occasions our services have been obtained by Fortune 500 companies and prestigious institutions like, Christies of London, who rely on companies like ShipOnSite that are certified in packaging and shipping."
Frank and his team of employees are able to offer their customers options and solutions for the safe transport of their goods, letting them know what they can expect, as well as the value for the cost. It's this breadth of knowledge and attention to detail that has earned him accolades in our community.
Frank opened ShipOnSite in 2007, and has been voted #1 every year since by the Myrtle Beach Herald and the Carolina Chronicle.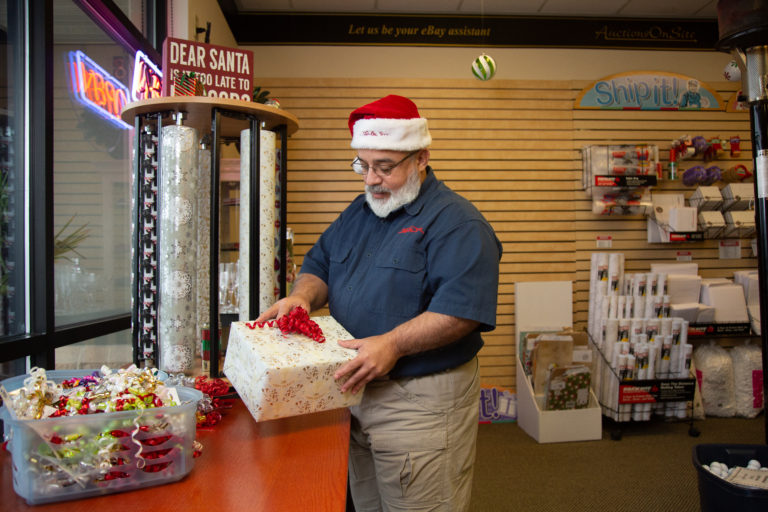 "During the holidays, we convert ShipOnSite into a high-paced shipping store," Franks says. "We're highly organized, and have mastered the art of high-volume packaging and shipping. It's a full-service operation for all your holiday gifts, so you don't have to worry about anything except buying the gift and bringing it to the store."
Frank wants to remind the community that if you intend to ship packages internationally via USPS, the end of November is the cut-off date for a pre-Christimas delivery. 
Because that service involves a hand-off to the postal service of the receiving country, it takes longer than a premium service like DHL, FedEx or UPS which transports your package door-to-door, guaranteeing its safe delivery. If you haven't sent your holiday gifts yet, there's still time. DHL, FedEx, and UPS while more expensive, deliver internationally within a few days.
ShipOnSite is offering several holiday promotions. These include: free gift wrapping with FedEx shipping; donate pet food or supplies and receive a 15% discount on your total FedEx shipment; they'll also match competitors promotions, and add an additional 5% discount from that promotion.
"We're big on the support of animals that are surrendered or abandoned to shelters," Frank says. "And we have aligned with Easy Radio 105.9/100.7 and 94.5 The Tide, collecting over the course of twelve years, over 55,000 pounds of pet food and supplies that we've distributed to area shelters."
Open M-F 8am-6pm; Sa-Su 9am-3pm. 
Holiday hours December 1-21: everyday 8am-8pm.