A Local Pack and Ship Business and an Animal-Loving Artist Team Up This Holiday Season
by Melissa LaScaleia
Since 2008, ShipOnSite, Myrtle Beach's full-service neighborhood shipping center, has been the anchor sponsor for the Best Friend of the Week Program for Easy Radio 105.9/100.7 and Talk 94.5. 
ShipOnSite is owned and operated by entrepreneur Frank Espinal. Since it was established in North Carolina in 2003, ShipOnSite has grown to eleven stores— each of which offers pack and ship services with all the regular carriers, as well as specializing in crating large and delicate items. 
"I've always felt that businesses should give back to the communities that they serve," Frank says. "And that's the foremost reason why I found and continue to sponsor the Best Friend Program." 
Through the program, a shelter animal will be featured live on the air once a week, and perhaps win the heart of a listener who will provide him or her, a permanent, loving home.
Also as part of this program, ShipOnSite collects pet food and supplies to distribute to the local area shelters. Since they began this initiative in 2008, ShipOnSite has collected 63,500 lb of goods for animals. As a 'thank you' for supporting this cause, when people come into the store to make a donation, they also receive a discount on their shipping service. 
"At the end of the day, this program is a way for ShipOnSite to give back, and fill a gap that is needed in our community," Frank says. "Mohammed Ghandi said: 'The greatness of a nation and its moral progress can be judged by the way in which its animals are treated.' That quote really resonates with me.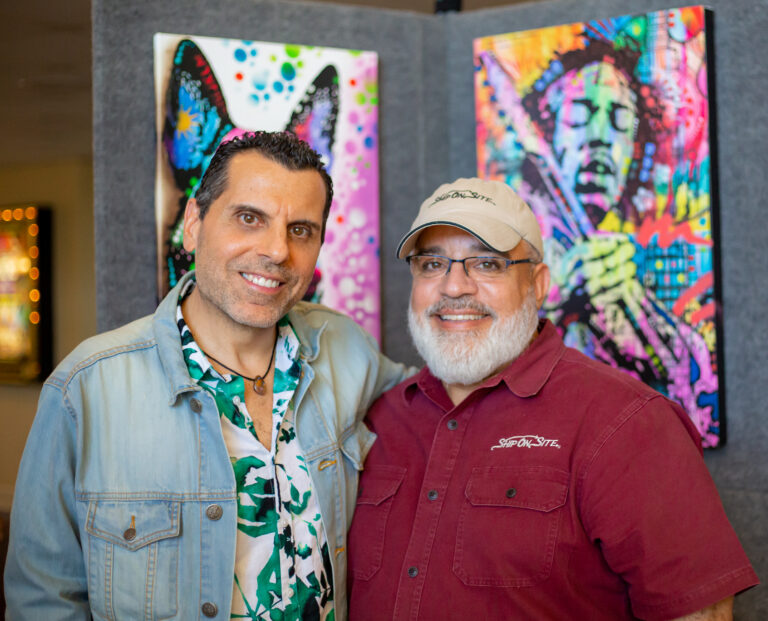 "I spent twenty years in the military— I've been deployed to all parts of the world— and I can tell you, the one thing you notice really quickly is that the animals are neglected— just running rabid and starving in the streets. You see it everywhere. That's why I chose to support the animals. Because they cannot speak for themselves." 
Recently, Frank was looking for another means of raising funds to help animal shelters. 
"As non-profits, they rely on donations to support the animals' needs," Frank says. "When they run out of funding or space, that's when they are compelled to take drastic measures, including euthanizing animals." 
When one of Frank's customers, an art framer with connections in the art world, told him that a gallery in Charleston was working on a partnership with a world-renowned artist to establish a fundraising campaign to support animal shelters in South Carolina, Frank decided to meet with the parties involved to see if he could offer assistance. 
The gallery is the S. Cato International Investment Gallery, and the artist is animal lover and advocate, Dean Russo. As an artist, Dean's large-scale, colorful portrait paintings have been described as 'Andy Warhol crossed with pop artist Keith Haring's fondness for animals, with a little bit of Louisiana 'Blue Dog' artist George Rodrigue thrown in.'
The fundraising campaign Dean began is called Russo's for Rescues. Through it, art and animal-lovers can purchase framed reproductions of Dean's original portraits of animals, and a portion of the proceeds will be donated to the local animal shelter of your choice.
The gallery and Dean were wanting to launch the fundraising campaign out of Charleston, with the Charleston Humane Society as the main beneficiary of the proceeds. But they were running into road blocks— as their lack of connections with the Humane Society was preventing them moving forward with their intentions.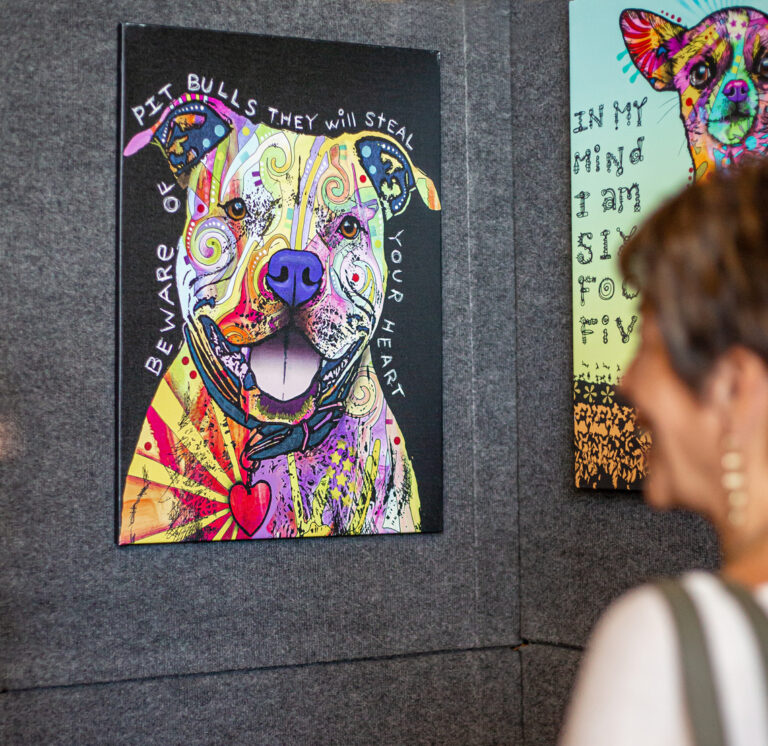 This was where Frank was able to help. Because of his established, long-time connections with all of the area shelters in Myrtle Beach, he was able to help them spawn the initiative much more quickly by transferring the launch campaign to Myrtle Beach. 
"Once ShipOnSite got involved, we opened the shelters of the Grand Strand market to the fundraising campaign," he says. "Because we were operating under the Best Friend of the Week Program and already had the framework established, not only could we begin, but we also expanded who would benefit, enabling the new initiative to provide funds to more than just one shelter." 
Now there are a multitude of shelters that will benefit from Russo's for Rescues. Just a few of them are: All 4 Paws; Coastal Animal Rescue; Humane Society of North Myrtle Beach; W.A.R.M.; St. Francis Animal Shelter; The Animal Care Center of Horry County; Grand Strand Humane Society; Pet Helpers; and the Humane Society for the Prevention of Cruelty to Animals in Charleston. (Visit www.russosforrescues.com to see the full list.)
"Additionally, through working so closely with all the area shelters as a sponsor of the Best Friend Program, I could give Russo's for Rescues all the information that they needed about the shelters," Frank says. 
The group began to implement the idea in August. Dean's agent, the Regency Fine Art Gallery in Atlanta, set up the website— www.russosforrescues.com—where people can purchase Dean's artwork in a variety of sizes. 
Russo's for Rescues was launched in Myrtle Beach with a Meet and Greet at the Alabama Theatre on Friday, October 25. Dean Russo came for several hours to meet fans and animal-supporters and sign his artwork.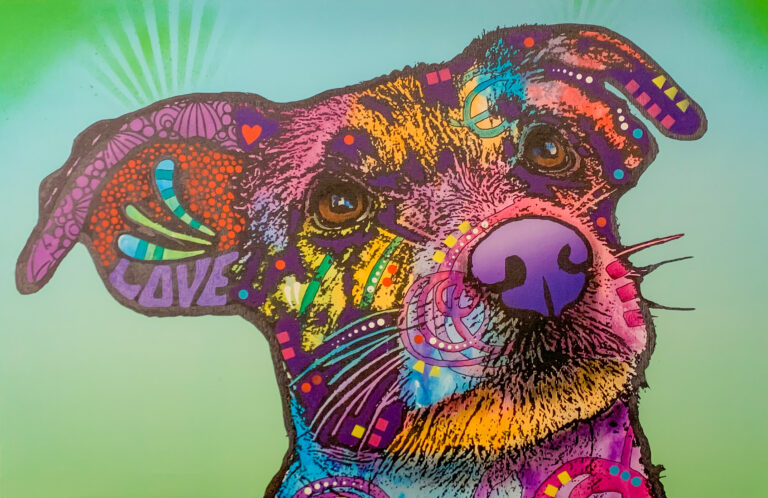 The following day, there was a Meet and Greet in Charleston, at the S. Cato International Investment Gallery on King Street. Between the two events, they raised a total of $3,000. 
Today, art lovers and animal lovers can come together to raise badly needed funds for shelters, while Dean's artwork stands as a visual reminder of the need to promote adoption, and advocate for the plight of neglected animals.
This holiday season, we hope you'll consider opening your heart to help animals in need. Dean's paintings make wonderful gifts, all the more heartwarming because of the cause they support.
The Best Friend of the Week program continues to promote Russo's for Rescues on the radio and through social media. Tune in weekly to hear which area shelters received what in terms of profit allocation.    
"We have a collective goal of raising $10,000 between the two markets— Charleston and Myrtle Beach," Frank says. "The Grand Strand market through the Best Friend of the Week program helped us establish the model, see what's involved, and how to engage the shelters, because most don't have the infrastructure to coordinate fundraising partnerships." 
"When we find an opportunity to help, we'll take a stab at it," he adds.
To support the fundraising campaign and purchase Dean's artwork, visit: www.russosforrescues.com.
Listen to The Best Friend of the Week program on Easy Radio 105.9/100.7 and Talk 94.5, Tuesdays at 9:15am and 9:30am.