There are many sundries characteristic of the holiday season, but none so quintessentially homey as the sight and smell of gingerbread. 
Gingerbread traces its origins to ancient Greece and was immensely popular by the Middle Ages. Over time, as is wont to happen, creativity took hold, and gingerbread were fashioned into all manner of shapes and sizes, and decorated elaborately, even gilded in gold. 
Today, rather than gold, most people opt for Royal Icing, candy canes, gum drops, nonpareils, and the like. There's also the tradition of making gingerbread to hang from your tree. So this month, gather family and friends round the table, grab your tub of icing, and see where your creativity takes you. This recipe can be used both for cookies as well as a traditional gingerbread house.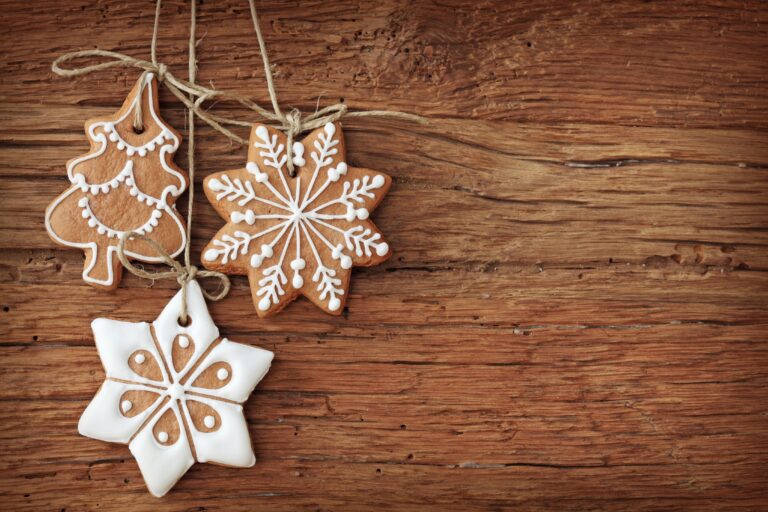 ½ cup butter, at room temperature
½ cup firmly packed dark brown sugar
¼ cup molasses
1 Tbs ground cinnamon
1 Tbs ground ginger
1 ½ tsp ground cloves
1 tsp baking soda
2 cups all-purpose flour
2 Tbs water
parchment paper
Oven 375 degrees. Bake time: 7-15 minutes (longer for a house).
In a large mixing bowl, cream butter, sugars, spices, and soda until fully incorporated and smooth. Turn the beater to low, and gradually add flour and water until a stiff dough forms. Wrap dough in plastic wrap and refrigerate for at least 30 minutes.
On a flat surface, roll dough out to your desired level of thickness and cut into shapes, or follow a gingerbread house pattern. Place the cookies onto a cookie sheet lined with parchment paper, and be sure the edges aren't touching. Allow the cookies to cool before removing, and cool thoroughly before frosting.
3 ¾ cups of confectionary sugar/powdered sugar
1 large egg white
1 tsp almond extract, or lemon juice
Using a beater, mix all ingredients together at high speed until smooth. The icing should be thin enough to pass through a pastry bag with a narrow decorating tip, but not so runny that it looses its shape. Add slightly more lemon juice, one teaspoon at a time, until you reach your desired consistency.