A Man Who Makes Your Vision Your Reality
by Melissa LaScaleia
Eric Richards, artist, visionary, and owner of ER Home, LLC has a vision for each home he works in, and he implements that vision from beginning to end, working as an all-inclusive, multi-talented contractor. 
ER Home's crew offers painting; wallpapering; flooring; tile work; custom furniture design and building; refurbishment; carpentry; kitchen remodeling; electrical; plumbing work; and decorating. They are a one-stop-shop for all your home refurbishment needs.
Eric, an interior home-design expert working in his industry for the past twenty-eight years, has a wealth of knowledge and talent to share. Here, we get an inside glimpse into Eric's world and design process.
What's the first thing you assess when called in to an interior design project?
As soon as I walk in, I start assessing the home. I look at the architecture, where the client has furniture laid out, and the important focal points to them in the room. I ask them their needs and wants, and about their current living style. By that I mean, what is their living process? Do they have cats, dogs, children? Anybody can make a room pretty and decorate it, but to design it around a client takes perspicacity to see what the client can't. I have to understand their lifestyle and their day-to-day activities so I can accommodate their space to them and personalize it to enhance the functionality of their home.
Why hire ER Home as your interior designer?
I'm able to take my clients desires to a level up and beyond what they ever expected to receive. I tell my clients that I want them to have everything and anything I would want to give myself — then deliver at that level of quality. It's almost a checklist that I go through in my head, I've been doing this for so long. And so much of what I do is psychology; I go under the surface.
I also pride myself on being able to work a client's keepsakes into their space organically. With my construction background, I have the knowledge of what to do beyond a pretty cosmetic surface. Because I can do almost everything myself, it reduces stress because a client doesn't have to wait for multiple contractors, in stages, over the course of weeks or months
What are popular trends you're seeing right now with color?
The monochromatic more neutral tones like white, off-white, beige, cream, grays. The most popular in Myrtle Beach are soft coastal colors, like sea glass greens, sea glass blues, corals and sands. What is out are bold, tropical, coastal colors.
How do you help clients create more space in their kitchen without adding more cabinets?
We are at a huge advantage with today's markets. Texturized baskets, galvanized bowls, porcelain trays are all fantastic camouflage for our day-to-day kitchen items. With the trend of open floor plans, you can put furniture to hold kitchen items and expand your space and merge one space into the next. If you have an extra dresser, with a little tinkering, you can put it in your kitchen as an island.
Why do you do what you do?
 I was given this gift. I don't know why but I'm grateful to have it. I meet the most amazing people and I'm able to help them, and most of the time, change their lives. That's why I believe there are no problems, only solutions— in work and in everyday life.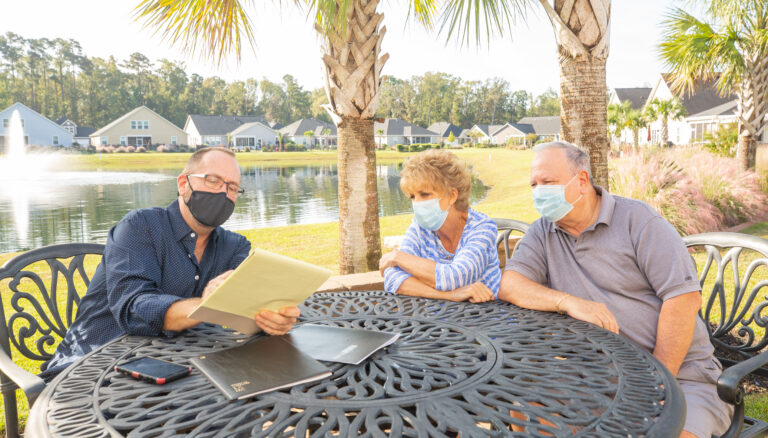 What was your favorite design project?
The most fun I every had was when Luxury Living magazine wanted to feature me in their Christmas edition. I had to decorate my house for Christmas from top to bottom completely— in August. It was a very large seventeen room house. I had nine Christmas trees. Every room had a different theme. I loved it so much it stayed up until February. It was absolutely beautiful. I was living in a winter wonderland for months.
What advice do you have for people who are decorating?
1) Don't spend a lot of money on trendy permanent projects—things like backsplashes, flooring, and countertops. Those things change, and in 5-10 years you'll be sick of what you chose. 
2) Buy only what you like.
3) There are no rules.