Real Estate and Community-Building Pioneers: Jim Parker and John Jobson
by Melissa LaScaleia
For business partners Jim Parker and John Jobson, it takes intelligence, experience, skill, resources, willpower, and passion to craft and deliver a successful product or service. Such is their belief, and such is the driving force and foundation for their business— Properties at the Market Common.
These two men have brought their unique life and professional accomplishments together to build what they believe will become a great service in real estate for the Market Common community.
At the corner of Phillis Boulevard and Farrow Parkway, the building which houses the Properties at the Market Common and the Insider publication offers a community presence in the Market Common unique to both the real estate and newspaper world. The recent opening of the new office location is the culmination of their long-term vision.
This is their story— the story of how they came to be pioneers in the area of real estate and community building.
Both men are South Carolina natives: Jim grew up in Camden, and John, North Augusta. Jim joined the Air Force in 1978, and was stationed at the Myrtle Beach Air Force Base.
"My desk now is about 100 yards from my original barracks— where the lake is situated outside my office window," Jim says. "I know this place; this is where my adult life started."
Jim was 22 when he got into real estate and joined the Myrtle Beach Board of Realtors and the MLS.
"Every company I have ever opened and participated in has always been a member in good standing within the Realtor community," he says.
Having finished his service with the Air Force, Jim, at the age of 23, bought an existing real estate company, the Paul Dorman Realty Company, which had been in operation in Surfside Beach since 1957. He changed the name to Paul Dorman Realty Company, a Division of Parker Realty Inc., and within five years had grown the property management division of the company so that he was managing over 250 annual rental units and acted as broker for fifteen real estate agents.
"We were a general brokerage firm but we also excelled at project sales for oceanfront and subdivision project sales in the Surfside and Socastee area," Jim says. "After operating that company for several years, I made a business decision to focus purely on selling commercial real estate."
Jim sold his general brokerage agency and opened Commercial Landtec Corporation in 1990, as a sole agent.
"I traveled across North and South Carolina helping regional and national companies with their expanding new store site selection and acquisition," he says.
John Jobson graduated in architectural engineering in 1974 and initially worked in the architectural field.
One day in 1977, he asked one of his mentors for advice about how to advance his professional career, and his mentor recommended that John join him in the development, construction and real estate business.
"Consequently, I left architecture and began building homes and developing projects," he says. "I became a project manager for home construction and later on subdivision development. Eventually, I put away my pickup truck and starting selling real estate, managing real estate sales, and developing communities in and around the market of Augusta, Georgia."
He participated in the management of one of Augusta's larger brokerage firms of over 100 agents, training and leading some of its new agents into successful real estate careers. After years of working with brokerage and new development, a friend of John's who lived in Myrtle Beach sought out his expertise and recruited him.
"It was 1988, and the market was hot here, much more vibrant than where I was," John says. "I helped plan, design and build golf course communities during the era of golf course expansion along the Grand Strand. But I was interested in getting into commercial brokerage, and I had met Jim to talk about my plan to move into commercial sales."
The two quickly realized they had much to offer the other, and formed a solid partnership built on mutual respect for their differing and complementing skill sets. 
The duo is adept at incorporating their strong and similar values into their business practices. Their business alignment, which began twenty-three years ago, has endured the test of time and the fluctuations of real estate trends within the Grand Strand market area. Their staff comprises key members who have worked along with them for the past 10 to 20 plus years.
In 2002 Jim and John expanded Commercial Landtec into the area of real estate information to map land and commercial tracts for sale using a very new internet-based GIS technology. It ultimately evolved into a company called SiteTech Systems, which employed thirty people and led the real estate industry in innovative techniques to display real estate information via the internet in ways no other private real estate information service had ever done.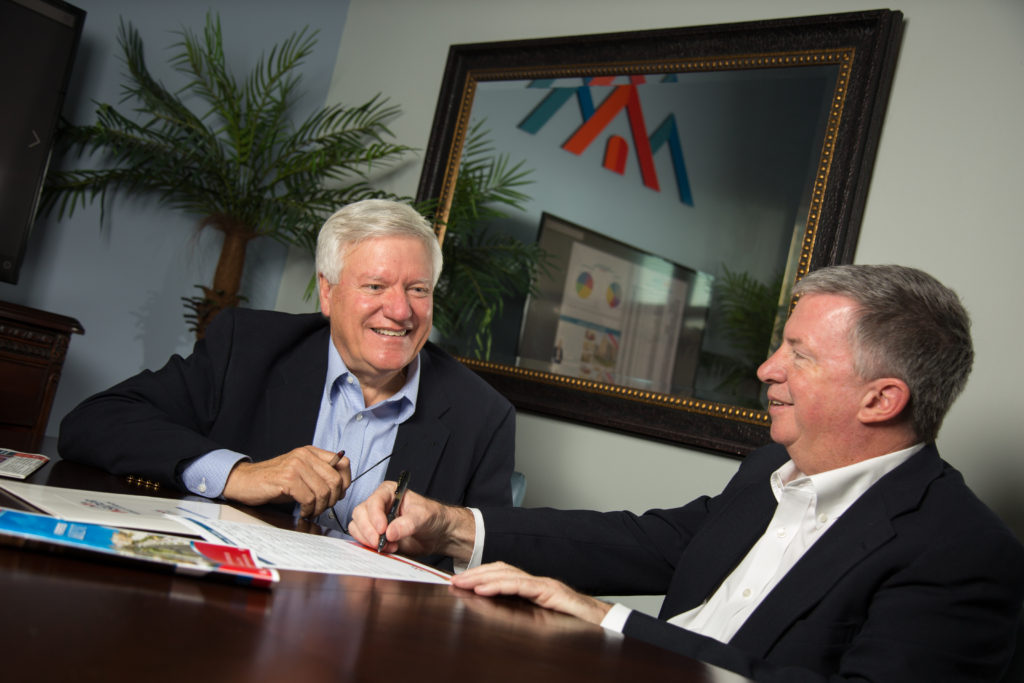 SiteTech now serves the real estate and market analysis businesses associated with banking and real estate for twelve counties from Durham, Raleigh, Fayetteville, Wilmington and Shallotte, NC, to Myrtle Beach and Georgetown, SC. They sold the information business in 2008 to one of their business partners; it's still in operation today.
"Jim and I are innovators," John says. "We always want to stay a step ahead in delivering services to the market that add value and quality that exceeds the norm of professional practice. We've kept that same business philosophy from when we first met, and apply it to all our ventures."
Jim moved to the Market Common when it opened in 2008.
"I have watched this community grow and develop first-hand through the years," he says. "And as a resident, I experienced every stage of its growth. John and I knew three to five years ago that this was a special place to build our type of real estate business that could last for decades."
And so, they started the process.
In 2012 they formed a property management division to manage annual rental homes and moved the base office of operations to Shine Avenue in the Market Common. In 2014 they expanded their operational scope of service to include sales agents and opened an office on Howard Avenue in the SoHo shops area.
In 2016, the Insider was formed when Jim's daughter Megan, who is a graphics and photography graduate from Coastal Carolina, decided to join the staff to help craft a publication.
"I have been a professional commercial photographer and traveled internationally to shoot everything from weddings, events, family portraits, and models," says Megan. "I love photography and I love design so this is really exciting work for me to be involved in creating something from the ground up."
"Our ability to provide this community a unique and fresh approach to real estate service was tailored from all our experiences," John says. "Our SiteTech experience was graphic— it was informative, it was unique. In that same vein, we feel the Insider is a publication that we can use to inform the Market Common and the area around it visually, with a unique voice and style.
"The Insider's purpose is to educate people about the market, about value, about things that impact the market area. It's a platform to bring our available listed properties to a wide audience, and offer an exclusive level of listing exposure and service to our clients."
"We're building a community connection through our paper," says Jim. "We even have a community relations director, Tom, and a morning social hour in which we offer free coffee and beverages throughout the day. We'd like to get to know the community more, and to make the community feel like they are a part of what we're doing."
"Early on," Jim continues, "John and I knew that the Insider could be the vehicle that we were looking for to help promote Properties at the Market Common. Today, we have a community paper that is twenty-eight pages with 11,000 direct mail distributions, and 6,000 papers within our rack distributions.
"The next phase of our distribution campaign entails filling racks along the Grand Strand in beachfront hotels and resorts to reach the tourist population. Every week we grow the number of locations where we have a presence along the beach to work with tourism."
"The Insider demonstrates our willingness to exceed normal marketing expectations in order to support our efforts and enhance our customers' real estate buying or selling experience," John says. "In the end, it's the personalities that make the Market Common its own little village within a city, and we work to celebrate and support that. As far as we know, we are the only real estate company in the newspaper business!"
Their business strategy is a three-pronged approach: a stellar sales team, a professional and efficient property management team, and a dedicated and passionate Insider team. The three different branches support one another.
"At some point in time, we see people benefitting from at least one of our services," John says.
"Our ultimate goals are being realized every day with each new step of success that we have," Jim adds. "Seeing it coming together as a reality is very gratifying."
"We expect many productive years to bear witness to this vision and we invite everyone to become a part of it with us," declares John. "It's fun!"
Jim and John invite everyone to stop by the Properties at the Market Common office for a cup of Joe and to experience a community-based business that is crafted by them, especially for you.
Properties at the Market Common