by Melissa LaScaleia
Peace, Love, and Little Donuts has been open in the Market Common for the past sixteen months, and has quickly gained in popularity with the Market Common locals, as well as with tourists. 
"A lot of our regulars are not from the Market Common," says Clayton Matthews, the owner and manager. "We have many from Socastee, Surfside, and even Conway. A good majority of our business is in the afternoon; and at night is when we get really busy. People like to stop and pick up donuts before and after dinner." 
Peace, Love, and Little Donuts is not your run-of-the-mill donut munching experience. For starters, the donuts are made from a specific, controlled recipe, not a generic cake donut— and in Clayton's words it's, 'A gourmet donut kind of deal.'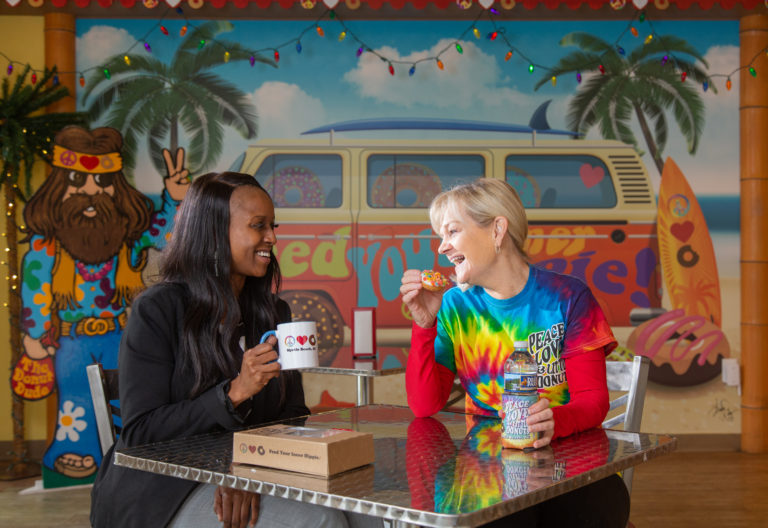 To begin the experience, you first stand at the counter and see your donut being fried right in front of you. Then, on to the donut bar, and witness your selection being dressed up before your eyes. 
There are three levels of donut options: Groovy, Far Out, and Funkadelic, which range, as their titles imply, from something pretty cool to the works. 
Groovy selections are comprised of: plain, powdered sugar, glazed, and cinnamon sugar. Far Out donuts come with frosting; and Funkadelic ones are frosted plus any toppings. 
There are over sixty donut combinations from which to choose, which include several popular cereal and candy bar toppings, as well as more exotic toppings like salted caramel macchiato, and the all-time customer favorite— maple bacon. Other popular options are Apple Pie, Raspberry Truffle, and Peanut Nutter.
In addition to the plain cake donut, by the middle of last year, the team had introduced two new flavors— Key lime pie and Robert Brûlée, a creme brûlée inspired donut. 
"We feel like we are a positive addition to the Market Common," Clayton says. "We've had a lot of people who have worked for us since the day we opened— our employees are friendly and consistent in staying with us. 
"People can walk through the door and see people that they've seen before, that they see on an almost daily basis. We try to make sure that everyone who comes through the door has an enjoyable experience. Whether you're here for two minutes or thirty, we want to make sure we have a relationship with you."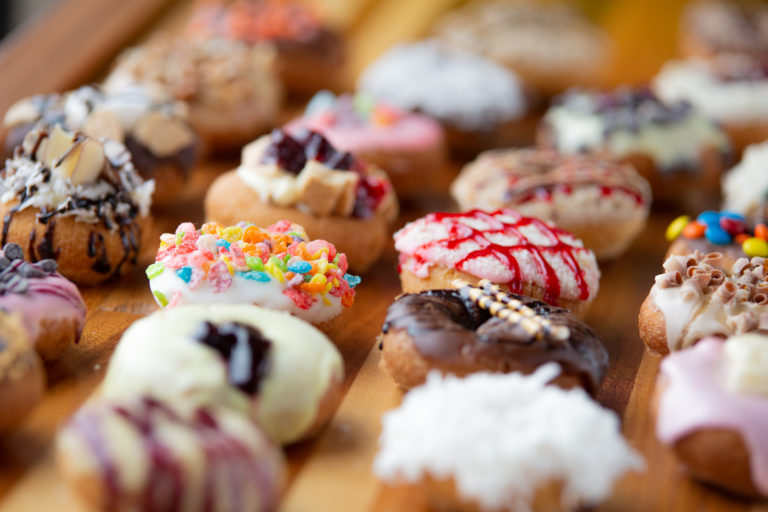 Peace, Love, and Little Donuts also offers doggie donuts for your favorite four-legged friend. It's a donut with a peanut butter frosting with a milk-bone biscuit on top. 
"Those are really popular," Clayton says. "We have people who bring their dogs in for one every day, and we don't get any complaints from the dogs."
Limited quantities of gluten-friendly donuts are available on Tuesdays starting around noon.    
There is a full coffee bar serving all the specialty drinks with the addition of Chai Tea and nitro coffee. 
Nitro, for the uninitiated, is cold brew coffee on tap, which uses nitrogen, rather than the traditional CO2 to dispense the coffee out of a kegerator. It is drunk without ice, and the nitrogen infusion gives it a creamy texture, so much so that most people who drink it don't opt to add cream or sugar. 
"This is a spot where people can come and hang out at for a bit anytime," says Clayton. "We enjoy catering to the locals but also to those visiting. One of the fun parts of our job is meeting all the people that visit Myrtle Beach year round. And we look forward to staying open for years to come."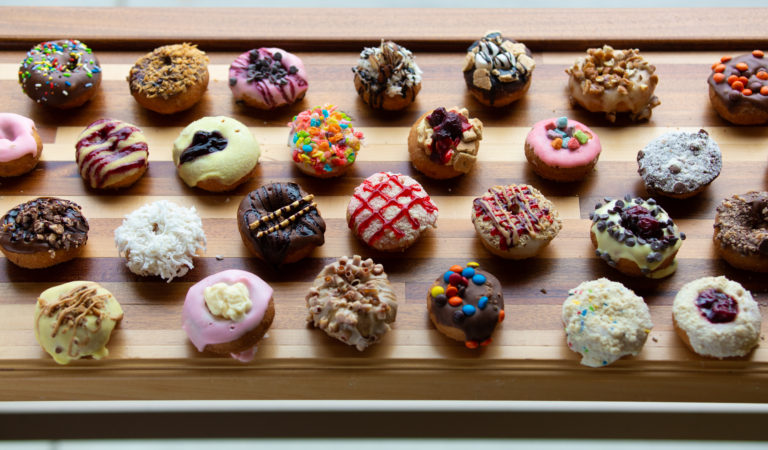 Peace, Love, and Little Donuts is a much sought after locale for birthday parties. They have a private party room in the back, and can host up to thirty children at a time. They can even make their own donuts. 
The private room is also a popular spot for groups and businesses to host meetings; and they also cater for weddings and parties. Indeed, their options for both are as diverse as their toppings. 
"In our first year, we catered over fifty weddings," says Clayton. "Everything from one dessert to all of the desserts. We also provide an on-site hot donut bar at the wedding just like you can find in our store. And we offer a very popular donut tower in addition to a wedding cake."