And an Added Thanks to Our Community
by Melissa LaScaleia
Peace, Love, and Little Donuts is not your run-of-the-mill donut munching experience. For starters, the donuts are made from a specific recipe— they are not a generic cake donut— and in owner Clayton Matthew's words it's, "a gourmet donut kind of deal." 
To begin the experience, you first stand at the counter and see your donut being fried right in front of you. Then, on to the donut bar, and witness your selection being dressed up before your eyes. 
There are three levels of donut options: groovy, far out, and funkadelic, which range, as their titles imply, from something pretty cool to the works. 
Groovy selections are comprised of plain, powdered sugar, glazed, and cinnamon sugar. Far Out donuts come with just frosting; and Funkadelic ones are frosted plus any toppings. 
There are over sixty donut combinations which include several popular cereal and candy bar toppings, as well as more exotic toppings like salted caramel macchiato, and the all-time customer favorite— maple bacon. They even offer doggie donuts—ones with peanut butter frosting with a milk-bone biscuit on top. They are forever creating new flavors of donuts, some even influenced by their customers' requests— the latest being the Turtle— made with chocolate, caramel, and pecans.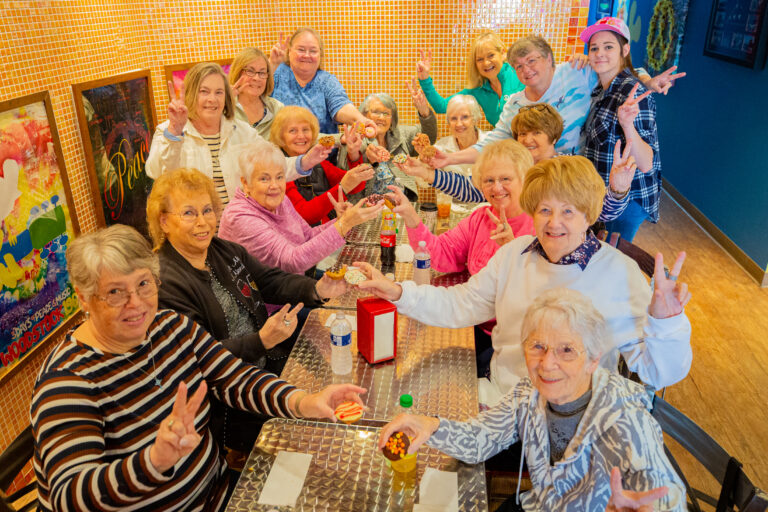 They also have a full coffee bar serving all the usual specialty drinks and tea. They carry tea from Charleston Plantation Tea company located in the Charleston area, one of the last surviving tea plantations in the United States.
Since they first opened their doors in 2017, Peace, Love, and Little Donuts has established itself as the unofficial neighborhood hang-out spot. And upon opening the doors to their shop, it's not hard to see why. 
The atmosphere just beckons one to come on in and make yourself at home. It's an easy, cheerful space, where a spirit of fun prevails. 
"There are a group of ladies who come back every winter who met at The Hilton Garden Inn," says Kay Matthews, Clayton's mother and part owner in the business. "They discovered our shop last year, and come every Friday morning to have coffee and donuts, sing songs, and plot their plans for the following week."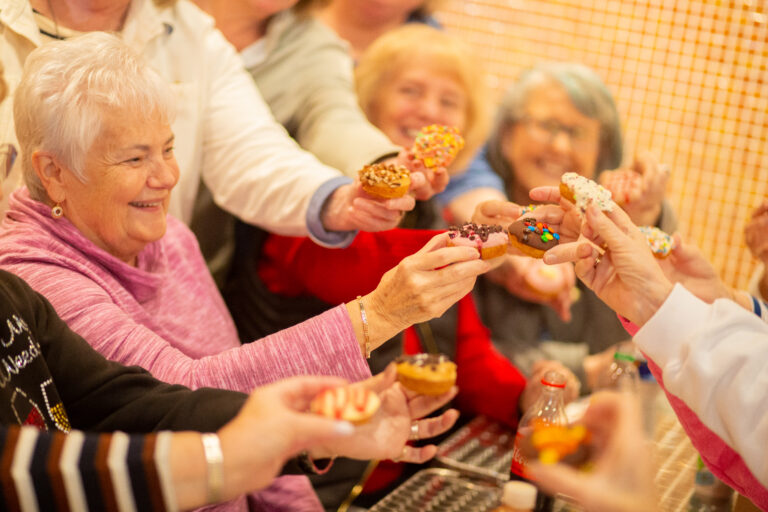 A book club also makes a regular appearance on Wednesdays, even rebranding themselves the Donut Book Club. And Saturday mornings is the known time for dads to come with their kids. 
"People have discovered that it's a nice place and a safe place," she adds.    
On Saturday mornings, it's not unusual to find the workers of Peace, Love, and Little Donuts preparing for a wedding; they cater for small and large parties and offer a hot donut bar, or transport them ready made. 
Kay serves a lot of business people who make purchases of the happy little confections by the dozens, to bestow upon their appreciative clients and employees. 
"The donuts are a fantastic way to say thank you. People tell me that the message they want to send is one of peace and love, and so elect to say a thank you with donuts from Peace, Love, and Little Donuts," Kay laughs. 
The donut shop has a private room in the back of their store that they rent out for functions like birthday parties and meetings. And it's a busy locale as well.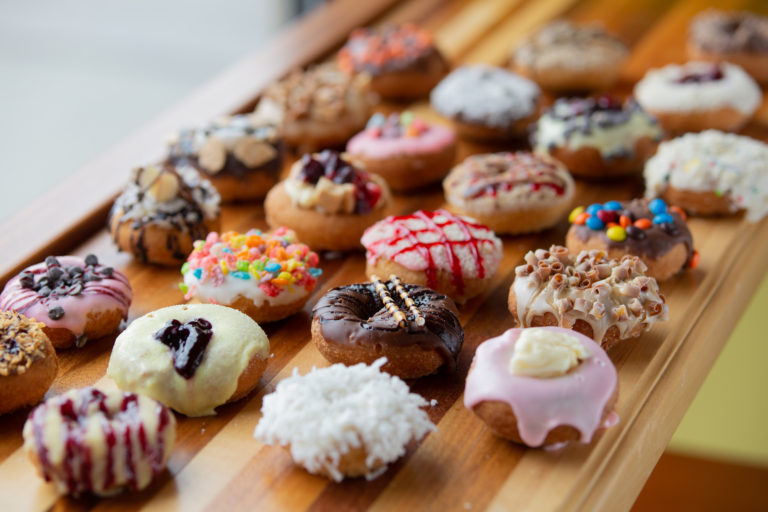 An essential oil group uses it regularly as a meeting space, and an insurance agent based in the Market Common uses it almost as an office several months out of the year.    
"Our business has grown because of the people in this community," Kay says. "They've been so supportive.  People love our product and enjoy coming in, and so we try to accommodate them as much as possible. We're so grateful for all of the support, it's what has made us grow and thrive." 
And Peace, Love, and Little Donuts loves the community they're in too. They support all the races that come through like the Turkey Trot at Thanksgiving, and the 5k on the Fourth of July. Those days sees them making 80-100 dozen donuts at 4am in time for the race at 7am. 
They also supply first responders around the holidays with ample donations. 
"During these times, they can't take off of work because they're so busy serving the community," Kay says. "So we try to let them know our gratitude. And what better way to say we wish you peace, love and thank you than with a box of donuts?" 
Peace, Love, and Little Donuts