​Through ART, We Inspire People to Have FUN and Create Lasting MEMORIES
by Melissa LaScaleia
Mike Heatherman and his wife, Chris, were living in Ohio. After their two daughters were grown and in college, they were looking for a way to move to a warmer climate. 
"In 2016, our daughters were home from college on a break and we were looking for something fun to do as a family," Mike says. "We went to Painting with a Twist in Ohio, and had such a great time that my wife and I decided that it was something we could move south and do. 
"We owned a condo in Myrtle Beach already, and always liked coming here. We thought it was a nice community, with a nice change of seasons, but no snow. So Chris retired from public school teaching Spanish, and we moved here and opened our own franchise location. 
"At Painting with a Twist, we create fun art, not fine art. People come as a group or individually, and take a class and learn how to paint a painting." 
"It's more about the experience and having fun than trying to become an artist," Mike explains. "We play music. People can bring their own wine or beer, or they can buy it from us. And at the same time, they can take something home that they created."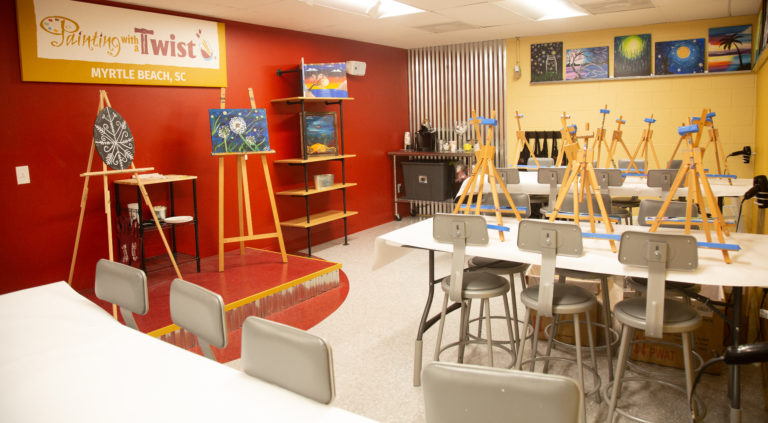 Classes last from 2-3 hours, during which time, people can select from creating a traditional canvas painting to painting on wood, wine glasses, or their newest medium: a Rebeca Flott screen. This is a type of wood screen painting; mud is applied over a screen and then paint is applied over the mud. The screen can be hung in the window and light comes in around the 3D painting. 
"We have activities that are perfect for date night, girls night out, parties, team building and corporate outings, or just to come out and have a good time in a safe place," Mike says. "We also host Paint with Your Hero events for children. We teach local firemen and policemen how to paint a simple painting and then they teach the children. Our space is big enough to hold up to seventy people, or two private parties simultaneously." 
Mike and Chris are passionate about giving back to the local community. 
"We hold what's called a Painting with a Purpose event— where we give 50% of our proceeds back to a charity," Mike says. "Our goal is to hold them monthly. We are looking for charities on an ongoing basis to partner with to be recipients." 
Painting with a Twist offers offsite painting parties if you prefer to have one in your own locale. They also host kids camps during the summer months and during school breaks.