A Local Resident Reminds Us of Our Heritage and Unites a Budding Community
by Melissa LaScaleia
The Charleston-inspired houses just off of Farrow Parkway around the Sweetgrass West area stand, row by row, painted in Bermuda-esque hues. But on Peterson Street, there's a deviation from the norm.
Each brightly colored house is sporting an American flag hanging in front. And the man responsible for the profusion of red, white and blue is Aaron Maynard, owner of Pedego Electric Bikes in the Market Common.
I tracked Aaron down at his day job to learn more about the flag display and what inspired it. A retired Air Force colonel, Aaron grew up in a military family, then joined the military himself.
"When I was in the military, every single day of my life "Revelry" was played in morning, and the flag was raised," Aaron says. "Every afternoon they played "The National Anthem" which signaled the end of the work day. And every night at ten o'clock, when they retired the flag, they played "Taps." At these times, the cars pulled to the side of the road, and we all stopped to salute the flag. It was kind of an emotional moment, every day, for the majority of fifty years, and a tradition which I suppose I took for granted."
Since he now lives on a former Air Force base, Aaron thought it appropriate to carry on part of the tradition by hanging his own flag.
"For me, it's a personal emotional feeling that I get when I see the flag," he says.
When he moved into his house in Sweetgrass West some months ago, one of the first things he did was mount a flag and illuminate it. Liking the effect, he approached his neighbors to ask if they would mind if he got them a flag too, and he would hang it for them. To his surprise, they all said yes.
"Because I'm a bit OCD," he confesses, "I hung them all at the exact same height. When I measured it, it just happened to be 77 inches, which was an easy number for me to remember because it's part of 1776. I thought that was appropriate."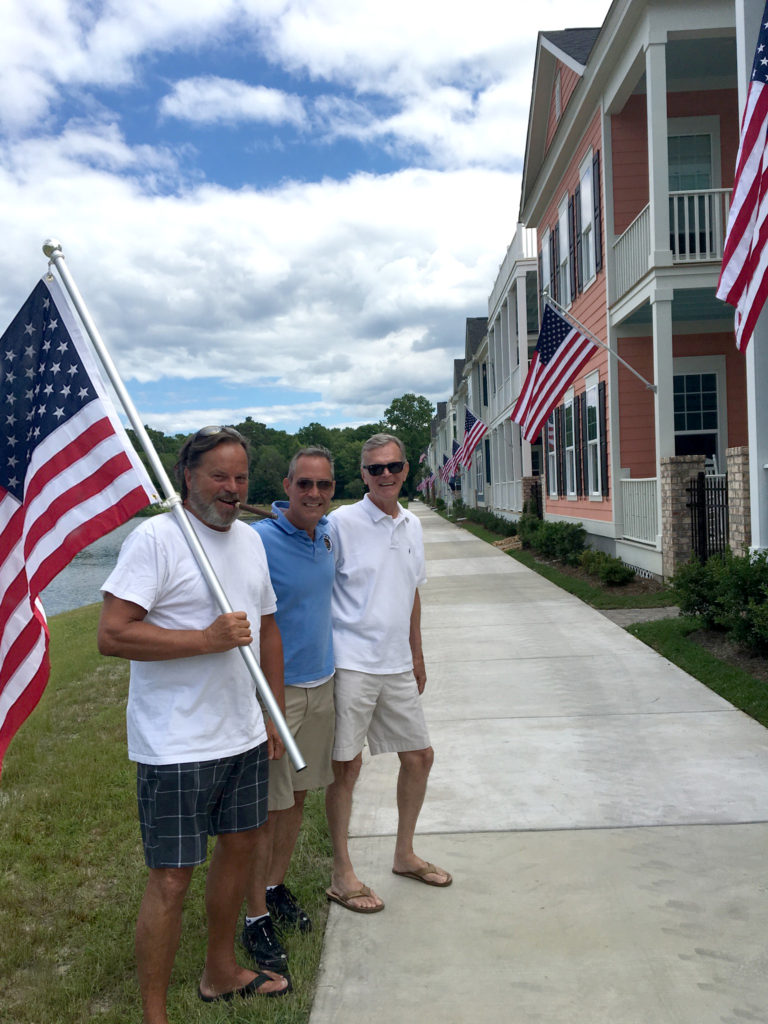 Once the flags were hung, it wasn't long before it garnered attention from curious and admiring passersby. With the help of neighbors, Larry O'Drobinak and Ron Harden, a flag-hanging trend was born, and with it, a sense of greater community, as neighbors approached him to find out more about hanging flags on their own streets. Before long, flags were popping up on houses throughout the Market Common. He even received permission to hang flags on houses where people weren't yet living.
Explaining the evolution of the unintentional but happy by-product of a burgeoning community dynamic, he shares his perspective:
"The people who move here aren't from any particular part of the country. They all have different cultures, different religions, different accents, they all like different foods, but one of the things they all have in common is that they love the Market Common, and they love America."
Flying the American flag is something they all share, an expression of their common bond. Aaron expresses the pride he feels seeing so many flags hanging in his community.
He says: "Someone asked me if I was going to take it down after the Fourth of July, and I said, 'I'm an American 365 days a year.'"
To date, Aaron and his friends are responsible for hanging forty flags in the Market Common area. As I drive down Farrow Parkway heading towards the ocean, I happen to glance right and see, across a little lake, flag after flag, hanging serenely side by side next to the front doors of the houses lined up there. I'm surprised by how much the sight moves me— as deep feelings of joy, peace, and gratitude wash over me. Something about the way they are hung, at exactly the same height, side by side, feels friendly, like they are having a conversation; and makes me feel more connected to people in general, and as if I'm not as alone as I previously felt. I smile to myself as I continue on my way, as much from the sight of the flags and the feelings it evokes in me, as from the thought of the positive impact that one man's openness and focus on what's important to him, can achieve for those around him.
"Operation flag," the retired Air Force colonel tells me jokingly. 
Indeed. 
On any given day, Aaron Maynard can usually be found at Pedego Electric Bikes on DeVille Street, in the Market Common. 
Stop in or email him at herknav@gmail.com to ask him to hang a flag for you. 
You can read more about Pedego Electric Bikes here.