Six Time Winners of The Mega Park of the Year Award
Ocean Lakes Family Campground is well known by Myrtle Beachians as being a premier campground and RV park near Surfside Beach. This month, we recognize the many ways they help support the community, and celebrate that this past November, they took home the Mega Park of the Year Award for 2017 during the Awards of Excellence Dinner at the annual National Association of RV Parks and Campgrounds conference.
The conference was held in Raleigh, NC, from November 6-10. Dawn Bryant, the communications and social media specialist for Ocean Lakes, was in attendance for the first time.
"One of the first things I picked up on at the conference," Dawn tells me, "was that people know Ocean Lakes, and they want to pick your brain because they know that you do it right there."
Dawn joined the Ocean Lakes marketing team in August of 2016, a er more than twenty years in the newspaper business.
"I had lived in Myrtle Beach for more than 16 years, and when I decided it was time for a change, I sought them out, because of their reputation for being a great community partner," she says. "They give back to this community in so many ways, and I wanted to be a part of that. I've been proud to be a part of this team because of their standards for excellence, not just locally, but nationally, in the campground industry."
"As part of my job, I help plan some of the events to promote the campground and get folks interested in coming here," she continues. "It's a great place to come, so it makes my job easy."
This is the sixth time that Ocean Lakes has received the coveted Mega Park of the Year Award. The award is given for all around excellence in the categories of operations, professionalism, customer service, marketing, and industry involvement (how well they work with other campgrounds to share ideas and compare trends of what customers want, as well as the contributions they make to help the industry grow).
"Ocean Lakes has a reputation for setting standards that keep folks coming back year after year," Dawn tells me. "We're all really excited about this award. Our team works every day to make sure our guests are happy. To win a national award is kind of like 'icing on the cake.'"
The National Association of RV Parks and Campgrounds annual five-day conference attracts campground owners and operators from all over the country and includes seminars, networking opportunities, and vendors.
Also in attendance with Dawn was Barb Krumm, their marketing director, who's been with Ocean Lakes for nineteen years.
Ocean Lakes Family Campground was founded by Nelson and Mary Emily Jackson in 1971. It is still privately owned and family run; today it is a subsidiary of the Jackson Companies which also owns Prestwick Golf and Country Club, the Sayebrook development, and Crystal Lake Mobile Home Village, all in Myrtle Beach.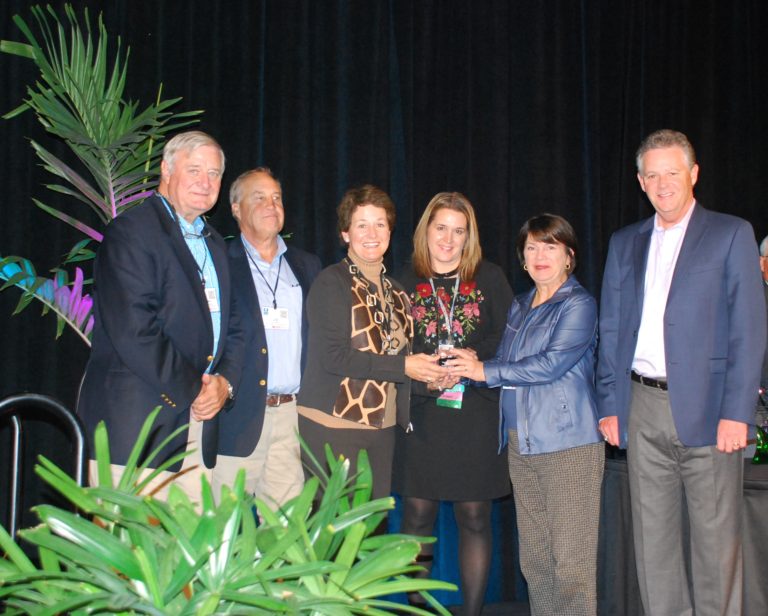 Ocean Lakes is so well known and well spoken of for many reasons. For starters, they have world class amenities. In 2016, they opened a water park with the requisite lazy river in addition to some speedy slides, and it's been a huge hit with guests ever since.
They have a mile of oceanfront property, a heated indoor pool, several dining facilities, and an array of housing options like converted trailers, single-level and elevated, and one and two-story houses, cabins, and 859 campsites. ere are 2,566 lease sites that owners can, in turn, rent out. They rent, sell and repair golf carts as well as RVs, and have 24/7 security.
"But one thing that makes us truly special," Dawn tells me, "is our teammates. Customer service is a priority for us— it's the core part of our culture. Our goal is to create family memories that last a lifetime."
"The number one thing we look for is that ability to fit with our culture of service," says Bonita Lloyd, HR director. "We strive to be the best. We need somebody that has a desire to be part of that, and likes to challenge themselves with a higher standard."
"We're in the people business," says Dawn. "When you adopt that mindset, then everything else just flows from there. We want to make guests feel like they're coming home, that this is their home away from home, and we treat everyone like family. We'll do what it takes to make sure they're having fun while they're staying here."
"We get folks on Facebook every day who are thanking our staff for going above and beyond," she continues. "And our staff stick around; they're proud of what they do. We've won this award six times now, that says something about us. Our guests weren't surprised at all, and from the feedback we received on Facebook, neither were our fans on that platform."
Winter is a much more mellow time of year at the campground, but people are still having a ball. They had over 500 people come out to participate in their annual New Year's Eve Polar Bear Plunge. It was some 30 degrees, but that didn't stop adventurous ocean bathers. And the event supported a good cause. Everyone who registered brought non-perishable food items which Ocean Lakes donated to South Strand Helping Hand.
Ocean Lakes Campground guests can enjoy the annual Beach and Boogie weekend, Friday, February 16, through Saturday, February 17. There will be two live bands this year: the Embers and the Band of Oz. Last years event sold out, and this year there's a lot of excitement in the campground about the band line up.
"Our team strives for excellence every day," Dawn says. "We don't do this to win awards, but when we do, that's just a bonus for us. Because we just want to make sure we have lots of happy campers here."