Serving Campers and The Community For Over 30 Years
by Melissa LaScaleia
In the late 80s, the owners of Ocean Lakes Family Campground started a small golf car business within the campground so people could traverse the 310 acre property as well as one mile of beach front property with greater ease.
Greg Bender is the general manager of what is today Ocean Lakes Golf Cars, a position he's held since the mid 90s.  He grew up in Marion and spent his summers at the resort, where his parents owned a vacation home.  As an adult, he stuck close to his roots and began working at Ocean Lakes as a technician in the golf car shop.
"I had no experience at all, I didn't even have any idea what a golf car was," he tells the Insider in an interview.  "But I was good with my hands, and I liked working outdoors, and it was an opportunity to learn a trade.  I worked my way up to become a shop supervisor.
"When I took over as general manager, I saw an opportunity to try to sell cars outside of Ocean Lakes, and serve a greater segment of the population.  Over the years, that's increased in volume.  Today we sell up to 400 cars a year.  We're trying to reach out to the community and let people know Ocean Lakes Golf Cars is available for everyone, and not just our guests."
Ocean Lakes Golf Cars provides service from Georgetown to North Carolina along the coastal areas.  They repair cars for guests as well as those who live in the surrounding communities, with pick up and delivery service all along the Grand Strand.  They have an extensive parts, accessories and service department to maintain or refurbish a wide range of golf cars.  People are welcome to visit their facility inside the otherwise guest-only campground gates.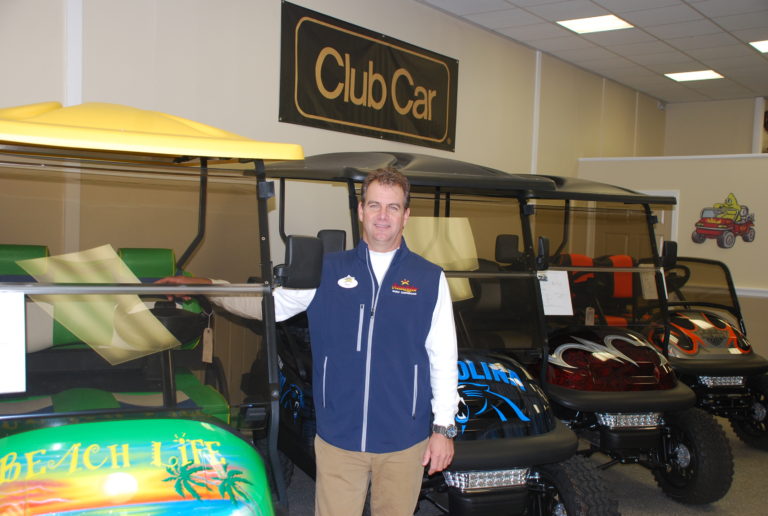 At their showroom on the premises, they rent and sell electric and gas, new and reconditioned golf cars, as well as LSVs.
Golf cars have restrictions on their use: they can be driven a maximum of four miles from their registered location, and only on secondary roads with a posted speed limit of 35 mph or less between dawn and dusk.
LSVs are similar to golf cars, and also must stick to secondary roads.  But it's legal to drive them anytime, and there's no limit on how far you can take them from their place of origin.  Greg encourages people in the community to approach him with any questions they might have about LSVs or golf cars.
"Golf cars are a very popular mode of transportation not only in Ocean Lakes but also in the community," Greg tells the Insider.  "We have an offsite location where we recondition and assemble used and new cars.  We've done a lot of custom cars over the years— creating beach scenes in paint and adding accessories that fit the tastes of our customers.  If you can envision it, we can probably do it."
Ocean Lakes Golf Cars is an authorized Club Car dealer, a brand of Ingersoll Rand.  They've been affiliated with Club Car for more than fifteen years, offering their cars to rent, and in 2015 began selling the new Club Car product line.  Yet in just two short years as a dealer, Club Car has awarded Ocean Lakes Golf Cars the coveted Black & Gold Elite status for their "outstanding performance and customer service to residents and guests at the campground in 2017."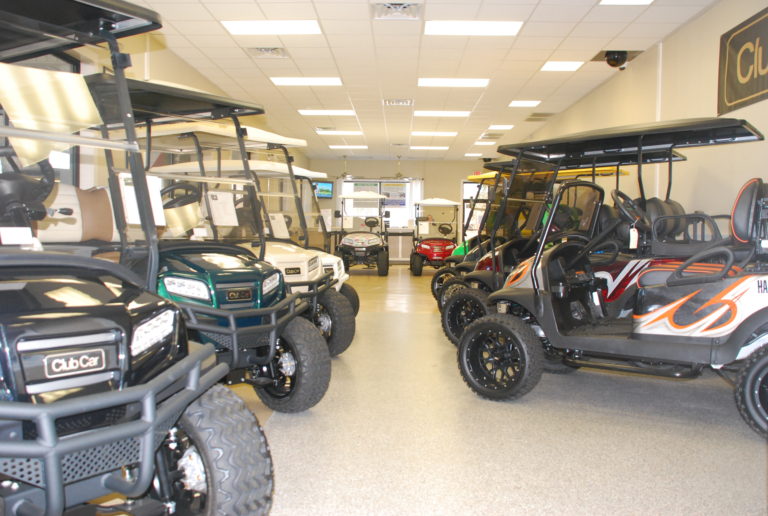 This is a mark of distinction which sets Ocean Lakes Golf Cars amongst the top 10% of Club Car dealers in the world. The honor was given because Ocean Lakes Golf Cars, "achieved extraordinary levels of sales and service, demonstrated exceptional financial performance, implemented successful marketing strategies and maintained top-notch facilities."
Ben McElmurray, Club Car's regional manager for the Southeast notes: "Ocean Lakes Golf Cars' performance has been truly remarkable and helps set the standards for being the best in our industry."
"Ocean Lakes Family Campground has been very successful over the years," Greg says, "and that is because our team at the park goes above and beyond for all of our guests no matter what it may be that they need.  Our golf car service is what separates us from other competitors in the area."
Ocean Lakes Golf Cars
Hours vary throughout the season; sales everyday 8am-5pm.