Creating Family Memories that Last a Lifetime
by Melissa LaScaleia
Ocean Lakes Golf Cars is a division of the Jackson Companies, of which Ocean Lakes Family Campground is also a part. 
In the late '80s, the owners of Ocean Lakes Family Campground started a small golf car rental business within the campground so people could traverse the 310 acre property as well as one mile of beach front property with greater ease.
Ocean Lakes Golf Cars is located inside of Ocean Lakes Family campground. Although the campground only admits guests to the property, everybody is welcome to visit Ocean Lakes Golf Cars to view their sales floor of available golf cars to purchase, as well as inquire about custom accessories, parts, and repairs. Simply approach the guard gate to receive a pass to go to the golf car facility. 
"A lot of people don't realize the extent of what we offer our community," says Greg Bender, the assistant general manager of the park. "We're trying to reach out and let people know Ocean Lakes Golf Cars is available for everyone, not just our guests. We want to serve a greater segment of the population. 
"Over the years, our outreach has increased, and today we sell up to 500 cars a year." 
Ocean Lakes Golf Cars is open seven days a week for the community. At their showroom on the premises, they currently have 940 golf cars that they run in their rental fleet, and they sell electric and gas, and new and reconditioned golf cars and LSVs. 
LSVs are similar to golf cars; each style has unique capabilities, functioning, and legal requirements for operation. 
LSVs have certain features which make them safer to operate for longer distances. They must be able to attain speeds of 25 mph, and be equipped with turn signals and brake lights, high impact DOT windshields, manual windshield wipers, seat belts, a speedometer, and radial tires that are DOT approved. 
Each one also must have a lit license tag on the back, as well as a seventeen digit VIN number so it can be registered, tagged, and licensed with the state. In South Carolina, you are responsible for paying property taxes on the vehicle. LSVs can be driven anytime on secondary roads only, with no limit on how far you can take them from their place of origin. 
To operate a golf car, you only need to have a South Carolina permit from the DMV. The permit states that you have provided proof of insurance to the DMV. 
Golf cars have restrictions on their use: they can be driven a maximum of four miles from their registered location, and only on secondary roads with a posted speed limit of 35 mph or less between dawn and dusk.
Both types of cars are very popular in our area. And Greg encourages the community to approach him with any questions they might have about LSVs or golf cars. 
Ocean Lakes recently opened a new production facility off of Maryport Drive, located across the street from the campground. Here, they assemble new vehicles, and recondition and customize golf cars and LSVs for resale. They have an extensive parts, accessories and service department to maintain or refurbish a wide range of cars.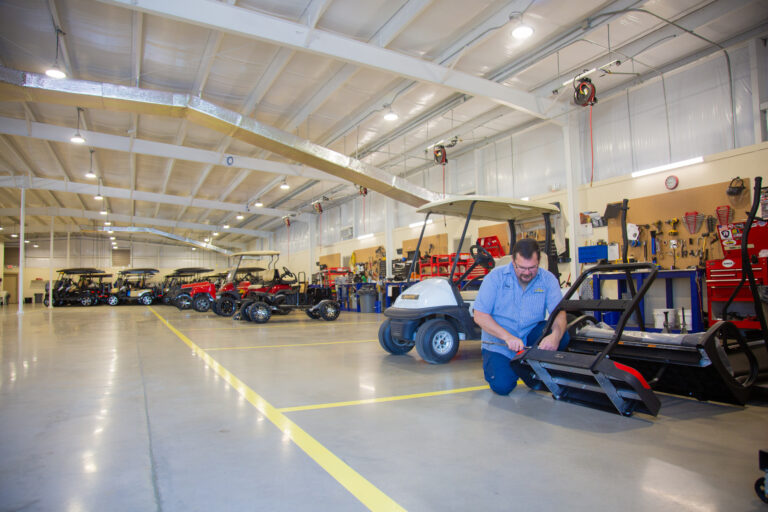 "This facility gives us the opportunity to expand on our inventory, and have more vehicles available consistently, so a wider variety of products are now available to our customers," Greg says. 
Some of the most frequently requested installs are: lift kits, overhead stereo systems and underbody lighting. 
"We've done a lot of custom cars over the years— creating beach scenes in paint and adding accessories that fit the tastes of our customers," he adds. "If you can envision it, we can probably do it." 
Ocean Lakes Golf Cars has factory-trained technicians working in their service department full time. They service all makes and brands of golf cars and LSVs, and provide service from Georgetown to North Carolina along the coastal areas; they offer pick up and delivery service along the Grand Strand.
Ocean Lakes Golf Cars is an authorized Club Car dealer, a brand of Ingersoll Rand. Ingersoll Rand conducts an on-site training every year for Ocean Lake's technicians, giving the campground an edge in providing outstanding service. 
Ocean Lakes Golf Cars has been affiliated with Club Car for more than fifteen years, offering their cars to rent, and in 2015 began selling the new Club Car product line.
In two years as a dealer, Ocean Lakes Golf Cars won Club Car's coveted Black & Gold Elite status for their, "outstanding performance and customer service to residents and guests at the campground in 2018." They also won the award in 2019. 
This is a mark of distinction which sets Ocean Lakes Golf Cars amongst the top 10% of Club Car dealers in the world. The honor was given because, according to Club Car, Ocean Lakes Golf Cars, "achieved extraordinary levels of sales and service, demonstrated exceptional financial performance, implemented successful marketing strategies and maintained top-notch facilities." 
David Selby, Club Cars Director of Parts and Services Portfolio says, "It means you achieved an extraordinary level of service and representation of Club Car, as well as exceptional sales performance. It means you are in the top percentile of your peers." 
"Ocean Lakes Family Campground has been very successful over the years," Greg says, "and that is because our team at the park goes above and beyond for all of our guests no matter what it may be that they need. Our golf car service is what separates us from other competitors in the area."
Ocean Lakes Golf Cars
6001 South Kings Hwy
Myrtle Beach, SC 29575
843-828-4868
Open daily 8am-5pm