Serving Ocean Lakes and the Entire Grand Strand Community
by Melissa LaScaleia
Ocean Lakes Golf Cars is a division of the Jackson Companies, of which Ocean Lakes Family Campground is also a part. 
In the late '80s, the owners of Ocean Lakes Family Campground started a small golf car rental business with roughly forty golf cars so people could traverse the extensive 310-acre property with greater ease. 
Today, with over twenty-two miles of paved roads as well as one mile of beach front property, the rental fleet has grown to 1000 golf cars to accommodate the needs of campground guests as well as the public.
Ocean Lakes Golf Cars is located inside of Ocean Lakes Family campground. Everyone is welcome to visit Ocean Lakes Golf Cars to view their sales floor of available golf cars to purchase, as well as inquire about custom accessories, parts, and repairs. Simply approach the guard gate to receive a pass to go to the golf car facility.
"Most people don't realize the extent of what we have to offer our community," says Paul Jones, the golf car manager for Ocean Lakes. "We want the public to know that Ocean Lakes Golf Cars is available for everyone, not just guests of our campground. We want to serve a greater segment of the population and show residents our great service and outstanding products.
"We just finished a remodel of our showroom and are proud to show what we have available. If you already own a golf car and need it serviced, give us a call and we will come pick it up, service the car, and deliver it to you. Over the years, our outreach has increased, and today we sell almost five hundred golf cars a year."
Ocean Lakes Golf Cars Sales and Service is open seven days a week. At their showroom, they have over two hundred golf cars. One of the brands they carry is the new Club Car Onward Golf Cars, which are powered via electric; gas; or Lithium Ion HP, an innovative, high performance AC drive battery. They also sell reconditioned golf cars.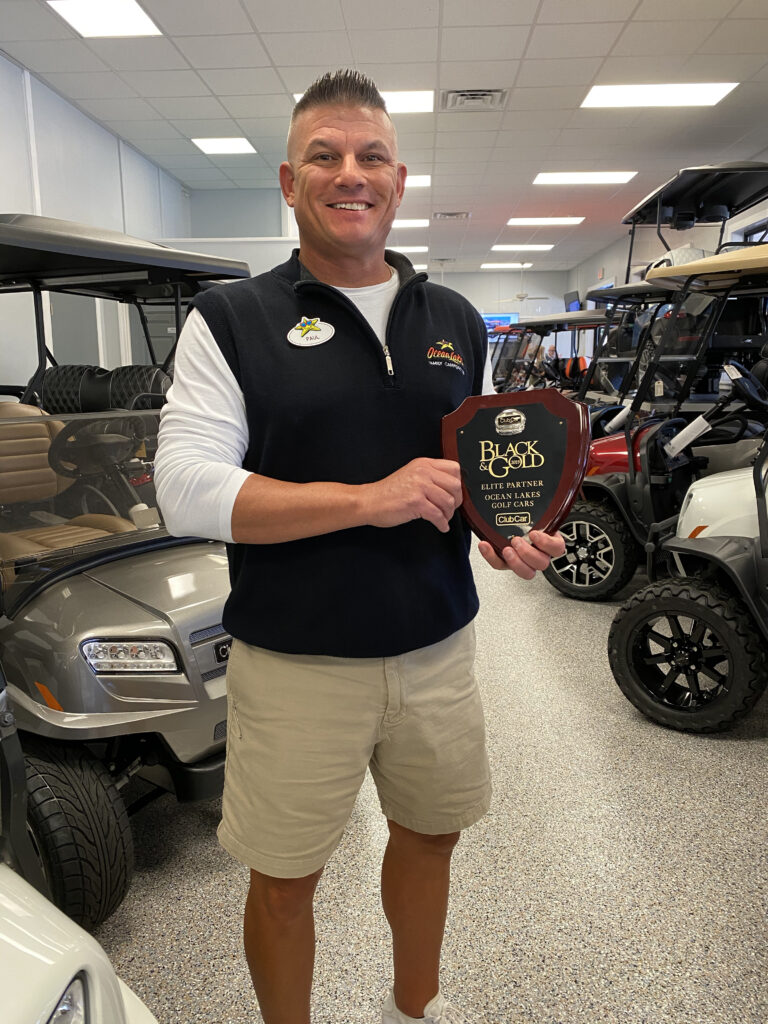 "No one reconditions a golf car the way we do," says Paul. "We do what's called a frame-off restoration. We disassemble the entire golf car and acid-wash the aircraft-grade aluminum frame that Club Car uses in all of their golf cars so even the frame looks brand new. The salt from the ocean air is harsh on metal; even though it will not rust aluminum, it still leaves an impact. So we take the extra step to fully refurbish it so the car is pristine for our customers. Our attention to detail and quality of workmanship that we put into the restoration process is what sets us apart from everyone else."
In October 2018, Ocean Lakes opened a new 11,000 square foot production facility across the street from the campground. Here, they assemble new vehicles; this is also where the extensive reconditioning process takes place. They have one of the largest inventories of parts, accessories, wheels and tires in the Southeast.
"Having this facility lets us expand our offerings so we have more choices for our customers and can customize anything," says Paul. "We now offer a larger selection of paint schemes, custom accessories, trim, wheels and tires. We can show our customers the build process from beginning to end, and they can be as involved in the process as they like."
Some of the most frequently requested installs are: lift kits, Bluetooth stereo systems, wheels and tires, and seat upgrades.
"We've done a lot of custom cars over the years— creating beach scenes in paint or incorporating colors from peoples' favorite sports team," Paul says. "We add accessories that fit peoples' individual tastes. Our website shows some current ideas for custom car options."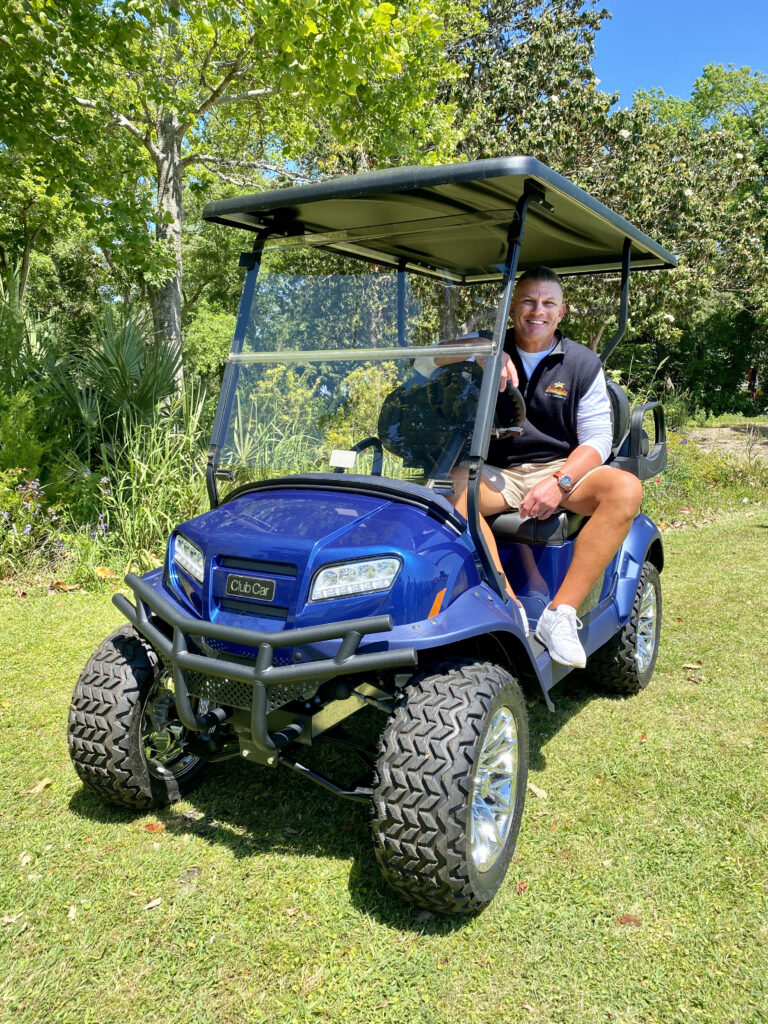 Ocean Lakes Golf Cars is an authorized Club Car dealer. Club Car conducts a week-long, on-site training every year for Ocean Lake's service technicians, giving the campground an edge in the latest technology, so they, in turn, can provide outstanding service.
Ocean Lakes Golf Cars has been affiliated with Club Car for more than sixteen years, offering their cars to rent, and in 2015 began selling the new Club Car Consumer product line. Ocean Lakes has won Club Car's coveted Black & Gold Elite status every year for the past three years (2017, 2018, and 2019) for 'outstanding sales performance and customer service.'
This is a mark of distinction which sets Ocean Lakes Golf Cars among the top 10% of Club Car dealers in the world. The honor was given because Ocean Lakes Golf Cars, 'achieved extraordinary levels of sales and service, demonstrated exceptional financial performance, implemented successful marketing strategies, and maintained top-notch facilities.'
Michael T. Williams, Director North American Commercial and Consumer sales, and Ben McElmurray, Regional Manager Southeast Region, Commercial Utility and Retail Sales stated: "It means you achieved an extraordinary level of service and representation of Club Car, as well as exceptional sales performance. It means you are in the top percentile of your peers."
Ocean Lakes Golf Cars has eleven full-time, factory-trained Club Car service technicians working in their service department. They service most makes and brands of golf cars, and provide service from Georgetown to North Carolina along the coastal areas. And they offer pickup and delivery service along the Grand Strand.
"Ocean Lakes Family Campground has been very successful over the years, starting with our Board of Directors and senior leadership, down to our newest teammates," Paul says. "We are a family. And I credit all the success we've had to that. Speaking on behalf of our teammates, we want to see that every guest who visits Ocean Lakes creates family memories that will last a lifetime."