Driven by Technology, Dedicated to Security
by Melissa LaScaleia
The technology driven NSI Security Systems Solutions in Myrtle Beach is jointly owned by Charles Bell and his son Chuck— both U.S. Army veterans. Chuck is third generation military in his family. His grandfather served in WWII and Korea; he served in Iraq.
"I realized I didn't want to go to college, so after high school I enlisted in the Army as a mechanic," Chuck says. "Towards the latter end of my career, I got more involved in the security side of things. After four years in the military, I moved back to Massachusetts, where I'm from, and began working for my father with NSI Security."
NSI Security Systems Solutions began in 1986 as a locksmithing company. In the military, Charles worked in the engineering corp division; creating NSI Security was a natural extension of his interests.
"My dad was invested in the security world pre-9/11, implementing security systems and cameras for commercial businesses, the government, banks, and schools long before it was cool," Chuck says laughing.
Over the years, NSI Security has transformed from locksmithing to advanced technology solutions, with a niche specialization that few people are qualified to perform. 
They are certified by Government Services Administration (GSA) to install and repair government safes and vault locks.
"There are only two types of locks the government will use," Chuck says. "And there aren't a lot of people who know how to install or repair them. My dad was doing this before there was a certification for it. But after 9/11 everyone realized that you can't have somebody walking onto an Air Force Base without clearances, or who isn't fully versed in the ins and outs of how this equipment works. We have to have constant background and security clearance checks to perform these services."
After 9/11, as the need for greater security amongst government and corporate buildings exploded, Chuck and his father found themselves traveling all over the country— a lot.
"Our work was taking us from Maine to Florida," Chuck says. "And we began to get tired of all the driving. My dad had been coming to Myrtle Beach for fifteen years and had a second home down here. So we decided to open a second location for NSI Security in Myrtle Beach, and I moved here last year to run it." 
Today, the father and son pair have a local team of nine employees assisting them with the multitude of security services that they provide at the municipal, corporate, and residential level.
They continue to offer the locksmithing services that put then on the map, as well as installation and service for access control card readers, alarms, security cameras, full security systems, and everything that falls under the umbrella of security— including hardware.
"A lot of people don't know how to do the hardware and the security, but we can do both," Chuck says. "It really sets us apart.
"We can also orchestrate security systems for entire towns. We continue to evolve with the times as things change. The technology, just like a computer, changes all the time. And it's incredible. We just got a camera that reads people's body temperatures as they walk by. Whoever is monitoring it will get an alert if someone has a high temperature.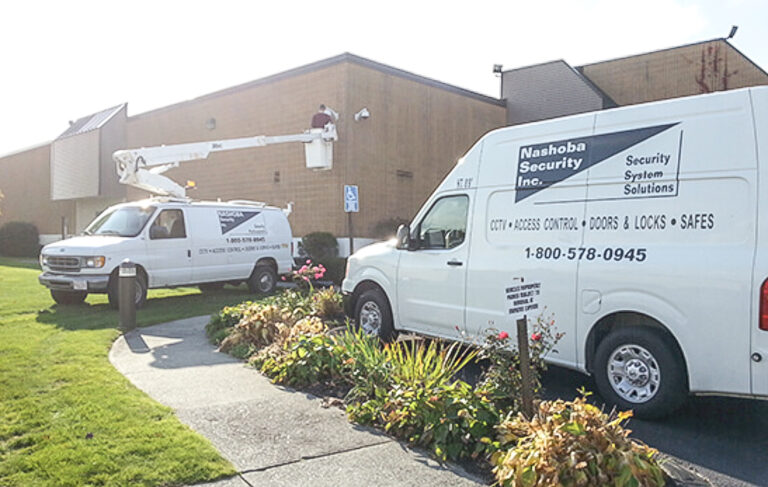 "We envision the temperature camera being installed in senior care centers and hospitals. It's the first line of defense right now, who's walking through your doors— because you're putting everyone else at risk. Dealers are connecting us with those who want this product, because they know they can trust us. There aren't a lot of people who have the knowledge and credentials to install these."
Another Coronavirus-driven product is a doorknob that has an antimicrobial coating on it. They're available commercially as well as residentially.
Some other things they offer include a cloud-based commercial access control system that can be managed from a cell phone.
"The technology enables you to unlock the door to your business or home remotely using your phone," Chuck says. "If you have a visitor, you can see the individual on camera. And companies can also use it for employees to clock-in and out. The demand for this has been overwhelming."
The company also builds a trailer equipped with cameras on the outside and solar panels on the roof– the latter provides a hotspot for internet communications. The trailers are built to client specifications and are available to rent or buy. It can be used as a mobile office during the day, then to monitor the area remotely at night.
"We can transport these trailers anywhere," Chuck says. "I'm marketing them for construction sites, concerts, marathons, festivals, and events like Bike Week. Any place where security is needed but you can't be everywhere at once, or need to monitor the area after hours. It's a fantastic way to secure a location when you're not there because you can see what's happening from anywhere in the world."
Since arriving in Myrtle Beach, NSI Security has been servicing a lot of HOA facilities helping to secure pools and recreation areas with pin codes.
"We are happy to offer demos for our products at our shop," Chuck says. "That way people can really see and learn about all of the technology solutions that we have."
"I'm very glad we came to Myrtle Beach," he adds. "Everyone is friendly, and the community has embraced us as a company. There are a lot of businesses here that we can help with our services. We pride ourselves on doing clean work, staying on top of answering our phones, and returning calls in a timely manner."
NSI Security Solutions does all jobs, big and small, as well as emergency locksmith services for everything except vehicles. They give local, senior, and veteran discounts.
"We want to help the local population, the people who need these services, as much as we can," Chuck says. "I love the feeling of having truly helped someone after completing a job; it's a really good feeling. And this is an unusual trade that keeps my interest because it is so technology driven."
"I see a lot of people, very carefree and not thinking about security," he adds. "But I've learned to be proactive, not reactive with security—  it will pay off one day."
NSI Security Systems Solutions