Provided by Brookgreen Gardens
September was a tough month for many in North and South Carolina due to the hurricane. Brookgreen Gardens also experienced significant flooding during the aftermath of Hurricane Florence. 
Unprecedented flooding along the river affected the Lowcountry Zoo and caused significant damage to trails and zoo exhibits. A special preview benefit evening of Nights of a Thousand Candles will help support flood recovery, including reconstruction of the Cypress Aviary Exhibit boardwalk and repair to the Alligator Exhibit.
This exclusive evening will be December 1, from 5:30 – 8:30 pm. Each ticket is $100 and will include beverages (including wine or beer) and heavy hors d'oeuvres in the gardens.
A limited number of tickets will be available. Entertainment for the evening will include Rebecca Nissen, harpist; the Saltwater Chamber Orchestra, and the Beach Brass Quintet.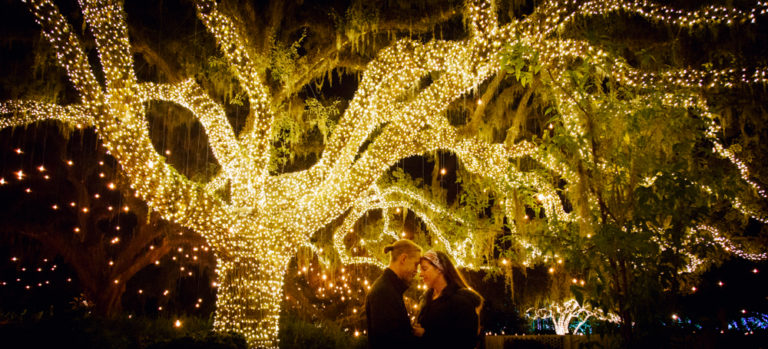 The main Nights of a Thousand Candles events kick off on Thursday, December 6. General public tickets are $25 for adults and $15 for children. Tickets for Brookgreen members are $20 for adults and $12 for children. Children 3 and under are always free. Tickets may be purchased on our website, www.brookgreen.org.  Groups of fifteen or more may contact Brookgreen's group sales department for special rates.
Inlet Affairs returns to provide their signature Lowcountry dishes in the food tent. In the entertainment tents, favorites such as Bill Oberst, Jr and his one-man rendition of Dicken's A Christmas Carol, choral group Vocal Edition, and Tru Sol band are returning; as well as pianist Rocky Fretz, and other popular bands. The full entertainment schedule can be found at https://www.brookgreen.org/events/nights-thousand-candles-2018.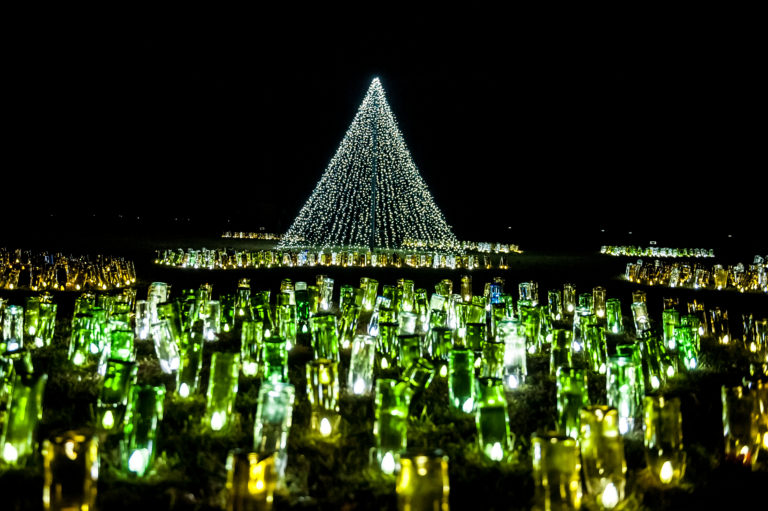 New for 2018:
3:30 – 4:30 pm in front of The Visionaries sculpture, meet Angus, Brookgreen's Scottish Deerhound Mascot and learn the history of the Huntington's and their love for this amazing dog breed.
4:30 – 5:30 pm in the Children's Garden Reading Room,  A Visit From St. Nicholas by Clement Clarke Moore ('Twas the night before Christmas)  will be read aloud by a special guest reader.
6:15 pm. The Lighting of the Holiday Tree has been moved to a slightly later time to give more guests the opportunity to enjoy this nightly event.
We also have new displays, a new addition to the train exhibit, and other surprises for our guests.
Interesting facts:
Over 4500 candles are lit by hand every evening.
Around 150 volunteers and staff work each night of the event.
Almost 2 million other lights are used in addition to candles.
The holiday tree alone has over 130,000 lights, and at 80 feet, is taller than the tree at Rockefeller Center in New York City.
Staff and volunteers begin decorating in late August.
It takes a little over two months to take everything down after New Years.
Except for the path luminaries, which burn down each evening, all the candles have to be blown out at the end of each night. 
Brookgreen Gardens, a National Historic Landmark and 501(c)(3) non-profit organization, is located on U.S. 17 between Murrells Inlet and Pawleys Island, South Carolina, and is open to the public daily. 
Founded in 1931 by Anna Hyatt Huntington and Archer Huntington, Brookgreen is home to the largest and most significant collection of American Figurative Sculpture in the country, and continues as a leader in sculpture conservation, environmental conservation, and protection of the plants, animals, and history of the South Carolina Lowcountry. 
For more information, visit our website or call.