Known For Excellence, Trusted For Value
by Melissa LaScaleia
When a relative introduced Jim Bowdre to the funeral business at a young age, he found he enjoyed the profession, and decided to pursue his interest by attended embalming school. 
In addition to receiving a degree in mortuary science, he also graduated from Virginia Tech on a full-ride academic scholarship, and earned his master's degree in education from UVA. 
Jim worked for Hillenbrand Industries, the world's largest casket and hospital bed company for twenty-seven years as a territory manger, covering NC, SC and GA. He also taught continuing education in North and South Carolina for funeral directors. 
In 2004, Jim took an early retirement, and moved with his wife, Carole, to Myrtle Beach. Then he met an altruistic gentleman, Greg Everett, who wanted to make funeral costs more affordable to people. 
"The biggest thing that drives people away from a funeral home is the cost," Jim says. "Greg is one of the nicest people you'll ever meet. He was trying to come up with a business plan to offer premier service at an affordable price."    
With Jim's help, Greg started the Myrtle Beach Funeral Home and Crematory in 2008. With his love of the funeral business, Jim worked for him after retirement, and ultimately purchased it from him in 2011, so Greg could manage his other businesses. 
Today, Jim and Carole run the funeral home together with the help of Eddie Lennon and Bob Borning. 
Eddie is originally from Long Island, NY, and moved to Myrtle Beach five years ago. He is the cremation specialist at the funeral home, and is currently apprenticing to be a funeral director. 
Eddie became interested in the funeral business when he began meeting people in the industry through his work in a nursing home and then afterwards at the Myrtle Beach hospital. After meeting Jim through mutual connections, he decided to join the Myrtle Beach Funeral Home team.   
"The environment here has a very homey feel to it," Eddie says. "We look out for one another, we help one another. And we help the families get through this time— sometimes it's with laughter, sometimes it's just by being compassionate. We treat each other and the people who come in here as if they are our own family." 
Bob Borning is a licensed funeral director and embalmer. He grew up in upstate New York, and lived on Cape Cod for thirty years where he managed a funeral home— the same one which buried most of the Kennedy family. 
He also worked for an emergency response company, and spent three weeks assisting in Louisiana after Hurricane Katrina hit, and almost four months in Haiti after the earthquake. 
"We were charged with repatriating people from all over the world who were victims of the disaster," he says. 
Bob eventually moved to Myrtle Beach for the weather, the lifestyle, and a change, and worked for some years with another funeral home before relocating to Missouri. Then Jim called him and offered him a job. 
"I had known Jim for over twenty years, and he gave me a call because he was looking for somebody to help him with his business," Bob says. "I was literally packing my bags to come back here as we were on the phone discussing it. 
"Jim and Carol are absolutely wonderful people to work with and for. They've made it possible to offer people in Horry and Georgetown counties and beyond, an affordable choice for cremation and burial. 
"I meet families often, and I handle a lot of the embalming for Jim. I have a lot of experience doing it. We take pride in what we do here." 
Myrtle Beach Funeral Home and Crematory provides full funerals and cremations at a fraction of the cost of most funeral homes nation-wide. 
"In keeping with the motives that inspired the start of this business, we offer premier services at affordable prices while still maintaining the highest level of ethical business practices," Carole says. 
"We offer everything any other funeral home does, but because we are a smaller facility— 7,000 square feet rather than 17,000 square feet, we have lower overhead, and so we are able to offer lower prices."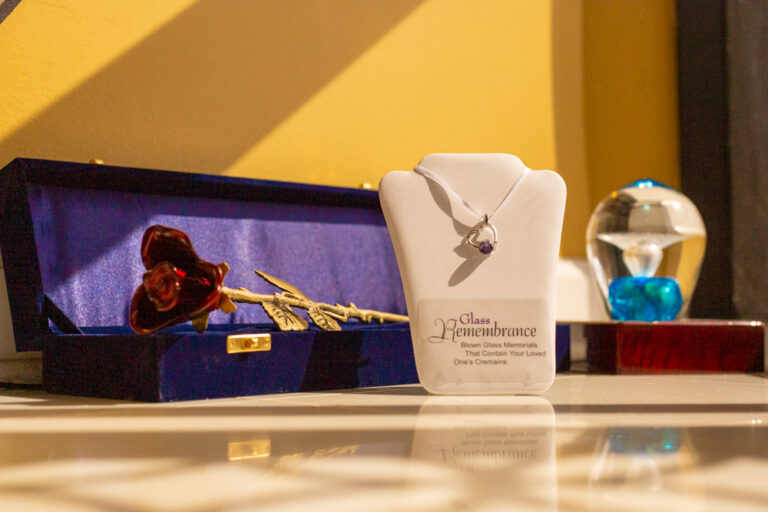 The facility includes a large dining area, several arrangement offices, a non-denominational chapel which holds 115, a smaller chapel, a family room, and an onsite crematory with a family room attached. They also offer catering services. 
"The market has shifted and traditional funerals have shifted," Carole says. "The ceremony is changing now to be more a celebration of life. You need less space, and the popularity of cremations has grown tremendously. " 
Myrtle Beach Funeral Home and Crematory offers all traditional services for cremations and burials. They accommodate all wishes and all religious preferences. 
Carole writes a lot of articles about the funeral industry and how families can navigate end-of-life issues together. One of the topics she tries to educate people about is that of the importance of pre-arrangement, the action of specifying wishes and planning your funeral while you are healthy.
"Prearrangement is one of the greatest gifts that someone can give their family," she says. "At the time of death, emotions and anxiety are escalated, often family members cannot think clearly, and cannot make decisions. With a prearrangement, it allows family members to follow the wishes of the deceased and relieves a lot of stress." 
Carole has a degree in business and psychology from Francis Marion University. She began her college career as a business major, but enjoyed psychology so much she ended up with a double major. 
She has twenty years of hospice experience, counseling families who have lost loved ones and helping them navigate the end of the life process. She is a firm believer in the healing power of the grieving process.   
"I enjoy helping the families who come to us," Carole says. "Sometimes I sit and cry with them. It's rewarding to me to know that in the slightest way I helped them get through this loss."   
"My favorite thing about what I do is satisfying families," Jim says. "When the services are over, and young folks say to me, 'I have no idea how I could have done this without you all.' I like hearing that. I like to hear that I've been there for somebody. To know that they appreciate my help."
"A lot of our families tell us that they love the relaxed atmosphere we have here, and the compassion that they feel from our staff," Carole says. "That they feel so at home and comfortable here with us. 
"It's meaningful to me to know that at the end of the day, I've helped a family through this— the most difficult time in anyone's life. We also offer bereavement services, and people often come to us for assistance with grieving before their loved one has passed." 
Jim and Carole stay active and involved in their community, supporting the local schools, law enforcements, the Heart Association, and the March of Dimes, to name a few. 
"We support everything we can in Horry County," Carole says. "They've been good to us, and we try to give back to them."