Cutting Edge Dentistry with Dr. David Savage
by Melissa LaScaleia
David Savage was born and raised in Kentucky. He graduated with a degree in dentistry at the University of Louisville, in Kentucky, in 2010.
"I always wanted to live in the Southeast, in a coastal environment," he tells me. "After graduation, I decided to move to South Carolina, and I landed in Myrtle Beach. In school, I originally thought I wanted a career in marine biology, but I decided to pursue dentistry. The decision allowed me to decide where I wanted to begin my career. It allowed me to take a risk right out of school and move somewhere I didn't have any family or friends."
David is thankful to have had an opportunity from Dr. Mark McCoy and Dr. Craig Milburn right after graduation.
"I worked at their office on Hwy 707, and in 2013 I purchased the business from them," he says.
The office was growing and expanding so quickly, that soon he needed a bigger space. David bought a piece of land on Holmestown Road in Myrtle Beach, and built his own dental office from the ground up. He moved into the new location this past March.
"It's certainly a dream come true to have moved away, gone out on my own, and to now own my own business," he says. "I have a wonderful team of six employees. We're a growing dental practice in a growing area, and it's exciting to see the growth we've already had in the past few years."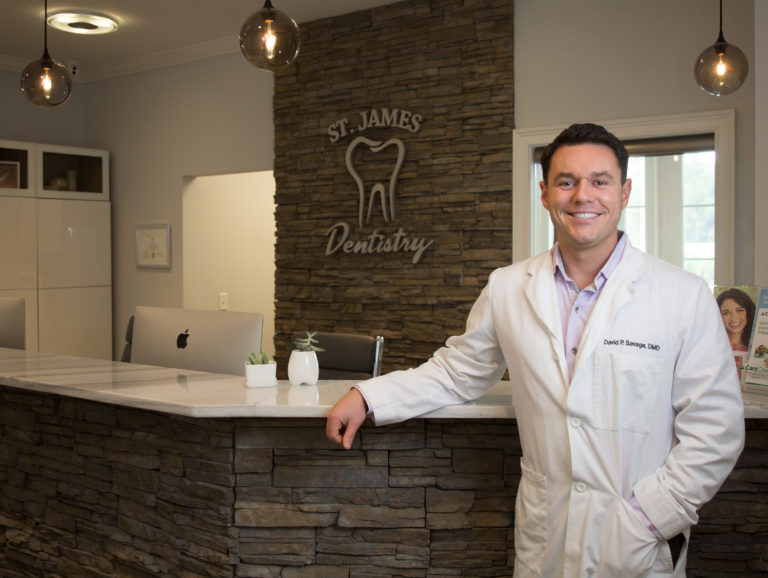 St. James Dentistry is a full-service, general dentistry office, which focuses on cutting-edge technology to offer the best care to their patients.
"Our office is as up to date with sterilization protocols and equipment as it can be; we adhere strictly to infection control guidelines and everything is brand new," David says.
"Technology is really important for us; we do a lot of digital dentistry, from digital x-rays, to digital impressions, to in-office milled crowns. All the equipment helps aid better dental treatment."
But an equal priority is offering patients a warm, welcoming, friendly environment in a modern setting, to ensure going to the dentist is a comfortable experience. And part of creating that comfort is achieved by David's approach to treating patients.
"No one likes going to the dentist and not being treated well," he says. "Many people have had experiences of being talked down to, or made to feel wrong or ashamed for the condition of their teeth. So here, we not only give patients great care, but we also give them great customer service and turn that dynamic of scolding on its head."

"A lot of offices offer the same services," he continues, "but the number one principle for us is that we're partners in our patients' dental health. Modern dentistry has changed from the old dynamic of, 'everything I say to you to do, you need to do,' to a more results-oriented dynamic of working together with patients to ascertain, together, the solution that's best and most appropriate for them.
"So we utilize monitors, and show patients their situation to bring awareness to it, and help them come up with sustainable solutions that they can implement into their lives in a way that is practical, moving forward. There's a million ways to x something. But we want to really get on our patients' level and let them kind of steer the ship.
"We take what our patients say about us very seriously. As a result, over the years, we've accumulated over 600 patient testimonials and reviews that you can read on our website, that show us that we're doing the right thing for them, and they're pleased with how we approach dentistry.
"We're continuing to grow because of the great team I have put together, and our ability to help patients feel comfortable," David says. "We're involved in a lot of continuing education, and we're always learning as an office to improve and get better. That's pretty important to us, that we're constantly learning."
Open M&W 8am- 6pm, Tu & 8am-4pm.
Learn more about the services they offer and see all their testimonials on their site.
To read more of our featured articles, click here!