by Melissa LaScaleia
Sarah Johnson and V. Lee Moore started their law firm in 2001. Then Elizabeth Saraniti joined their practice, and the three partners grew their firm to five attorneys and a staff of nine. As their firm expanded, they gradually evolved from their original office into their present setting of two buildings along Glenns Bay Road in Surfside Beach.   
"When Lee and I started our practice, we didn't set out to be a practice with five female attorneys," Sarah says. "But it turned out that way. We have a good mixture of attorneys to help clients with whatever they may face in their daily lives— like real estate transactions; estate planning; probate administration; personal injury; family law; collections; and community association representation.
"We have been well known in the area for many years, and pride ourselves on helping members of the local Grand Strand community. We like people and enjoy the work that we do."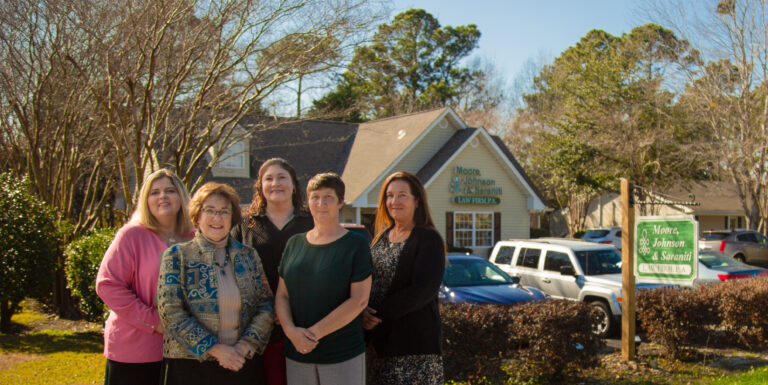 The firm has well-trained paralegals who are knowledgeable enough to be helpful to clients, but the lawyers take pride in being accessible to their clients, and are always available to answer any questions. 
Sarah primarily practices real estate law for both commercial and residential clients; occasionally she also handles wills and estate planning.
"Getting to meet people is my favorite thing about practicing law," she says. "I'm helping them when it's an exciting time of their life—they're purchasing or selling their property. Real estate is often a major purchase for individuals, and they always have a lot of questions. It can be stressful too, and I like being able to be there for them, to help them through the entire process." 
Sarah was born and raised in the Midwest, and moved to NY in the early '70s. She decided to attend law school later in life, graduating from Fordham University of Law in 1996. She moved to Pawleys Island the following year, and loves living there. 
"Because I was in business for many years before I became an attorney, I have a different outlook on life," she says. "The fact that I have a business background makes me more appreciative of the positive aspects of law."
Moore, Johnson & Saraniti Law Firm, P.A. 
1271 Glenns Bay Road
Surfside Beach, SC 29575
843-650-9757
Facebook @ Moore Johnson Saraniti Law Firm