Persistent, Tenacious, Experienced
by Melissa LaScaleia
Lee Moore of Moore, Johnson, & Saraniti Law Firm primarily handles law cases in the areas of estate planning, probate administration, family law litigation, and mediation. 
"I have thirty-two years of practice handling both sides of probate litigation working for the plaintiff as well as the defendant," she says. "It gave me a lot of experience to see situations from both sides. 
"Throughout my career, I've focused on litigation, specifically in family court and probate court. There aren't a lot of attorneys who have concentrated their practice in those areas. For whatever reason, people have identified me as being good in these areas; and as I began to focus more on family and probate law, people continued to bring those types of cases to me." 
"I enjoy those areas of practice," she continues, "because you see an immediate effect on people in their day-to-day life. With other areas of law, you feel further removed from the clients. 
"I like mediation because you can help people resolve something in a fairly quick fashion, and it's done outside of the court. I encourage people to pursue mediation before they file suit because it saves both time and money. My organizational abilities and problem solving skills are what make me a good mediator."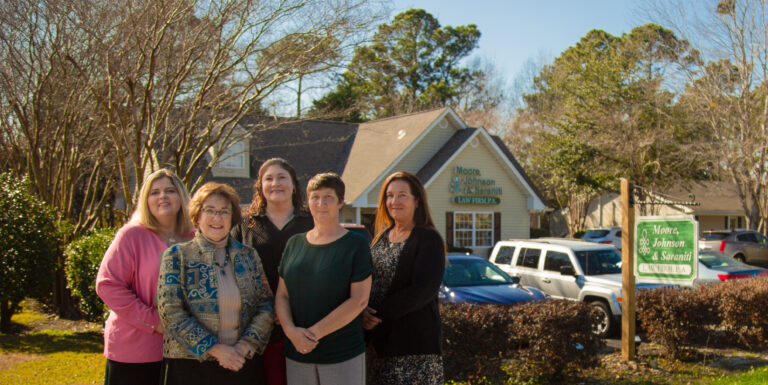 Lee is originally from Pawley's Island, and went to high school in Georgetown. She attended USC, then moved to Florida and worked as a paralegal before returning to USC to study law. After graduation, she settled in Surfside Beach. 
When starting her own private practice, Lee was looking for an attorney who handled real estate closings to round out her firm. In an unusual twist of fate, Lee's father used to have breakfast regularly at the Litchfield Diner with the husband of attorney Sarah Johnson. Word got out that Sarah had the skills that Lee needed, and when they met, both felt it would be a good fit. 
"Today, amongst our entire team, we really meld a lot of areas of law, and that enables us to provide more extensive services to our clients," Lee says. "We have areas that complement one another." 
"As a lawyer, I offer persistence, tenacity, and follow through," she adds. "At our firm, we have a stellar support staff, a lot of whom have been with us for ten plus years, so that we are able to maintain the structure necessary to provide consistent follow-through and organization. 
"We are very detail oriented and business-minded but at the same time are empathetic and care about our clients' needs and interests. We have a great firm, both attorneys and staff."
Moore, Johnson & Saraniti Law Firm, P.A. 
Attorney Lee Moore
1271 Glenns Bay Road
Surfside Beach, SC 29575
843-650-9757