Trusted, Experienced, Compassionate
by Melissa LaScaleia
Moore, Johnson, and Saraniti is a local law firm, started in 2001, that has grown over the years and is now comprised of five female attorneys – three senior partners: V. Lee Moore, Sarah A. Johnson, and Elizabeth J. Saraniti; junior partner, Angela D. Harrison; and associate attorney, Nancy M. Zovnic. 
The firm practices in the areas of general litigation; estate planning; probate administration; family law; commercial and residential real estate; corporate; collections; community association representation; and personal injury. 
"We are committed to providing ethical representation that is responsive to our clients," says Angela, who's been with the firm since 2012. "We look at each individual situation, and customize what we have to offer to meet our clients' unique needs.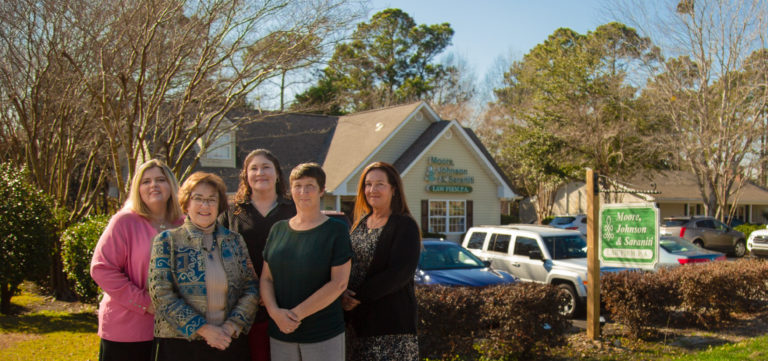 "I like that I get to meet people in all stages of their lives— to learn about their individual situation and be creative to find a solution to their problem that works for them." 
This is the time of year that many people review their finances and other important documents, and the attorneys of Moore, Johnson, and Saraniti are here to assist you with all your estate planning needs. 
"A lot of people believe that because they've moved to South Carolina, a new will is necessary, but that is not always accurate," Angela says. "We look at your current documents to confirm that they are valid in this state and that they still accomplish your goals. We also review Powers of Attorney, which I see as the most important documents, because the person you appoint will be making decisions about the allocation of your funds and administering health care while you are alive but in a vulnerable state. 
"Whether someone has just moved to the area and needs their out-of-state wills reviewed, or whether they need health care power of attorney or financial power of attorney, that's something we can help them with."