A Down-Home Insurance Agency Down the Street From the Market Common
by Melissa LaScaleia
In the mid '80s, Melvin Truett was a Nationwide Insurance agent in Florence when he decided to move to Myrtle Beach. He bought into a small agency, Moore & Associates, and became partners with Mr. Moore.
Melvin bought him out in 1991, and that same year, his son, Sammy Truett, joined the company. 
"People come in or call all the time and ask to speak to Mr. Moore," Sammy says. "And I tell them, well, you can talk to me, that's the next best thing.
"But that request has never inspired us to want to change the name. We decided to keep it because Moore & Associates has been in business in this area since 1979. It never seemed that important to us to have our name on the business."
Today, Moore & Associates is a full-service insurance agency, offering a range of insurance packages including: homeowners, mobile home, flood, wind and hail, automobiles, large commercial projects, restaurants, condos, HOAs, workmen's comp, and different types of bonds. In addition, they offer life, health, Medicare Supplements, Long Term Care, and group policies.
"There's nothing that we don't sell," says Sammy. "If you can buy it, we can insure you."
Sammy really enjoys his job; he further explains his approach to the insurance industry, and what he offers his clients: 
"It's an entertaining industry to be in from week to week," he says. "Rates are constantly changing, companies are changing, new products are coming in. We like to think we're at the cutting edge of that, and pride ourselves on staying on top of who offers the best bang for the buck.
"We know the market and know where to go to get the best prices for people. We also pride ourselves on having superior customer service. When you call Moore & Associates, you speak to a live person, not an automated system."
"This is a customer service business," he continues. "At the end of the day, all we're really selling you is a piece of paper. But it's when you actually need that piece of paper that we go into action.
"All my agents are cross-trained. There's always someone here who can help you no matter what your problem is. You're never going to walk into our office and hear somebody say, 'I'm sorry, she's on the line, we can't help you right now.' That'll never happen. And if it does, I want to know about it."
"I like working with people," he adds. "I like that in this line of work, I'm helping people, and helping them save money. During the recent hurricane on the Grand Strand, people were out of their homes for weeks and months. We were helping indirectly— getting their claims paid as quickly as possible.
"For the most part, there are a lot of agencies in this area, but we want to try to be the best at what we're selling and what we're doing."
One of the ways they do this is through offering weekly informational videos addressing some of the most commonly asked insurance questions. The videos are less than a minute, and posted on YouTube, Facebook, and their website.
"We're trying to get free information out there," Sammy says. 
A service which harmonizes with Melvin and Sammy's motto, "Get More with Moore & Associates."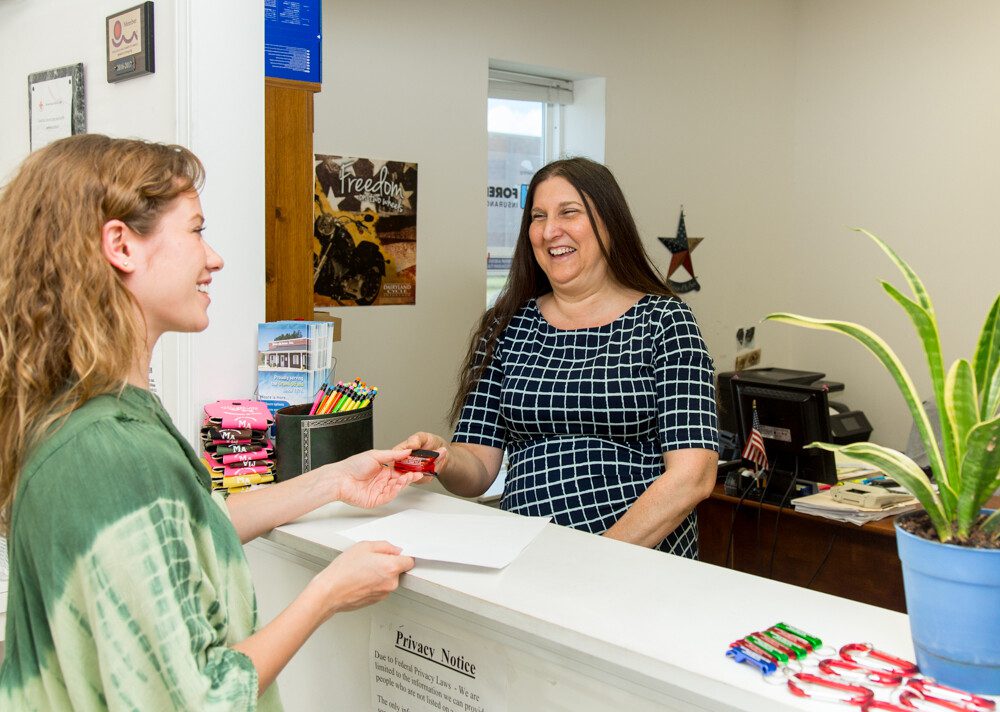 Indeed, when you visit their website, the biographical sketches of their agents illustrate the ways in which each gives back to the community through their work, as well as talents, hobbies, and passions. 
Melvin has been married to his wife, Peggy, for fifty-eight years. He is an avid golfer, and loves taking cross-country adventures in his RV. 
Sammy has been married to his wife, Carla, for twenty-one years. They have two children: Gracyn, a freshman at High Point University, and Samuel, an 8th grader at Calvary Christian School. Sammy is a former golf professional and still an avid golfer.
"I've been here since 1991," Sammy says. "I'm originally from Florence, but I've been coming to the beach since the 70s as a kid, when a lot of the roads in Surfside Beach were still dirt."
Between Melvin's 37 years and Sammy's 33 years of experience in the industry, "There's not many situations we haven't seen," Sammy says. "Including surviving Hugo and the other numerous hurricanes that have hit this area."
They have seven other agents working for them, all of whom have been with the company for at least ten years.
"We haven't had any turnover during that time," Sammy says. "We have a great working environment. Our agents enjoy their job and are very experienced in the industry— some with over 20 years experience."
"One thing we really want people to know," he adds, "is that we're very involved in the community, especially in charity work. We donate to numerous local charities because we believe in giving back to the community where we live and work."
Sammy shares more of the Moore & Associates company philosophy:
"The customer is always right," he says. "Occasionally someone will come into the office who is very upset about something. If you have that defensive mechanism up, you're not going to get anywhere. We have to be there to listen all the time. We're just a good home-town insurance agency."
Sammy is excited to offer his services to the Market Common community. Currently, homeowners, automotive, and golf cars rates are competitive—  and Moore & Associates can bundle those rates with a highly regarded insurance company.
"We're competitive, we're experienced and we're very familiar with the Market Common," Sammy says. "It's only right down the street from us."