by Melissa LaScaleia
The story of Moore and Associates dates back to the late '70s when Melvin Truett started working in the insurance industry with Nationwide, in Florence, South Carolina. 
In 1985, he relocated to Myrtle Beach, with the intention of opening his own small insurance agency. In 1991, he purchased Moore and Associates in Surfside Beach. His son Sammy has jointly run the business with him since that time.   
Moore and Associates had been operating as an insurance agency in Surfside Beach since 1979, and the name was known throughout the area. After the purchase and transfer, Sammy and Melvin chose to keep it the same so the community would still recognize them.
Today, Moore and Associates is a full service insurance agency offering property, casual and commercial coverage, as well as life and health policies. Their customers can choose from a wide array of insurance carriers— and they're constantly expanding that list.
"The best part of what I do is dealing with the public and being there for my clients when they need me," Sammy says of his company. "People need agents that they can trust to help them with their claims. We submit all claims for our clients through the individual insurance company, and we're there for them every step of the way if they need anything additional during the process." 
The biggest challenge that Sammy sees for people is that they don't understand their policy, what they are protected from, and are covered for. This is what he and his team are ready to help their clients address.
"As a company, we're big on consumer education," says Amanda Vibbert, a licensed insurance broker with Moore and Associates since 2006. "Not just about the nuances of your policy, but things like: why rates are the way they are, endorsements, and owner responsibilities. Regardless of whether people choose to go with our agency or not, they should understand the basics of insurance so they can make informed choices, and shouldn't be afraid to ask questions." 
It's important for people to know if they have enough coverage. And an important topic and one that is rife with confusion is flood policies and flood zones.
"Everybody in our area is in a flood zone, but not everyone is located in a high-risk flood zone," Amanda says. "Many people think they don't need flood insurance because their home is not located in a high-risk flood zone, but over 50% of floods happening now are coming from areas that aren't designated as such. If you look at data across the nation over the past four years, the low-risk zones are flooding more than the high-risk zones.
"We see this reflected in Conway, Georgetown, and Socastee. You can't predict it; it's just Mother Nature. Additionally, the topography of the land is changing. We're seeing an uptick in construction, and flooding is a lot more prevalent these days as a result. As greater numbers of homes are being built closer to the water, it becomes harder for the storm water run-off to flow efficiently.
"Also, you can't control for rain; with this past storm at the end of summer, the water simply flowed north to south." 
"Flood insurance is actually quite affordable, but people aren't protecting themselves because they're not getting the correct information," she adds. "They don't even know that they need it." 
Another area of confusion for people is their personal financial responsibility with their policies. After Hurricane Matthew in 2016, a lot of consumers didn't realize that insurance companies had changed their deductibles into what is known as a split-wind deductible, leaving consumers with a higher dollar-amount responsibility.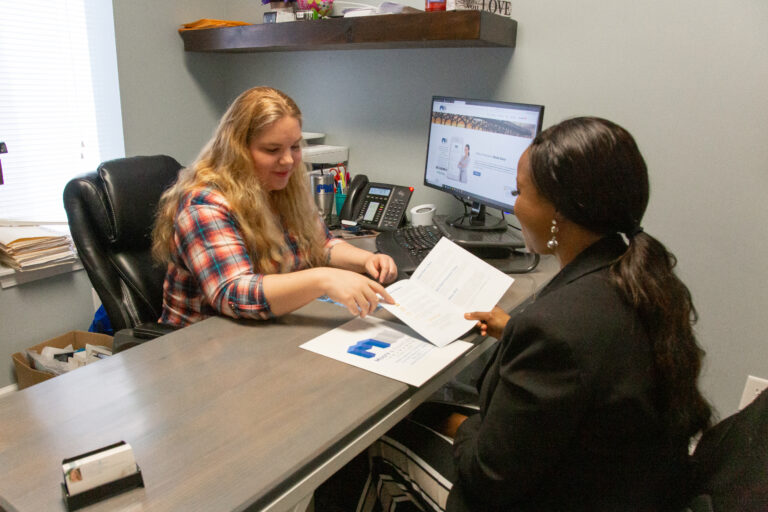 "We've made a big effort to make sure that consumers are aware of the changes to their policy so that there's no sticker shock in the aftermath," Amanda says. "Each policy has subtle nuances. People really need to understand their endorsements and how their deductibles work." 
For house insurance, Amanda and her team recommend a full-replacement-cost policy. This ensures that there is no depreciation of the value of your home or goods, and you are only responsible for paying your deductible in the event of a disaster.
Conversely, an actual cash value policy will add the depreciation of your home in addition to a deductible before the insurance company will pay out— a scenario which can leave many consumers devastated both emotionally as well as financially.
Moore and Associates tries to bypass situations like these by adhering to their tenets of client education.
Additionally, they try to encourage people to take a full inventory of their home and their possessions to have on file when they sign up for insurance, to make making an insurance claim, easier.
"A lot of times, after a storm is over, people are devastated, and they can't remember what they have," Sammy says.
My Home Scrapbook is a free mobile app designed by the National Association of Insurance Commissioners that offers a digital way to inventory your home. With it, you can even scan barcodes of your possessions to send to your email as an Excel document.
Moore and Associates has all avenues open and available to help their clients in the event of a disaster. They provide their customers with online channels for support as well, in case they themselves are without power, or don't have a building standing.
As a way to further their mission of educating the community, Moore and Associates offers an informational video series about all things insurance related that people can watch on their website. On it they address some of their most frequently received questions. If you're looking for advice on a certain topic and they haven't done a video about it, contact them, and they will create a video for you.
"We have a very experienced staff, most of whom have been with us for fifteen to twenty years," Sammy says. "We understand the industry, and we're not going to give you the absolute lowest price just to get your business. We educate our clients on the differences between policies, what they're paying for, and what they get in return, and help them to choose what's best for them. We want to make sure they know exactly what they're getting.
"People can call us on the phone, or just walk in the door to talk to us. You don't need an appointment; we're very approachable. If you like, you can also go to the website and fill out the quote form, email it to us, and we'll contact you."