Open Carriage Rides Return to the Market Common This Month
by Melissa LaScaleia
Joey Mincey started his business, Mincey Carriages and Tours, fifteen years ago as an enjoyable side hobby business to generate extra income.  His regular day job is in the tree service industry; he owns and operates Mincey Tree Service, which specializes in commercial and residential tree care, pruning, trimming, stump grinding, and custom saw and lumber sales.
Joey has been offering carriage rides at the Market Common for the past ten years.  He conducted them at Market Common's first ever Christmas tree lighting in December, and he's been doing them ever since.
"Offering carriage rides was a family-oriented business idea for me," Joey says.  "I've always had horses, and both my son and daughter grew up helping me.  Starting this idea was a way to generate money and still spend time with my family."
"This isn't something that I do day in and day out," he continues.  "My horse Misty is a pet.  I've had her since she was three years old.  And during the summer months, she works one day a week for three hours.  When she's not being used, she lives on our farm and grazes in the pastures.  This is more like an exercise program for her."
Joey lives in Nichols, SC, about one hour away from the Market Common.
He's owned five or six different types of carriages which range in price from $10,000 to $25,000; his current carriage he had shipped from Canada.
Joey first began offering carriage rides in the Myrtle Beach area at Broadway at the Beach, but the location was a bit too busy, and not well suited for the rides.  Then the Market Common invited him, and the combination of wide open streets amongst a primarily walking community made for a perfect setting.
"I've always had a great relationship with the management of Market Common," he says.  "It's always clicked."
Rides continue all summer long.  They start in front of Tommy Bahama and generally last from 8-10 minutes, depending on the queue.  In addition to the summer months, Joey and Misty also come out to the Market Common for festivals and holidays like Valentine's Day, St. Patrick's Day, Halloween (when he dresses up like a scary coachman), and Christmas time.
There have been infinite marriage proposals that have taken place in the back of his carriage at the Market Common.
"It's nothing to look back and see a man on his knees proposing on a carriage ride," Joey says.  "That's what it's all about.  Some give me warning, and some don't.  I've also had older couples where the lady has always dreamed of taking a carriage ride and the fellow will turn on the romance."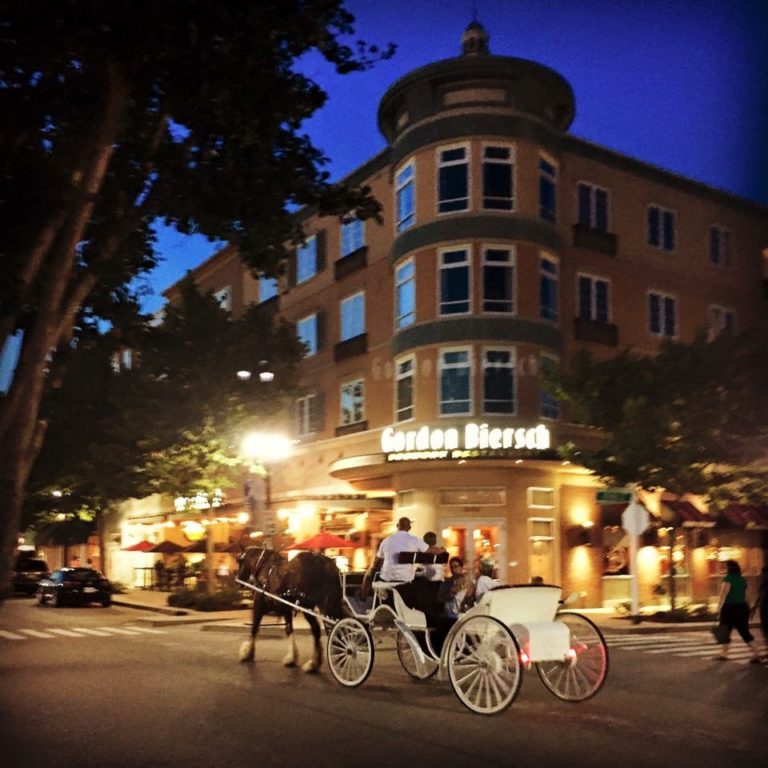 For the 2018 season in the Market Common, Joey has already pre-ordered a Cinderella carriage, complete with a wire basket on the top that looks like a pumpkin.
Apart from the fun he has spending time with his horse and family, meeting new people and facilitating so much romance, one of the most rewarding aspects of being in this business is the lifelong friendship that unexpectedly sprung up between him and his farrier.
When he first began his business, Joey was having a hard time keeping Misty properly shod.
"I had a local farrier," he says, "but he didn't know what he was doing.  When you're dealing with a 2,000 lb horse, keeping those shoes on properly is difficult, and not everybody knows how to do it.  The shoes on my horse would wear paper thin in ten hours.  There aren't that many draft horses in this area, so finding a local farrier was tricky.
"One day, I was at a draft horse auction, and I met someone who gave me the name and number of someone he thought could help.  He's an Amish guy from Ohio, and every eight weeks, he makes a week-long trip from Ohio to Florida, visiting different barns along the way, shoeing peoples' horses.  For the Amish in Ohio, horse-drawn wagons are their everyday mode of travel, so they understand how to do it.
"Over the years, Abe (his name) and I developed a close friendship.  Ordinarily, they're a very private people, but Abe has welcomed my son and I into their world in some respects.  I've been invited to their family wedding, and my son has even visited their schools.  I go deer hunting with him in Ohio for a week every year.  I got invited to their family reunion three years ago.  It's been quite a privilege for me.  I have a love and respect for those people, and most people don't know anything about them or their ways.
"I feel so grateful that this business has allowed me to make friends in another state with a group of people that I'd never have met otherwise.  And indirectly, because of him, I've made friends with another Amish man, and this year, we're starting a business, Lumber River Woodworks, selling Amish made poly lumber furniture made from recycled plastic."
Joey and his business partner have already attended one trade show, and plan to do more.
"It's really big in Ohio," he says.  "And it's catching on here.  It's high-end outdoor furniture that doesn't discolor, fade, chip or crack.  It's perfect for the salt air and water; and it's very durable."
Ah Market Common, what a gift you are to those who embrace the many and varied openings for entrepreneurial opportunities, as well as those of us who enjoy them.
Mincey Carriages and Tours
Mincey Carriages and Tours offers carriage rides in the Market Common beginning mid-June on weekends, leaving from the front of Tupelo Honey.
8-10 min carriage rides around the Market Common for a small fee.
Carriage rides for your special event, festival, wedding, birthday, engagement, or other private party by appointment.