Luxury, Prestige, Refinement
by Melissa LaScaleia
The dynamic husband and wife team Jack Abutbol and Dana West-Abutbol met in sunny Southern California thirty-five years ago. Jack grew up in Israel and has been a builder his entire life. Dana was born in Chicago, and grew up in LA where she became a successful actress.
In 2008, when the market had an extensive correction and construction in LA slowed down, the two turned their gaze to Florida where housing prices had dropped across the board. Taking advantage of Jack's construction knowledge, the couple purchased a myriad of locales around Florida— then renovated, rented, and eventually sold them.
"In Miami we opened Milano Kitchen & Bath," Dana says. "We wanted to do something for the individuals and builders in the area looking to renovate, and when we had the opportunity to take over a large stock of kitchen cabinets, we purchased everything and stored it in a warehouse. It was a great opportunity, and really just fell upon us."
This spring, they planned to return to California, but Jack had an associate in Miami who needed a kitchen for his second home in Myrtle Beach. Jack and Dana detoured to offer assistance; then one client led to another and another. The two realized there was a need in the Myrtle Beach area for what they had to offer, and by June made a commitment to stay.
"We have people relocating here from up North, from NY and NJ, from Europe," Dana says. "They want cabinets, shower heads and vanities of a particular quality and caliber, and there's no access to them. We have 40 or 50 types of vanities with the option of quartz or porcelain; European shower systems and jet showers; a variety of faucets and sinks; and LED mirrors in many shapes and sizes. The options we provide are much more elegant than what is usually found, and people here are wanting those options."
Milano Quartz & Porcelain, their recently opened sister company, exclusively carries quartz countertops. Quartz is a man-made material that is superior to the granite countertops of yesteryear for their beauty, durability, and maintenance. Dana has found that most people in the South are still using granite countertops in the kitchen, due to the lack of availability and knowledge about the benefits.
"Granite is old school in a bad way," she explains. "Quartz is much more durable. It doesn't need any maintenance, versus with granite, every eight months you need to seal it because it's naturally porous and will absorb everything spilled on it. Quartz is more sanitary than anything else, and the range and intensity of colors are just stunning."
Milano Quartz & Porcelain procures all of their vanity cabinets from Spain, and all of their kitchen cabinets and hardware from Europe. Jack favors the streamlined, frameless European styles which maximize space and have a smooth, sleek finish.
"Traditional cabinets have a face frame that covers the front of the cabinet," he explains. "When fitting them in a kitchen, you will always have a gap at some point between the cabinets. This is dead space. Frameless cabinets are much more beautiful. The cabinet box is thicker and more stable. There are no lines so it looks like one continuous cabinet.
"The majority of cabinets found in this country are wood and painted. Over time, especially with the humidity here, the doors crack and warp, and you have to be careful how you clean them or the paint will wash off. The ones we carry, we don't have those problems. They come in a variety of lacquers, wood grains, and different kinds of veneers. You can clean them with pretty much anything and they will stand the test of time. People can special-order anything they like. Most of our cabinets are semi-customizable anyhow, and I can modify to any size kitchen."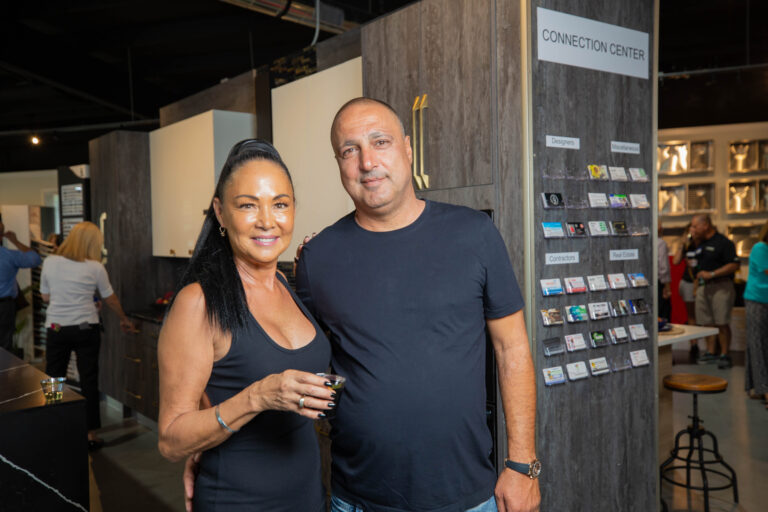 While many might balk at the challenges of trying to special-order anything at the present time, clients of Milano Kitchen & Bath need not. The company is a beacon of abundance and availability of products in a world that has become known for traumatic shipping times and a paucity of available raw building materials.
"If this area is planning to build 100,000 units in the next three years, I can supply all of them," Jack says. "Even before Covid, we always bought ahead and had fully stocked warehouse facilities. We're able to deliver a 72-hour turnaround time because I ship from my warehouses in Miami."
"For builders that's huge," Dana says. "With prices going up, a lot of builders are getting hurt. But we're able to eliminate a lot of the pain for them; and the prices are really good too."
Part of what makes them able to accomplish this feat is the extensive relationships they've built over the years.
They have exclusive distributorship for all quartz and porcelain for South and North Carolina through Rafaella Porcelain and Quartz, in New Jersey. This is a prime partnership, and one that ensures while the rest of country has to wait, Myrtle Beach has access to whatever of raw materials for building kitchens and baths that residents wish.
"When you're purchasing your own slabs of quartz, you want to pick them out yourself," Dana says, "because it's going to enhance your kitchen like nothing else."
To give their customers this opportunity, they opened Milano Quartz & Porcelain down the street, which has a showroom large enough to display their huge quantity of quartz and porcelain, as well as cabinets and peripheral items that they carry.
"Were excited to introduce the area to these updates and trends which are common in other areas of the country," Dana says.
To do so, they teamed up with longtime friend, Koby Zyroa in a joint partnership.
"Koby has lived in Myrtle Beach for twenty years," Jack says. "He has several businesses here— restaurants, ice cream parlors, and wholesale merchandise distributors. We've been friends for ten years; he's like family to me. It's a big value when you do business with someone you knew before you enter a business relationship with them. Koby is a family man; he's well connected in the community; and has a lot of knowledge about importing products from around the world. He has a generous spirit and is an integral part of our business. He was on board with us right away in terms of contributing to the community."
Now, as a partnership, the trio have lost no time in setting up shop. They hosted an epic grand opening on August 27 in which they raffled off a complete kitchen redo to a police station, fire station, or veteran. Fire Station # 5 won the prize, but Fire Station #1 was so old and dilapidated that Milano decided to gift them a redo as well.
"They are really excited," Dana says. "These kitchens are huge. And the event was a blast. Every person who came received a free raffle ticket, and we gave away wine, spa treatments, botox, luxury items, and dinners to restaurants all over the city. There was an abundance of cocktails, and everyone took home goodie bags brimming with gift certificates, a Milano key chain, and other little luxury items."
100% of the proceeds went in support of the Myrtle Beach Down Syndrome Society non-profit organization.
Milano Kitchen & Bath Center
Milano Quartz & Porcelain