Trust Thy Barber So They Say
by Ashley Daniels
It's not just about looking good, it's about feeling good. And that's exactly what owner Tommy Printz is delivering to each client who sits in one of the chairs in front of him at the new, Trust Thy Barber barbershop here in the Market Common.
The shop first opened November 1, restoring the long-lost artistry of old school barbering— with hot towel shaves, beard trims, and perfectly blended haircuts— delivered in a modern setting.
Tommy has family ties in the barbershop industry— growing up, his father was a barber in his small hometown outside Akron, Ohio.
As a youngster, Tommy didn't want to follow in his father's footsteps. After high school, he joined the Army. It was only after his service that he decided to attend barber school.
Tommy remembers many vacations to Myrtle Beach as a kid, and on one visit later in life with his wife and two children, he felt a calling to make it home. In 2005, he found a Help Wanted ad for Woody's Barbershop, and he and his family started their new life in Myrtle Beach.
Over the years, Tommy also enrolled in digital art classes at Horry Georgetown Technical College funded by his G.I. Bill, worked at a large format sign printer, and then returned to his barber roots at 18/8, a high-end men's salon. Eventually, he decided to open his own shop.
Trust Thy Barber was first born as a mini 8 by 10-foot business within a collective workspace building called Sola Salon on 42nd Avenue North. But Tommy was thinking bigger and better, which was what brought him to the Market Common.
"Every day, I'd drive by this spot, and when it became vacant, I knew this was my space," he says.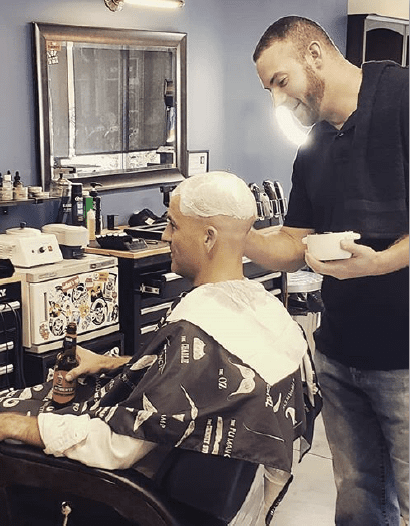 Business at Trust Thy Barber has been booming, spawned from his philosophy to treat each client like a "rock star."
The classic barbershop offers all the services from your grandfather's era: haircuts, buzz cuts, beard trims, straight razor shaves, shampoo and hot towel, even nose and ear hair trim— but with some modern upgrades— like cold beer and water, snacks and TV. The kids (and kids at heart) will also love to pass time on their classic video arcade game station. 
Walk-ins are welcome, but appointments are appreciated. Right now, the barber staff is at two, including Tommy and Pat, but he plans to add more experienced barbers in the new year. 
Eventually his son, currently studying the trade at vocational school in Conway, will join their ranks. Tommy says he's saving a chair on the end just for him.