A Local Spot That's Tuned Into the Community
By Melissa LaScaleia
Remedies Pub and Pizzeria is a bar and eatery hangout spot three miles from the Market Common, owned by Scott Ordway, a Myrtle Beach firefighter.
Remedies caters to a local crowd; it isn't much of a stop on the tourist gamut. They serve food all day long, and have a regular influx of lunch-time patrons.
"A lot of our clientele live across the street in Palmetto Point," says Katrina Boyer, a bartender. "You always see someone here that you know. It's a place that brings people together."
At night it transforms into a fun atmosphere with a younger clientele.
"I've been here since January," Katrina says, "and this feels like home to me. It's a warm, welcoming place. It's a very safe environment. We just have a good clientele— everyone's very sweet and humble. I've met a lot of amazing people here, and made a lot of friends."
Sports fans troop in on Sundays for Football Sunday, and regulars come after work to relax and for the happy hour discounted food menu.
"People are here during happy hour for the food 100%," Katrina says. "It has a lot to do with the dedication of our chef, Steve Roe, and his food is one of the things that makes our venue so great. He revamped our menu 100% and he's been here longer than anybody."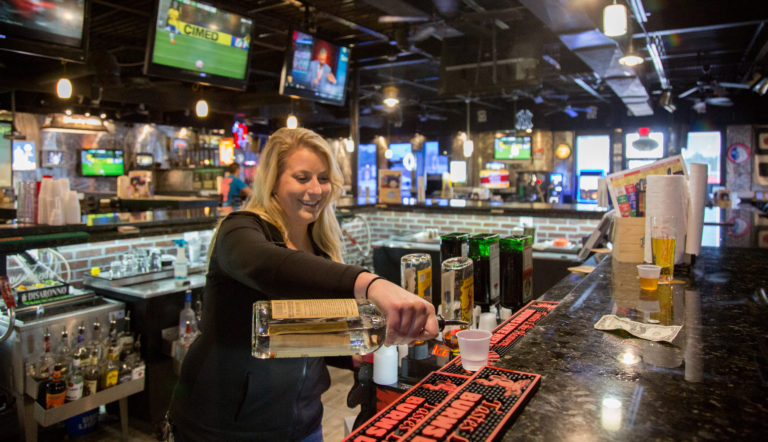 Remedies has a brick oven in-house where they bake specialty pizzas, calzones, and strombolis. They also have burgers, pasta, salads, and the usual appetizer bar fare.
"There's always a familiar face in here, and at least 5 people at the bar," she says.
Remedies is very tuned into the community, supporting local businesses and helping to raise money for charities and charitable causes.
"Since I've been here we've done a lot of benefits," says Katrina. "Our latest one supported the Humane Society. A little while ago, there was a local man who had a stroke, and we held a raffle to help raise money for his hospital bills."
Every year, Remedies hosts a fundraiser to support the Surfrider Foundation in memory of a bartender who worked there, David Adams.
"Everyone knew him as Shaggy," Katrina says. "He was well known by our clientele and very well liked. There are photos of him all over the bar."
Remedies is that small town place, with a big heart, and arms that reach out wide into the community, to lend a helping hand.
Remedies Pub and Pizzeria
Open daily 11am-2am.
To read more about some of our local businesses, click here!