They're Open! And Bringing a Little Bit of Groovy With Them
Clayton Matthews was born in Texas. He grew up in Athens, Georgia. The last 15 years of his life, he's spent living in Harrisonburg, Virginia, in the Shenandoah Valley, two hours outside of D.C. Clayton attended James Madison University, where he played football and graduated with a business degree. His father was the head football coach for 15 years at the same university, then worked as a TV analyst at ESPN. Clayton was introduced to Myrtle Beach when his father accepted a position with Coastal Carolina's football team.
"When I moved to Myrtle Beach a little over a year ago," he tells me, "I immediately fell in love with the Market Common and the lifestyle. It became a home to me as soon as I moved here. My friends make fun of me saying that if you want to see me you have to come to Market Common because for the most part, I don't leave it. The great thing about it… it's an area for everybody— there's older retired people and younger people in their 20's."
After moving here, Clayton and his family wanted to go into some type of business together. Close family friends owned a Peace, Love and Little Donuts in Huntington, West Virginia, so Clayton and his family knew about the franchise and liked the concept.
"We were already familiar with the model, and thought it would be great if we brought it to Myrtle Beach," he tells me.
Clayton, and his mother and father, all bought into the business equally 6 months ago, and are co-owners. Kay, his mother, is a retired teacher and a full-time grandma, and did the majority of the design and decorating for the shop. She'll be around a lot, helping out and making sure things are running smoothly. Clayton is the manager, and the only one who will be involved in a day-to-day capacity.
To help them prepare, the franchise director came to Myrtle Beach and spent a few days helping them select a retail space. They went from Litchfield to Conway and looked at every available commercial space; all unanimously agreed that Market Common would be the best area for the shop.
"You can pretty much get everything you need here," Clayton explains. "So opening a business here is a great opportunity. The whole urban lifestyle of the Market Common appealed to us. It's a family atmosphere donut shop. It's not, come get your donuts and leave."
The original Peace, Love and Little Donuts began in Pittsburg, PA, in 2009, in chic section of town called the Strip. In less than ten years, the funky store with a retro 70's vibe has grown to over 25 locations. By the time this goes to print, Clayton's store will be another, the first in South Carolina.
"We're going to have a nice seating area— indoor and out," he tells me. "We have invested a lot of time and energy making sure people feel comfortable when they come in, that it's an exciting spot, and an exciting experience for people when they first walk through the door."
Peace, Love, and Little Donuts is not your run-of-the-mill donut munching experience. For starters, they're made from a specific, controlled recipe, not a generic cake donut— and in Clayton's words: "a gourmet donut kind of deal." You stand at the counter and see your donut being fried right in front of you. Then, on to the donut bar, and witness your selection being dressed up before your eyes. There are three levels of frosting options: groovy, far out, and funkadelic, which range, as their titles imply, from something pretty cool to the works. There are 60 rotating toppings which include almost every cereal and candy bar out there, as well as more exotic toppings like salted caramel, and the all-time customer favorite— maple bacon.
"This is a completely new thing to me," Clayton confesses with a laugh. "It's really exciting, it's trial by fire. And it's something I feel I have a passion for."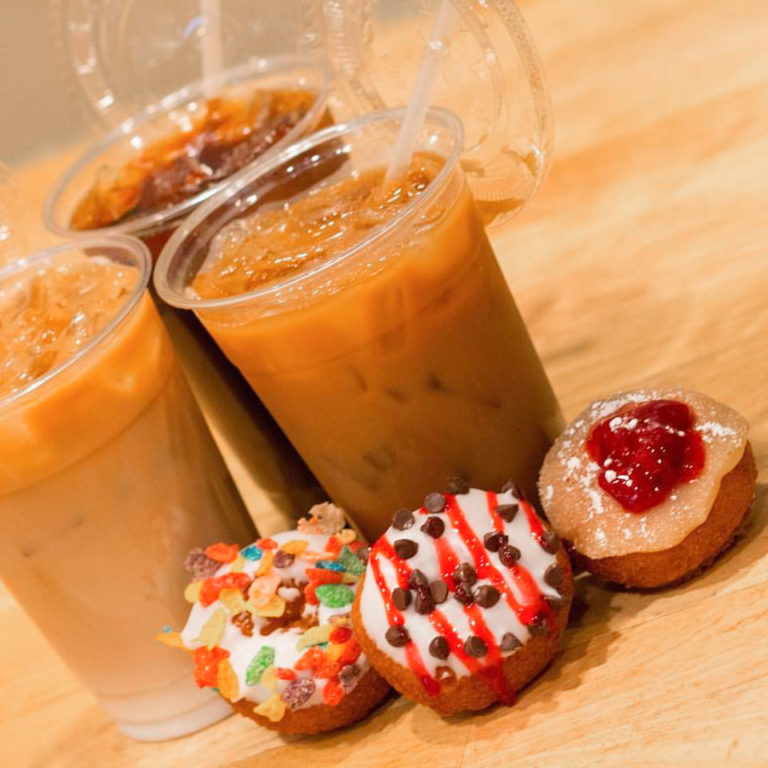 They also offer doggie donuts for your favorite four-legged friend. It's a donut with a peanut butter frosting with a milk-bone biscuit on top, and immensely popular with the pooches. Gluten friendly donuts for people will be available on Monday mornings once they get more established.
There is a full coffee bar serving all the specialty drinks with the addition of cold brew coffee and nitro coffee. Nitro is the newest niche offering amongst coffee connoisseurs— and it's gaining a rapid, passionate following. It's cold brew coffee on tap, which uses nitrogen, rather than the traditional co2 to dispense the coffee out of a kegerator. It is drunk without ice, and the nitrogen infusion gives it a creamy texture, so much so that most people who drink it don't have to add cream or sugar.
"It's extremely important to me that the store adds to what people term as the Market Common lifestyle," Clayton says, in speaking to me about his goals. "I want this to be a successful and positive addition to the community… And I think it will be. I think people will love what we do. People can walk through the door and see people that they've seen before, that they see on an almost daily basis. This is a spot they can come and hang out at for a bit on a Sunday afternoon. A lot of businesses in Myrtle Beach thrive on tourists. But I want it to be successful… we want this to be successful with Market Common and Myrtle Beach people who work here on a daily basis."
Peace, Love and Little Donuts,
Open 6:30am-9pm depending on the season.
Peace, Love, and Little Donuts offers catering for your special event or host your event on their premises in their private function room. Free donut delivery to anywhere in the Market Common.