An Annual Summer Tradition Returns to the Market Common
The advent of June brings with it the return of Movies Under the Stars, the weekly outdoor summer movie tradition held in Valor Park in the Market Common.
Every Friday night all summer long, friends, couples, families, and singles (some with animal friends), arrive with beach chairs and blankets in the warmth of the summer evening, and select their viewing spot from which to admire the stars and settle in for some entertainment on a big screen.
This free event is a beloved and long-standing tradition in the Market Common. No one knows who began it or precisely when, but the idea was quickly adopted after the Market Common acquired a screen second-hand.
Katherine Taylor, who works in the Market Common office is responsible for the movie line-up— a task she's been spearheading for the past two years. She chooses movies based on their popularity in the theaters, and selects mostly G or PG rated ones to ensure the event is family friendly. At least once a month, there is a PG-13 rated selection to cater to older crowds.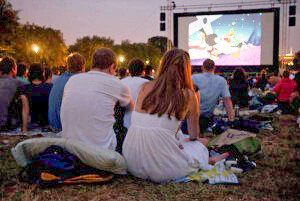 "This year, to help promote The Myrtle Beach International Film Festival, we'll be showing some shorts that were screened before the movie starts," Katherine says. "If we can do this every week, we will but they will be short films."
There will be popcorn and ice cream vendors this year just as last, and free bouncy houses for the kids before the movie starts. A Market Common staple, the Kettle Corn Man, will be there as well. Katherine also attends, usually with her dog, Charlie. 
The movie starts at dusk, around 9pm, and the time varies weekly as the sun shifts in the sky.
June Movies:
June 2, Matilda (PG)
June 9, Minions (PG)
June 16, Secret Life of Pets (PG)
June 23, Ghostbusters (PG-13)
June 30, The Jungle Book (PG)
We'll see you there.
In Valor Park, off of Farrow Parkway in the Market Common. Every Friday night from Jun 2- Aug 25, 2017 at dusk.