Invaluable and Not Forgottten
by Melissa LaScaleia
During the Vietnam War years, the Myrtle Beach Air Force Base played a significant role in support, operations, and victories in Vietnam. Many people don't realize the contributions that this base, and the units and people who were stationed there, made.
In January 1968, North Korean forces seized an American ship, the USS Pueblo, compelling the 113th into active duty. 
The 354th Tactical Fighter Wing, Myrtle Beach's home unit, was deployed to South Korea to aid in the Vietnam conflict. 
That same year, the 355th Tactical Fighter Squadron deployed to Phu Cat Air Base, in Vietnam to support the 37th Tactical Fighter Wing, and later were permanently assigned to them. 
The 113th acted as an RTU, or replacement training unit, and were assigned to Myrtle Beach to protect interests at home and offer support as a consequence of this event. 
From 1968-1970, the 113th Tactical Fighter wing trained F-100 pilots for combat in Vietnam. Non-combat pilots were upgraded under the jurisdiction of this replacement unit.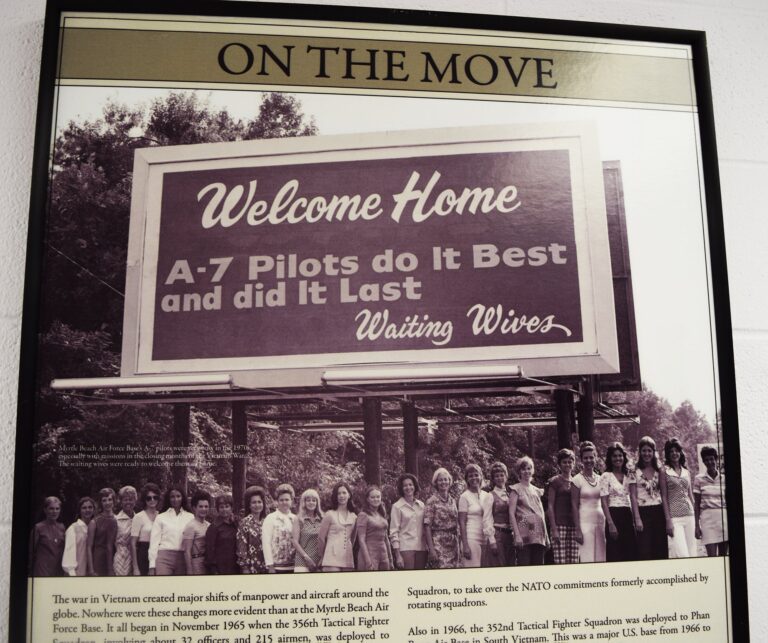 While at Myrtle Beach, the 119th Tactical Fighter Squadron, and the 121st Tactical Fighter Squadron both came and joined together for active duty.
In 1971, the 37th squadron returned to Myrtle Beach to transition into the A-7D Corsair II aircraft. The A-7 was developed during the early '60s as a light attack aircraft. The development of this aircraft was rapid; they entered squadron service in 1967, and by the end of that year, they were being used overseas for the Vietnam War. The Corsair II version had significantly more power.
The 37th squadron, dubbed the "Fightin' Falcons" for their courage and derring-do, returned to Vietnam with a powerful attack force for a maximum effort bombing operation. Called Constant Guard VI, this was a deployment of aircrews, support personnel, and equipment. C-141s were used to transport both planes and people.
Operation Linebacker II was an aerial bombing campaign that was a collaboration between many units and several branches of military. It took place in North Vietnam from December 18-29. As such it was nicknamed "The Christmas Bombings," and "The December Raids."
The force compelled the North Vietnamese into negotiations which ultimately led to American withdrawal from the country.