Bringing the Spirit of Italy to the Market Common for 25 Years
by Melissa LaScaleia
Festa Italiana, Myrtle Beach's Italian heritage festival, is celebrating its 25th anniversary this June at the Market Common. The two-day festival is hosted twice annually by the Sons and Daughters of Italy, a group that was founded in Myrtle Beach in 1992.
In the early part of the 20th century, Italian immigrants coming to America met with the same prejudices, fears, aversions, alienation, and isolation by the pre-existing social and cultural order that immigrants to all countries have faced since time immemorial. So a group of Italians decided they would do something to make their living conditions a little bit better.
Order Sons of Italy in America was started in 1905 by Dr. Vincent Salero. The purpose was to create community and keep pride in Italian traditions and heritage alive, as well as create solutions to the challenges they faced collectively. As Italians moved to other parts of the country, more chapters, called lodges, sprang into existence under the umbrella of the national group.
The Myrtle Beach lodge evolved their title to be all-inclusive, calling themselves the Sons and Daughters of Italy, although women have always been welcome. They are the oldest as well as the largest lodge in the Carolinas.
When they purchased a two-acre property in 2007, they became the only lodge in this area with their own physical building. It has a dining room and bar, two regulation-sized Bocce courts, as well as an Italian garden where members tend a fig tree, tomatoes, peppers, eggplant, basil, and parsley plants. They have 360 members, and welcome anyone to join, not just those of Italian descent. The only thing non-Italian members can't do is hold office.
"Like everything else, people get assimilated into their new environment," Frank Baldari, the vice president of the Myrtle Beach lodge tells me. "We are trying to keep our traditions alive and make people aware of Italian customs and heritage."
The twice annual festival is one of the ways they keep the community informed about Italian ways. It also helps them fulfill another part of their mission statement— helping others.
Festa Italiana was started as a fundraiser to support nine local charities whose causes the Sons and Daughters of Italy support. It takes 100 volunteers to do everything for the festival, from the planning and preparation, to the equipment installation. The festival is volunteer-run in its entirety, with the exception of the dishwashers.
Even though they themselves are a 501(c)(3) non-profit, they fund the festival themselves, hosting a number of events during the year to cover the expenses for it and their lodge.
"Most of the money that we generate from our events stays right here in the Myrtle Beach area, so we can support the local community," Frank says.
It would hardly be an Italian festival if food, made to exacting standards and in a communal setting, weren't involved. In true Italian style, it is fresh, homemade, and made with love by lodge members— most of it onsite at the festival.
"The spaghetti sauce and the baking are done beforehand," Frank says. "Nothing comes from outside except the sausage…. We get our sausage from Jersey. Friday morning we have a dozen people come to the lodge to chop peppers and onions for our sandwiches."
Frank shares the menu with me with true Italian gusto. Being Italian myself, I can relate and share in his enthusiasm.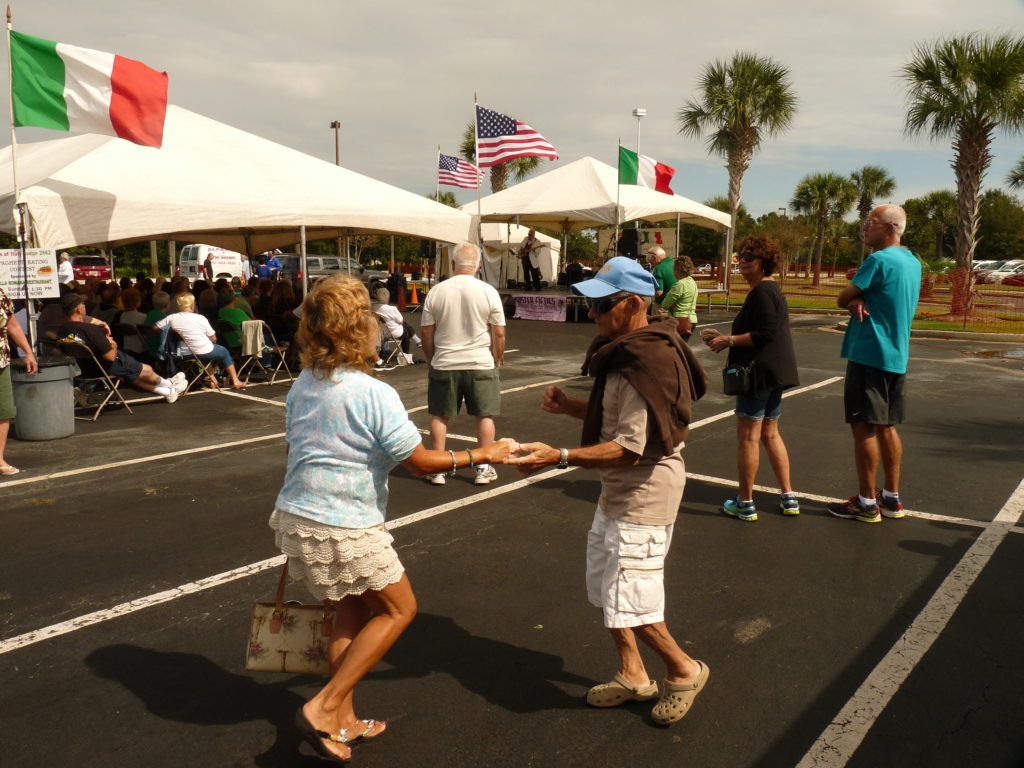 "First," he says, "we have the famous hero sandwiches— sausage and pepper and meatball. The meatball sandwiches have four meatballs on the sandwich. (No skimping here.) There's Neapolitan style pizza, ravioli, chicken parmigiana, and for people who want to try a little bit of everything— we have a combo plate called Taste of Italy. For the Americans, we have fish and chips. Then we have our signature zeppole, it's not a doughnut, it's not American fried dough— it's zeppole. It's better. We have our own zeppole chef— Joe Maretta. He has his own secret recipe for the batter, and he makes it for us. Then we have some more pastries, cannoli, homemade Italian cookies and biscotti, and real Italian ices. And it wouldn't be an Italian festival without wine and beer, and we have soft drinks too."
Like many Italians, Frank enjoys good food as well as sharing a good story.
Two years ago," he tells me, "I'm grilling sausage and there's a gentleman who came up to the booth and said to me, 'I've been a vegetarian for three years, and I've walked by this booth three times. I have to have one.'
He took the sandwich and I said, 'I have to go to confession next week.' He came back later and told me he shared it with his wife who was a life-long vegetarian, and also was unable to resist. Then he said, 'I'll be back next year.'
"The following year, he came back and said: 'Remember me? I'm the vegetarian. Give me a sausage.'"
There is a pasta eating competition sponsored by Villa Romana Italian Restaurant to see who can eat a bowl of pasta the fastest— the current record is a minute and a half.
"You really have to be there to appreciate it," Frank says. "One year one of the winners was a gentleman with a full white beard. When he was finished his beard was all red."
Then there's the pizza eating contest, sponsored by Ducati's Pizzeria and Trattoria. The record to beat, for those eager to join this year's competition, is just over two minutes for one full-sized pizza.
In addition to the food, they have continuous entertainment all day long. Larry Tanelli and Claudette will be offering Italian songs; Forever Doowop, a fifties group, will be performing old classics. There will be The Sister Act, Gene Santini singing Frank Sinatra, and an Italian tenor, Jesse Bastiano.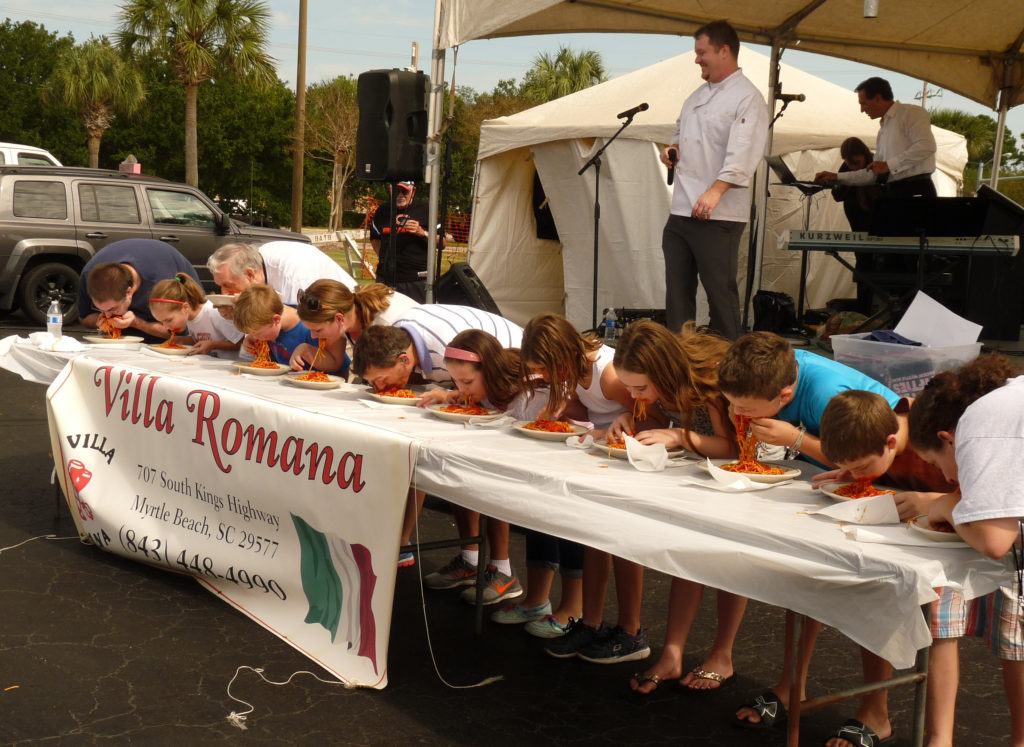 Then there are games, inflatables, rides, and face painting stations. There are Italian themed gift shops, and upwards of fifty vendors selling arts and crafts, jewelry, soaps, candles, painting, and clothing. There will also be a car show by the Myrtle Beach Corvette Club.
"Once the festival began, it just kept on growing, and now we expect 6-8,000 people over the course of the two days," Frank says.
"Last year," he continues, "we had an Italian World War II encampment come and set up, and it looked like a perfect reenactment. They set up their communication equipment, historical things, the weapons, wearing uniforms, just as if they were at camp. A lot of people forget that halfway through the war, Italy changed sides and was fighting the Nazis with us. They receive grants to promote historical education."
There's also an Italian information booth where people can get literature to understand the Italian culture better.
"One of its purposes is to dispel the myth that all Italians are gangsters," Frank says.
I think that he's teasing me, but Frank explains that here, many peoples' education of Italian culture is limited to the Godfather movies.
Today, when there is so much misunderstanding and ignorance about differing cultures and traditions, it's nice to know that the Market Common holds events where we can come together in community and make the learning of different ways a truly fun and memorable time. And that in enjoying some seriously good food, we're supporting some very good causes.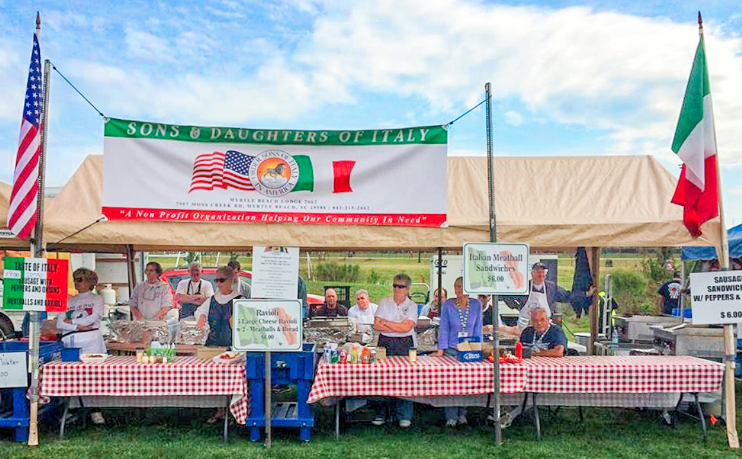 Sat, June 24, 2017, from 11am-8pm; Sun, June 25, from noon-7pm by the big lake in Market Common, just off of Farrow Parkway. Entrance $1.
To learn about more of the events that the Market Common has to offer, click here.