A Local Franchise Opens Its Doors Just Outside the Market Common
by Melissa LaScaleia
Don Rau, the owner and operator of the franchise Eggs Up Grill, on the outskirts of the Market Common, has been working in the restaurant business his entire life. His father and grandfather before him did the same.
Growing up, Don helped in his family's restaurant in Ohio, and eventually took over the family business as an adult.
It was a full service restaurant, banquet, and lounge, with frequent live entertainment. They served breakfast beginning at 6am, and were open late into the night.
"Eggs Up Grill reminds me of what my parents started when they first began in this business, because all they did was breakfast and lunch," Don says. "My dad cooked, and my mom was a waitress. And then they grew and expanded, and now here I am with Eggs Up Grill."
Eggs Up Grill is a franchise that was established out of Pawley's Island in 1986 by Chris Skodras. Don's restaurant now is comprised of more help than he and his wife, but it's the same kind of family-oriented concept his parents started out with.
In 2006, Don and his wife visited Myrtle Beach for a spring break vacation, and made a decision that this was where they wanted to spend the rest of their lives.
"My two girls were three and five," he says, "and my wife told me: if we're doing any kind of moving, we're not waiting."
When they moved to Myrtle Beach, Don took a job as a managing supervisor in the food industry for a local company that owns several McDonalds in the area. After a successful ten year career that involved extensive hours and a lot of stress, Don was ready to be an entrepreneur again.
"My wife and I have been married for 25 years," he says, "and I've worked long, hectic hours for most of that. I was already planning to change careers, but as of last year, I made a commitment to her to create a better atmosphere for our lives for the next 25 years."
"When I did the research for a new opportunity," he continues, "I was distinctly looking in the Market Common area. I've been so attracted to Market Common the whole time we've been here. We feel fortunate that we got into this part of town. I just see no end to the way it's growing and I'm just tickled to death to be a part of that."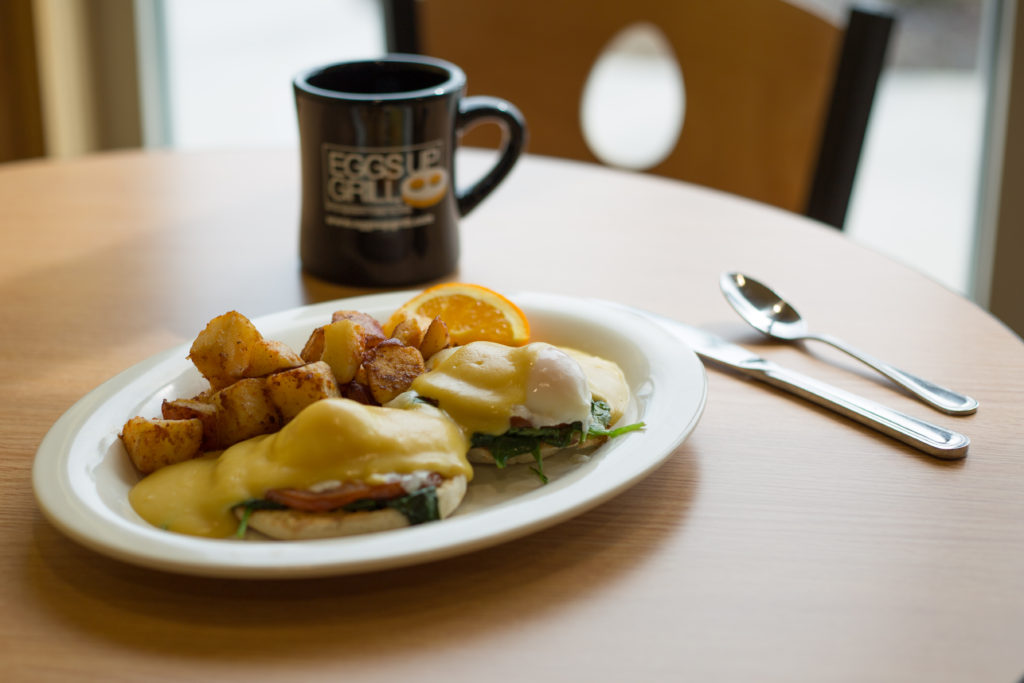 Don spent three years researching and planning his entrepreneurial career move. He had ups and downs along the way.
"This was something I was trying hard to achieve, but things weren't going as I expected," he says.
Don had to let go of it taking shape the way he wanted. By November of this past year, things began to turn around, and he knew his planning would yield results. 
"I saw it as God moving me in a different direction than what I anticipated," he says.
Eggs Up Grill gives Don an opportunity to focus on what he loves (which is breakfast), while giving him the afternoons to be able to spend with his family (which he also loves).
He was enticed too, by the positive atmosphere and family-oriented feel of the company, which lent him a sense of security and led him to believe that the venture would be successful for him and his family going forward.
He opened his doors on March 27, 2017; and by the first part of June, he'll be offering outdoor patio dining. His location on Walton Drive right off of Farrow Parkway by Highway 17 Bypass, is location number twenty-four of Eggs Up Grill.
"The co-founder of the company wanted to have something a little bit different in terms of ambience with this new location," Don says. "We added soothing blue tones to the color scheme in addition to the standard red and yellow that are characteristic of all Eggs Up Grills. It has more of a beach atmosphere and I think it creates a better, calmer environment; it's not a diner-type feel that some people might be more accustomed to when they think of breakfast."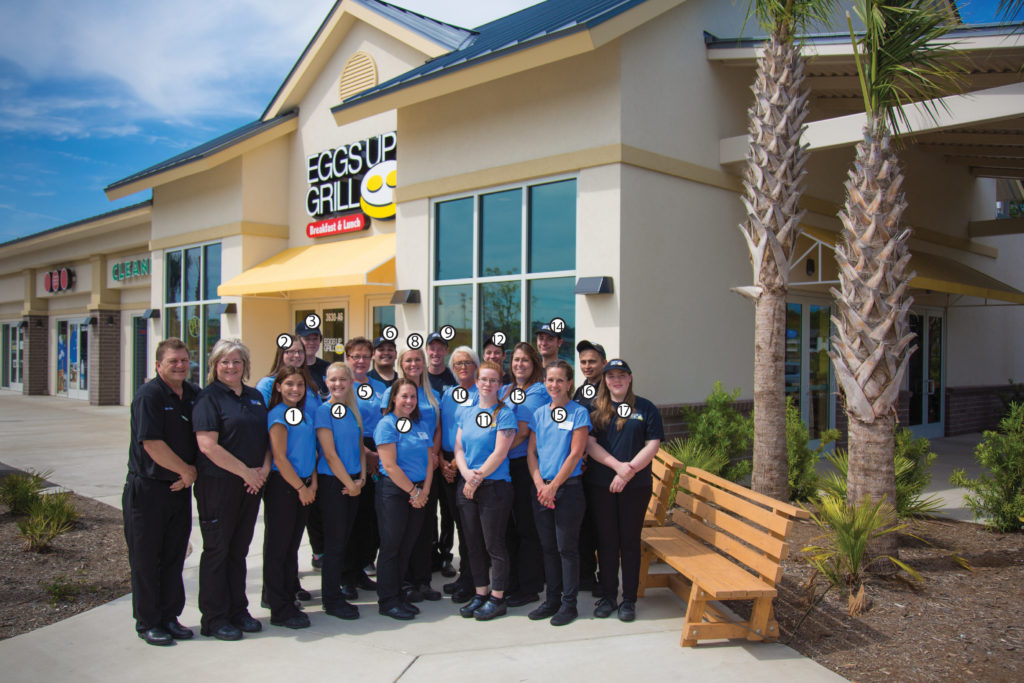 "My goal is to have one of the most successful Eggs Up Grills in the company," he adds. "Most all of my staff is local, and I feel proud to have created twenty-five new jobs from starting this venture. I have a kitchen manager who does a spectacular job, and great staff. 
"My two teenage daughters work for me on the weekends, and my wife helps as well, and it's a great family atmosphere that I believe will draw an even better crowd."
Eggs Up Grill has the same menu throughout its hours of operation, from 6am-3pm. Most of the other Eggs Up Grill locations are open until 2pm.
Don believes that staying open for the extra hour will create a consistent lunch crowd for those with later schedules.
They serve traditional breakfast favorites like omelets and eggs Benedict, as well as burgers and club sandwiches and homemade soup. There are vegetarian options, as well as gluten-free batter for pancakes and waffles that are cooked in a gluten environment (the menu calls the items gluten-free friendly). One of their menu highlights is a sweet potato waffle; the banana foster is also very much appreciated by some of their customers.
"We try to be very health conscious and offer options for a lot of different people and for anybody's liking," Don says.
"I couldn't ask for more support or success in the short amount of time that I've been open," Don continues, the satisfaction evident in his voice. "We've exceeded our projections that we anticipated for the first month."
"This is a community-based business," he concludes, "and I'm tickled to death to satisfy people and give the best hospitality.  Because I believe that's the heart and soul of how to sustain a good business— keeping the customer satisfied."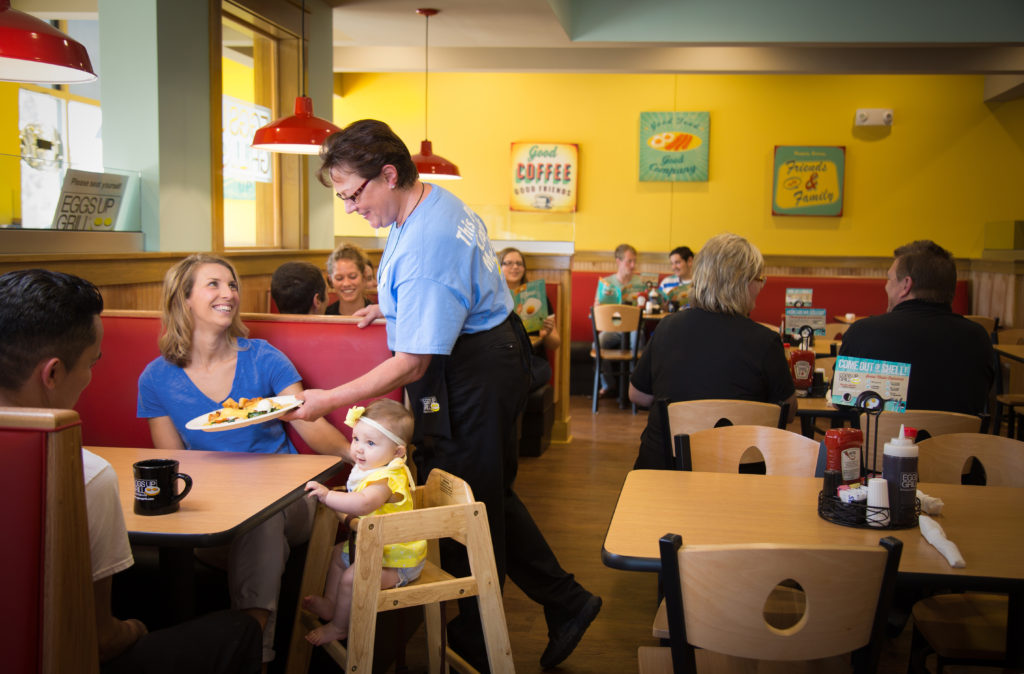 In-house dining, take-out and catering.