Treating Patients Like Family
by Melissa LaScaleia
As if living in the Market Common isn't reason enough to smile with ease, Market Common Dentistry gives you more reasons to flash your smile with happiness. The small local dentist office has been located in our community for four years, and is run by Dr. James Mills.
Dr. Mills graduated in 1984 from Loyola University with a doctorate in dental surgery. He then completed a one-year general practice residency at the University of Chicago in 1987, which provided training in advanced surgical techniques, anesthesia, and general medicine.
He worked as a dentist in private practice in Chicago before moving to Myrtle Beach in 1991. Once here, he purchased an existing dental practice which he moved and expanded. Currently, he is in his third location in Myrtle Beach.
"And, it's the best one yet," he says.
The dental office is a freestanding building with ample parking, located one-third of a mile west of P.F. Chang's and across the street from the soccer fields. It is equipped with the latest in technology as well as amenities for optimal patient comfort.
"The most up-and-coming neighborhoods in Myrtle Beach are here in the Market Common," Dr. Mills says. "It's a community within a community. You can walk out the door of my practice and see the beautiful lake. It's an outstanding area, which is relatively non-commercial. The whole setting is very peaceful. It's new, it's clean— and with beautiful sports fields— very family oriented."
Market Common Dentistry is a general dentistry practice, run by Dr. James Mills, and Associate Dr. James Sexton, and does all aspects of dental procedures excepting orthodontics. What makes them unique, is that most dental procedures are able to be done right here in their office, bypassing the need to be referred elsewhere for a more complex or serious procedure.
Dr. Mills is qualified to administer IV and oral sedation to patients right in the dental chair and complete those procedures.
"I learned implant dentistry back when very few general dentists offered that," he says. "I also learned to administer IV sedation so as to be able to place implants as well as bone grafting while keeping patients comfortable."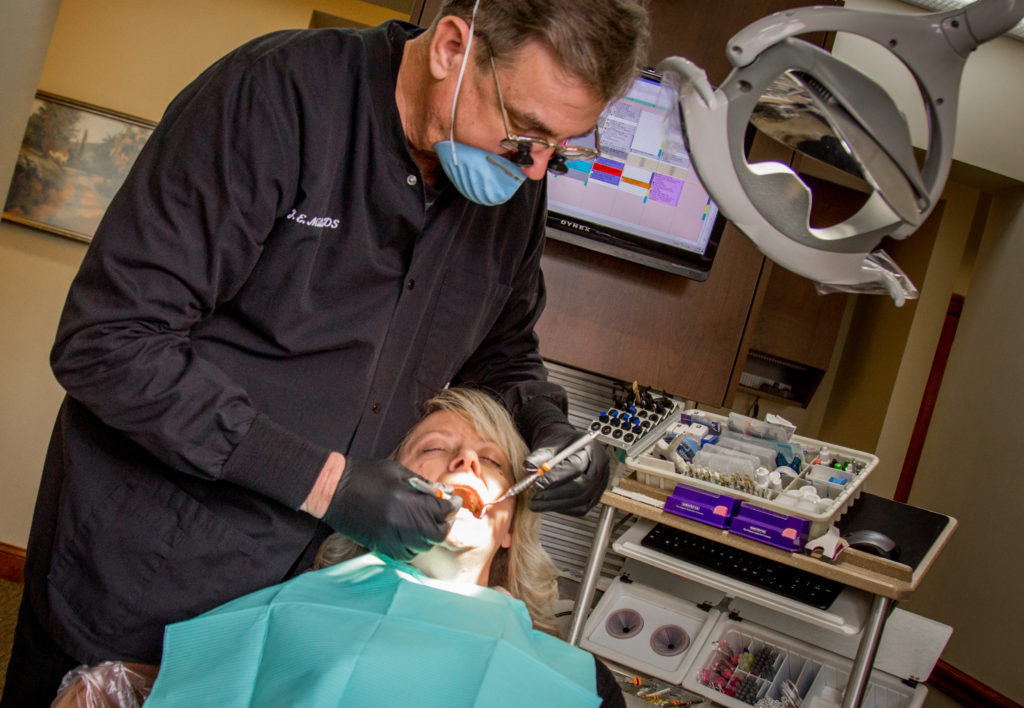 "We understand that people dislike the dentist," says Lisa Yazici, the practice manager for the office. "That's why our entire team, from the front desk, to the dental hygienists, to the doctors— does everything we can to make our patients feel safe, relaxed, and comfortable. We develop a rapport with our patients and listen to them to help put them at ease. Our patients are like family."
Lisa's job is to run the daily operations of the dental practice and ensure that everything is running smoothly from patient comfort to treatment planning.
In addition to containing modern dental equipment, Market Common Dentistry was designed with amenities like heated, vibrating dental chairs, and ceiling-mounted monitors so patients can watch DVDs or television during procedures.
Knowing that almost any dental problem that they have can be treated at their pleasant, contemporary office—and knowing that they'll be cared for by a familiar face for an intense procedure, brings many anxious dental patients a measure of calm and security.
"We're very caring and professional," Lisa says. "That's why our motto is 'smile with confidence, in comfort, beautifully.'"
Dr. Mills shares that his favorite thing about practicing dentistry is helping people achieve a healthier mouth, and providing them with the services that they want and need.
"I really value and strive for the best long-term patient outcomes," he says. "It's gratifying when I can relieve people's pain and see them leave with a smile and help them make headway with their oral health. We treat a lot of families, and they come to us because of the convenience of the services we offer, availability of appointments, and location."
"We are successful because of the way we treat our patients and the quality of care we provide," Lisa adds. "We're not a clinic atmosphere; we're a private family practice."