Treating Patients Like Family
by Melissa LaScaleia
Market Common Dentistry is a general dentistry practice that does all aspects of dental procedures except orthodontics. 
The small local business has been located in the Market Common for seven years, and is owned by Dr. James E. Mills. In addition to Dr. Mills working full time, he has a part-time associate— Dr. Robert V. Carimi. 
Dr. Mills received a B.S. from the University of Illinois at Urbana-Champaign in 1979; he graduated in 1984 from Loyola University with a doctorate in dental surgery. He then completed a one-year general practice residency at the University of Chicago in 1987, which provided training in advanced surgical techniques, anesthesia, and general medicine. He worked as a dentist in private practice in Chicago before moving to Myrtle Beach in 1991. 
Once here, he purchased an existing dental practice which he moved and expanded. Currently, he is in his third location in Myrtle Beach— "And," he says, "I'm in the best one yet. 
"Market Common is like a community within a community. You can walk out the door of my practice and see the beautiful lake. The whole setting is very peaceful. It's new, it's clean— and with beautiful sports fields, very family oriented." 
Dr. Robert V. Carimi is originally from Memphis, TN and has been practicing dentistry for ten years. He earned his dental degree from the University of Tennessee, College of Dentistry. Prior to entering private practice, he completed advanced training in surgical techniques at the Veterans Affairs Medical Center in Memphis, TN.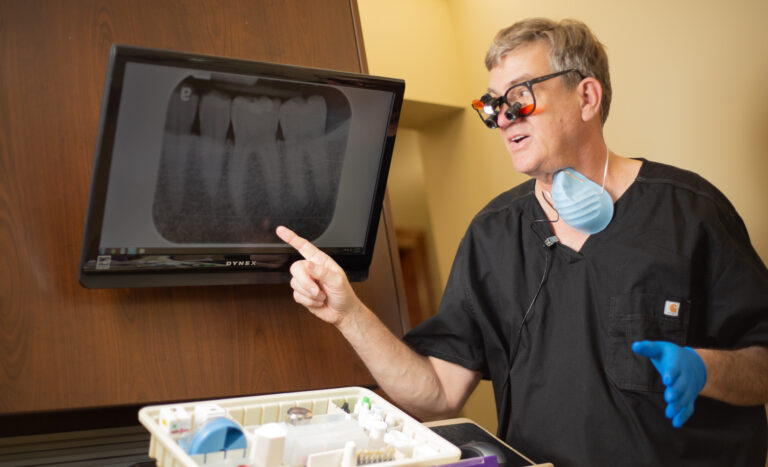 A huge benefit of Market Common Dentistry is that both Doctors Mills and Carimi are able to administer IV and oral sedation to patients in the dental chair. As a result, most dental procedures are able to be conducted in their office, bypassing the need to be referred to specialty practices. 
Administering oral sedation is both a science and an art, and takes skill to manage properly. Patients undergo less stress from the beginning to the end of a treatment than they otherwise would, resulting in a more pleasant experience, and with superior treatment outcomes. 
"Many patients say that typically they are terrified to call or come into the office for a myriad of reasons— traumatic childhood experiences, not being able to get numb, bad dentistry— and we are able to ease their fears by offering IV sedation," says Lisa Yazici, the practice manager for the office. "It makes it easier for everyone." 
Lisa has twenty-three years of dental office experience. Her job is to run the daily operations of the dental practice, and to ensure that everything is running smoothly— from patient comfort to treatment planning. 
In addition to IV sedation, the same doctors are able to place and restore dental implants. Dental implants are titanium posts that are implanted into the jaw bone and replace the natural teeth, which increases chewing efficiency and stability. 
An implant-supported denture is a type of overdenture that is supported by and attached to implants. A regular denture rests on the gums and is not supported by implants. 
An implant-supported denture is used when a person doesn't have any teeth in the jaw but has enough bone in the jaw to support implants. However, bone grafting may be performed on patients that don't have adequate bone.
These complex procedures often require visits to multiple dentist offices to complete, but Market Common Dentistry is able to execute them in their entirety.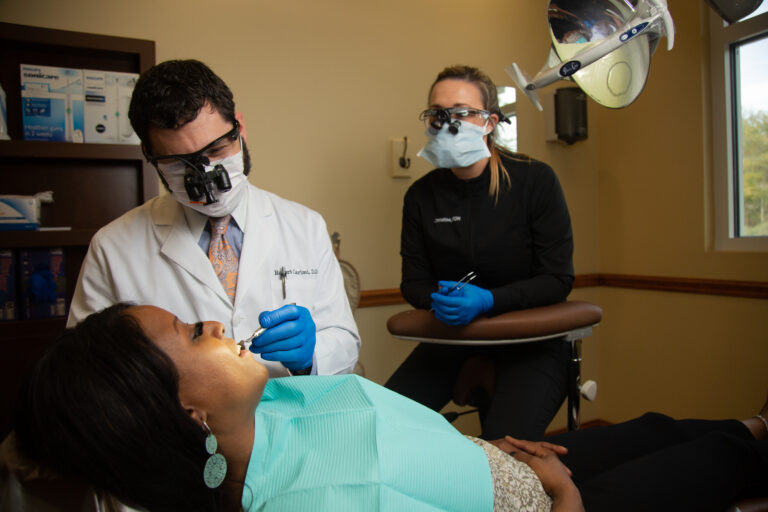 Market Common Dentistry also offers custom-made oral devices to assist people suffering from sleep apnea when the patient cannot tolerate the CPAP machine. 
CPAP machines are the most commonly used medical devices for those with this condition, but in recent years, the dental industry has made great strides in creating innovative devices that provide greater comfort than the CPAP machine.
"We are a private practice, not a clinic or corporate dentistry," says Lisa, "and that's why we're able to provide more personalized care for our patients. We don't have a quota system to meet, nor do we let insurance dictate what services we can perform. The doctors and team continue their education and stay current with the newest materials, techniques, and procedures. Our doctors will be there for many years for continuity of care." 
In addition to containing cutting edge, modern dental equipment, the office was designed with amenities like heated vibrating dental chairs, and ceiling-mounted monitors so patients can watch DVDs or television during procedures. 
"We understand that people dislike the dentist, and that's why the entire team at Market Common Dentistry, from the front desk, to the dental hygienists, and assistants, to the doctors, do everything they can to make their patients feel safe, relaxed, and comfortable," says Lisa. 
"We develop a rapport with our patients and listen to their needs, focusing on service to help put people at ease. And we can assist our patients with financing options when the need arises. Our patients are like family to us." 
Knowing that almost any dental problem that they have can be treated at this pleasant, contemporary office—and knowing that they'll be cared for by a familiar face for an intense procedure— brings many anxious dental patients a measure of calm and security. 
"We're very comforting, caring, kind and professional here," Lisa says. "That's why our motto is 'smile with confidence, in comfort, beautifully.' " 
Dr. Mills shares that his favorite thing about practicing dentistry is helping people achieve a healthier mouth, and providing them with the services that they want and need. 
"I really value and strive for the best long-term patient outcomes," he says. "It's gratifying when I can relieve their pain and see them leave with a smile, and help them make headway with their oral health. 
"We treat a lot of families, and they come to us because of the convenience of the services we offer, availability of appointments, and location." 
"We are successful because of the way we treat our patients and the quality of care we provide," Lisa adds.
Market Common Dentistry
1342 Farrow Parkway
Myrtle Beach, SC 29577
843-293-6700