A Taste of Europe in the Market Common
by Melissa LaScaleia
Crepe Creation Café is owned and operated by Larry Cauble and his wife, Emma. 
Larry served in the military for twenty years. Now a veteran, he settled in Myrtle Beach six years ago, and lives and works in the Market Common. We meet to talk about his café, and he shares his story.
"I grew up in the navy, to a military family, so I grew up all over the country," he says. "But if I were to claim any place as home, it would be Birmingham, Alabama."
Like his father and brother, Larry was also career military, and has traveled all over the world as his profession demanded. 
"Nine years of my service time I spent in Europe, mostly Germany and Holland," he says. "That's where I fell in love with crepes. My dream, even as a child, was to have my own restaurant. I worked in the restaurant business before the military and even while I was in the military, on the side."
After military retirement, Larry worked as a defense contractor for twelve years. At the end of this career, he decided it was time to follow his dream and open a restaurant. He was living in the Washington, D.C. metro area at the time, and felt caught in a rat race with the traffic and the cost of living. He was looking for something new, and after visiting Myrtle Beach on vacation, it felt like a good place to settle.
"What really, really drew me here," he emphasizes, "was the Market Common. When I saw it, I fell in love with it— the whole work-live community aspect."
In Myrtle Beach, he saw restaurant after restaurant, but no crepes anywhere. 
"It felt natural for me to take my love of crepes and waffles and start Crepe Creation Café," he says. 
Larry's passion and talent for cooking began in childhood. 
"When I was a child," he shares, "my parents divorced, and my mom had to work nights to support us. I was the eldest, so I had to cook. I was sick of TV dinners and chicken pot pie, so I got a Betty Crocker cookbook and taught myself how to cook."
Larry based his own crepe creations that he serves in his café from his dining experiences in Europe.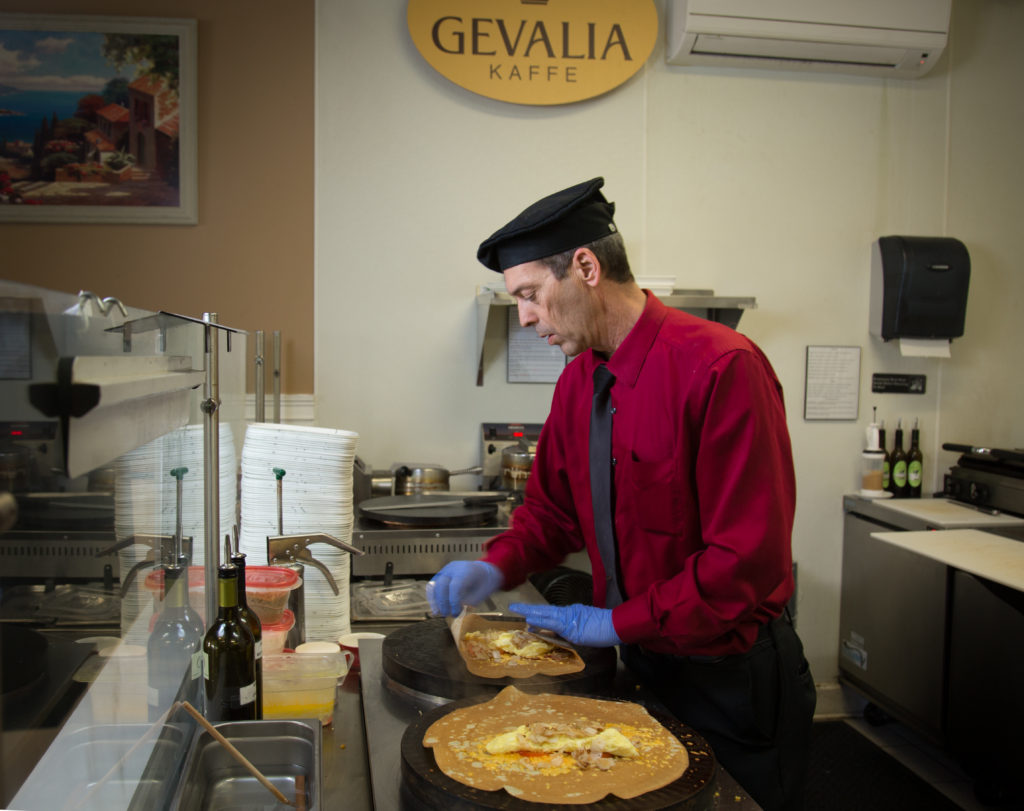 "Crepes are very popular all throughout Europe any time of day," he explains. "Throughout my travels, I tried different varieties from many different countries. 
"They are similar to tortillas and things of that nature in their make-up. In America, most people know crepes only as a breakfast or dessert food. To be more than that, I decided to offer a variety of savory crepes so I could offer lunch and dinner items as well." 
Together with his wife, Emma Ware, owner of Emma's School of Healthy Eating in the Market Common, the two created a vision for the café.
"We always wanted this to be a healthy dining experience for people," Larry says. "A big part of our business model is serving fresh, homemade food. Our crepes are made from scratch; there's no processed food here. I go shopping everyday for fresh fruits and veggies because I like to pick them out." 
The café has been in business for five-and-a-half years, and Emma and Larry have been together for five of those years.
"Emma is a big part of what we do here," Larry continues. "My main focus is on cooking and prepping the food. Emma helps create the menu with me. And she is working hard in training our hostess and servers in good old-fashioned customer service.
"A lot of restaurants in Myrtle Beach, you go in, they toss you down, and then back out. We're really striving to find good quality people that interact with the customer and to train them well, so they listen, they wait, and their focus is on the customer. Even though we're a café, we want that level of service.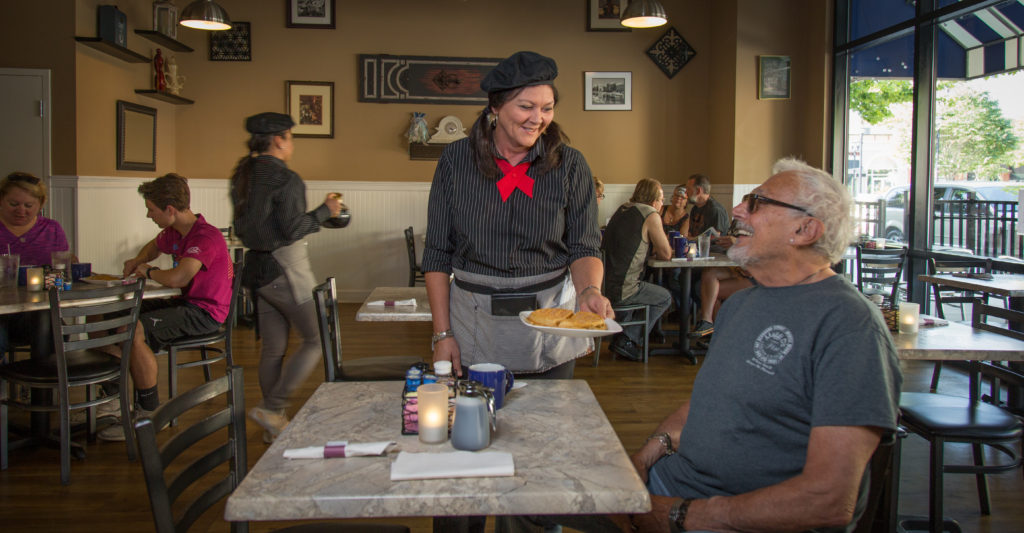 Larry cooks, but he really enjoys interacting with the customers too.
"We want people to have an experience," he says. "We want people to know that we're here for them— that we're here to provide them with good healthy food. When they walk away, we want them to say, 'Wow, that was great.'"
At Crepe Creation Cafe, each crepe is made to order, and it makes the dining experience that much better. Many creperies will pre-make the waffles and crepes, pile them in a big stack, and reheat and fill one as they're ordered, resulting in a noticeably less tasty crepe. A fresh crepe versus a pre-made one is a world of difference apart in both texture and flavor.
"The cooking area is open and our cooks love to talk to the customers," Larry says. "Everyone is welcome to come and look. I love providing our customers the opportunity to see their food being made with the freshest ingredients right in front of them. You see the fresh spinach and the fresh strawberries right there, but still… I'm not going to give away my secret ingredients."
Open Sun-Thu 8am-9pm; Fri-Sat 8am- 10pm
Live music every Friday from 6-9pm and Saturday from 6:30-9:30pm. Outdoor patio dining; accommodating large parties; accepting reservations for 6 or more.