Making Connections, Making a Difference with Audrey Williamson
by Melissa LaScaleia
Audrey Williamson is a financial advisor with Edward Jones, and relocated to Myrtle Beach in 2014 from Grand Rapids, Michigan. Upon her arrival, she joined the Newcomers Club of the Grand Strand. The Newcomers is a women's networking and social organization with about 200 members from all along the Grand Strand. It's women welcoming women to the area, helping them meet others, and get plugged into their community.
"Edward Jones is focussed on being a part of the community," Audrey tells me. "We want to be involved in the communities that we serve on a charitable level. I knew the Newcomers Club of the Grand Strand was charitably inclined, and most of my clients with Edward Jones are women. Joining was my way to make connections with women who could be interested in the service I provide, as well as a way to give back to this area; it was also a way to meet people, since I'm a newcomer myself."
The Newcomers Club meets once a month. They have speciality interest groups, and host a monthly guest speaker and luncheon, as well as other events.
Audrey held office as president last year, and as such, she got to pick her preferred charity that the group would support for that year. The club hosts fundraisers all year long, and the total proceeds are split at the end of the year: 50% goes to the president's charity choice, and 50% is divided between two other charities.
Her choice was Big Paws Canine.
"My office is in the VA building in the Market Common," she says. "So every day, coming and going from work, I have the opportunity to see veterans, and to see Big Paws Canine. They have a van that they bring to the VA with their dogs, that they park outside the building."
Big Paws is a completely volunteer run organization that trains and provides service, therapy, and companion dogs for veterans and first responders injured in the line of duty. It was started by a husband and wife team from the area, Steve and Mary Slavik. Steve was in the military as well as law enforcement for over 20 years. The two, along with their team, have grown Big Paws Canine across the country since its inception.
On their website, they mention one of the sobering motivating factors behind the creation of Big Paws Canine: every day, more than 23 veterans who have served our country commit suicide. Having a service dog has shown to help support struggling veterans in a positive way, and reduce that statistic.
"I've made some really good connections with the veterans in the area, since moving here," Audrey says. "I feel great knowing that there are some wonderful resources out there helping our veterans and first responders. It's powerful, just speaking to the gentleman in charge of Big Paws Canine. They are so clearly 100% committed to getting as many of these service dogs trained as possible. It helps with a lot of PTSD situations, and even people with disabilities.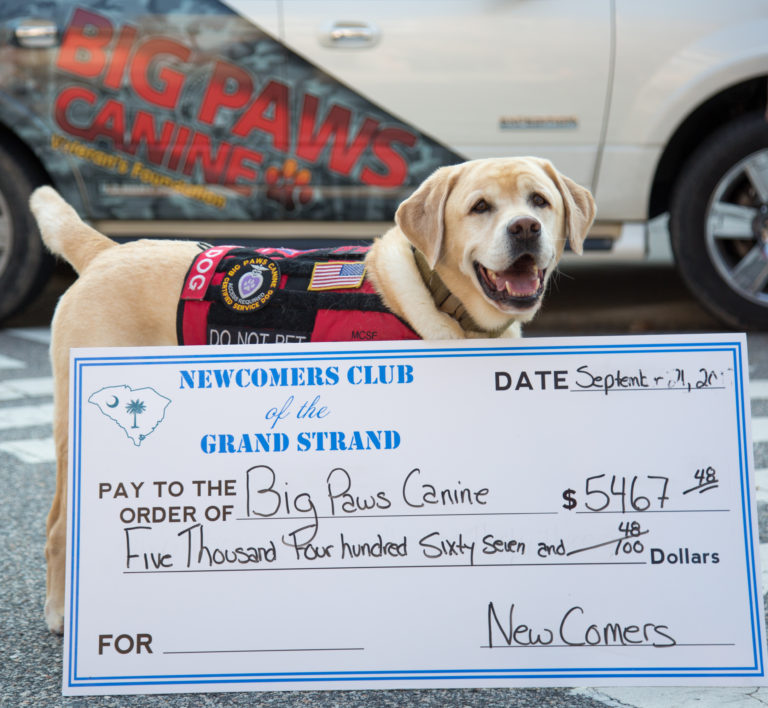 "It's amazing what they can train these service dogs to do. With a veteran that has a service dog, the suicide rate and dependence on drugs has dropped dramatically."
Newcomers has a fundraising committee, which utilizes the diverse, creative talents of the clubs' members both in orchestrating events, as well as imagining possible ways to receive donations.
Audrey appreciates all the support she and the Newcomers have received from the community in working towards their goal.
"The people and stores inside the Market Common are just incredibly giving with their generosity," she says.
The largest fundraising event Newcomers holds is their annual fashion show. The models are volunteers who come from inside of the club. They select and purchase their own outfit for the occasion from a small boutique, consignment shop, or other store. Then they put together an introduction for themselves to be read as they walk down the runway, all highlighting where they bought their outfit, how much it cost, and how much they saved.
It's fun, and it's helpful information for the newcomers, as it lets them know what's available in the area and the cost.
The location of the Newcomers fashion show changes from year to year, but is always located somewhere along the Grand Strand.
Proceeds from this years event, along with the other fundraisers for the year, net a little over $5,400 for Big Paws Canine.
"The money that we donated helps train the service dogs," says Audrey. "I think it's a fantastic and much needed cause. We have such a heavy veteran population here, and supporting them is a way to give back to that population."
Newcomers Club of the Grand Strand, meets the first Wednesday of the month at the Carolina Forest Recreation Center
Big Paws Canine, 844-BIG-PAWS.
To read more of our featured articles, click here!