A Myrtle Beach Staple Since 1994
by Wendy Zulanchc
Benjamin's Bakery and Cafe, is located in Surfside Beach, and has been serving the Grand Strand community their delectable and extensive selection of baked goods since they first opened. For almost 25 years, the owner, Lee Zulanch, has worked long hours crafting breads and pastries, working on equipment, writing recipes, checking inventory, and meeting the many demands of his retail establishment and wholesale bakery.
"My mom passed away in 1994, and I brought my father down to Myrtle Beach from Maryland immediately after the funeral," Lee tells me.
One morning Lee's father said, "Let's pick up some bagels for breakfast."
Realizing how few bagel shops existed in the area, the idea of establishing a bagel shop soon became their passion and business focus.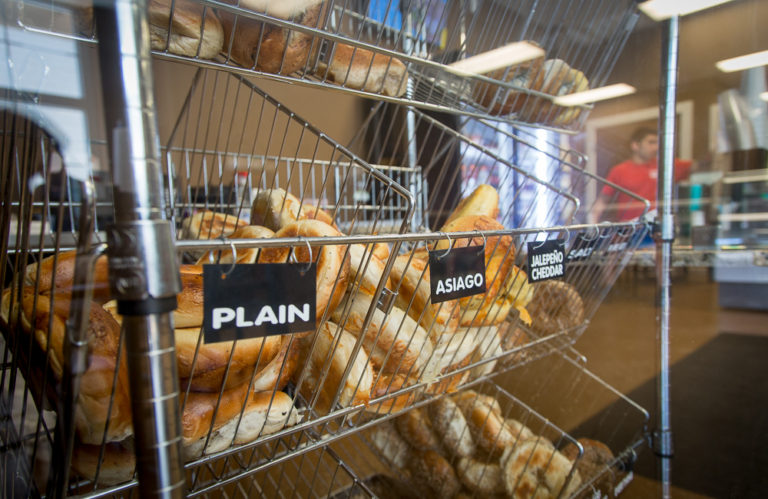 Lee's family is originally from Long Island where bagels were part of the New York culture and a neighborhood staple. Lee and his father had been in business together previously, in Washington, D.C., but bagel baking was definitely a new avenue for them. Over the years, entrepreneurs saw various opportunities. In the 90s, the current trend was bagels, not well known in the South, but catching on quickly.
"In looking over our plans for the proposed building renovation, the general contractor wondered out loud why we were building an entire business devoted to beagles," Lee tells me. "He had never heard of bagels, and thought we were a pet store. After we opened, he became one of our most loyal customers."
The building was finished and opened in the fall of 1994. It was called Benjamin's Bagel Bakery, named after Lee's oldest son, Benjamin, and became an instant success. It was well known as a bagel shop and deli— a place where you could get breakfast, lunch, fresh baked bagels, deli meats, and a good cup of coffee.
"I'm constantly meeting people who tell me that their parents brought them here when they were children. The business had a family feel to it from the get-go," Lee says.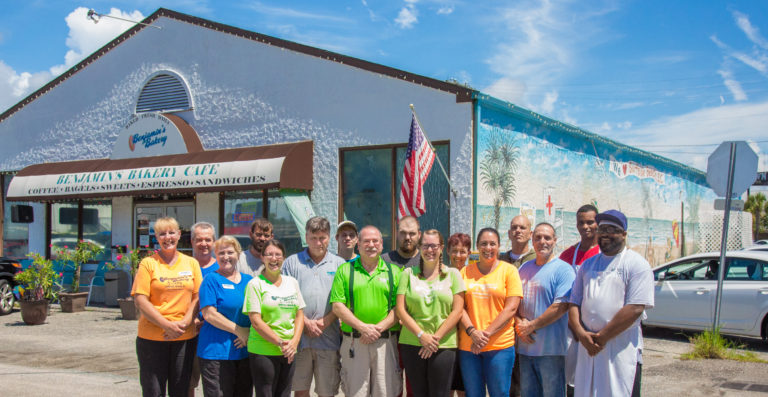 Lee attributes his success to a combination of factors: there's the usual good business tactics like offering quality products at reasonable prices and putting the customer first, but a lot has to do with the wholesale side of his business which puts him in direct partnership with a diverse sector of the food industry in Myrtle Beach. They service well over 100 restaurants, the majority of them mom and pop establishments.
"People go through the effort of buying fresh from us because they take pride in their kitchen and can't have average bread to go along with their menu offerings," Lee tells me. "Most of our customers are striving hard to set themselves apart from competition. They want a quality bread that is going to compliment the effort they're putting into making their sandwich or menu offering memorable. Maybe it's the beautiful marbled rye bread, the crustiness of a hoagie roll, or the softness of a potato bun. So in other words, if they do well, we do well. That has definitely helped us survive 9/11 and the recession of 2007/2008. We've seen crises come and go, and we've weathered the storms, and I'm very proud of that."
Lee took wholesale orders on bagels from the start, but when a lot of his wholesale customers began asking for his home-baked bread, he decided to expand his business. At one point, demand was so high that he was baking 24 hours. He was compelled to expand the bakery to keep up, and moved the ovens to a 5,000 square foot facility two blocks away. Eventually Lee added a new retail cafe in front of the commercial bakery, and its name got a remake to reflect the changing content and became what it is today— Benjamin's Bakery and Cafe.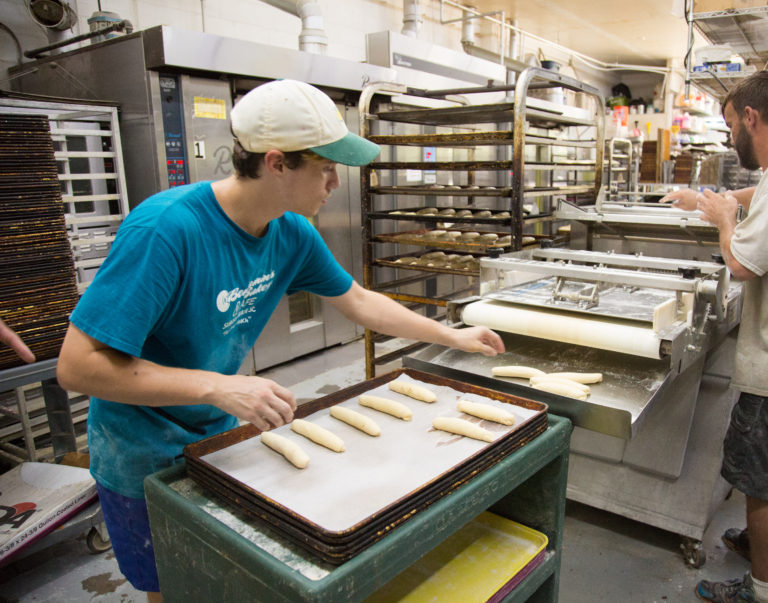 Lee explains the unique coupling of his wholesale bakery and retail cafe:
"Even though we are Myrtle Beach's single largest bakery, which still surprises me, we're also a boutique bakery. We sell a variety of loaves of bread and baked goods in the café but only display a small portion of the extensive line of products we actually produce." (Insider hint: special orders will gladly be accepted on any products the bakery makes – just inquire when you visit.)
Lee developed all of New York Prime's breads, including their famous and addictive walnut raisin bread. He also developed a semolina Italian bread for Oscar's Sport's Bar in North Myrtle Beach. The Oscar's customers were so committed to bringing the authentic taste of Philly to Myrtle Beach that they would drive to Philadelphia and return with a trailer full of bread. They did it for years until Lee offered them a fresh, locally baked product delivered right to their door.
"The biggest compliment they gave me," he says, "was when they exclaimed, 'oh my gosh, we wish we had found you earlier.'"
Open daily 7am-3pm. Also at the Deville Street farmers market, Saturdays all summer selling their exotic breads and baguettes freshly baked that morning.
To see more local businesses in and around the Market Common, visit our local business section!