A Living Local Legend of Myrtle Beach History
by Melissa LaScaleia
This July edition, in recognition of the service of our wonderful military personnel who protect our country, we bring you a local living legend of Myrtle Beach history—Dwight Roach.  Dwight was born on January 2, 1936 in Larned, Kansas; he is 82-years-old.
"I attended pilot school in San Antonio, Texas," he tells the Insider in an interview, "and was commissioned as a reserve second lieutenant in August of 1959.  Following that, they upgraded my commission to a regular USAF commission.  I was accepted into a special program to test the suitability of the pilot to fly and be a combat crew member on a Boeing KC-135.  It was a four engine jet— a brand new airplane at the time."
Dwight was in the Air Force for twenty-nine years— the foreign service for more than fourteen years.
"A large portion of that time was supporting fighter deployments," he says.  "I took the first KC-135 to Moron, Spain, in 1960.  I was stationed in Rome, NY for six years, and during that time, we had a lot of deployments in the Pacific.  I was in Vietnam in 1968 and 1969.  I was liaison officer between the American and Royal Thai forces.  I flew 35 combat missions out of Thailand in the KC-135; I flew 1000 hours, more than 100 combat missions directly in Vietnam.  I also flew C1-23, a cargo craft, that we hauled cargo and even animals in."
Dwight did a term in Indiana flying KC and EC-135s, and was stationed in Madrid, Spain at the Torrejon Air Base for five years; then returned to Indiana.  Between 1979-1982 he was director of operations for a tanker unit in northern Spain, in Zaragoza, and supported the foreign military service deliveries and the state department.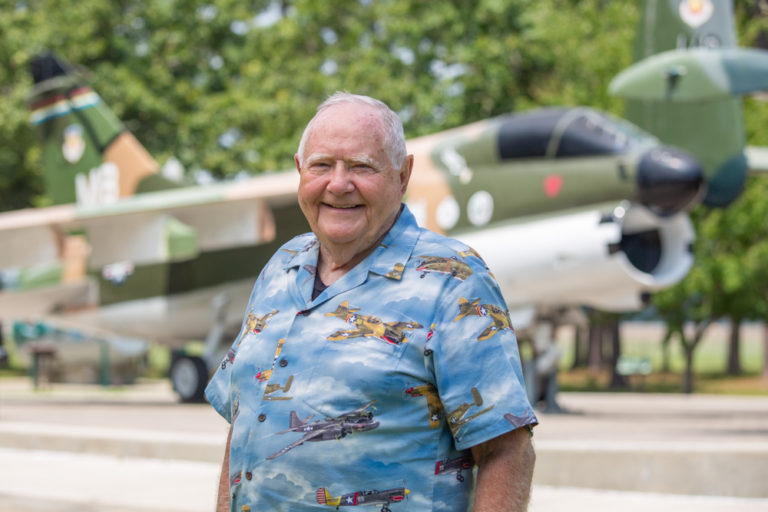 "Anything that happened in the Mediterranean from Spain to Iran, I was involved with," he says.  "We even supported the space shuttle program.  They had two emergency landing places in Spain as well as Africa.  I also worked in Saudi Arabia, where I was commander of a tanker refueling unit."
Dwight was stationed at the Myrtle Beach Air Force Base in June 1982, where he was assigned a command post; then he became Chief of Air Field Management.  He coordinated with Horry County for civil operations on the military field, and with the Department of Defense for Horry County and the airlines that were coming in and out of Myrtle Beach.
Dwight also worked with the Chamber of Commerce to bring in the Thunderbirds for an air show called Sun and Fun Days.  He coordinated to set up the air show on the base, and brought in the Warbirds, the commemorative Air Force, World War II aircraft, the Experimental Aircraft Association, and the Golden Knights Ice— the army parachute team from Fort Bragg, NC.
"The air show had been in existence for quite awhile," he says.  "It had been an annual event of varying degrees.  I just continued on and expanded it a little bit."
Dwight retired from the Air Force in 1987 as a Lieutenant Colonel, and decided to stay in Myrtle Beach.
"It just felt like home when I came here," he says.  "It was the first feeling of permanence I had in 29 years.  It's a nice community here, very friendly.  I just like the climate.
"After I retired I taught school at the North American School of Aviation, which enrolled primarily foreign students from Scandinavian countries.  Then in 1994 helped put on another air show that was larger, it just didn't have the Thunderbirds; it was slanted more towards civilian aircraft.  We had aircraft racing, formula B aircraft racing, and ultra-light homemade aircraft.  It was attended by Chuck Yeager (the first pilot to fly faster than sound) and he flew the F-51."
Dwight's medals and honors are numerous and just a few include: Meritorious Service Medal with 2 OLC, Air Medal
with 1 Silver OLC, Air Force Commendation Medal with 1 OLC, Distinguished-Presidential Unit Citation, and the Air Force Outstanding Unit Award with Valor Device with 4 OLC.
Click here to read more about the history of Market Common and surrounding area.