Fresh Seafood, Beautifully Prepared, At Prices that Don't Cost a Fortune
by Melissa LaScaleia
Earlier this year, the family owned and operated Lobster House restaurant opened its doors to patrons, next door to the Myrtle Beach State Park. Second-generation Vic Parsadanyan is the head chef and creative force behind the new restaurant. 
"The restaurant caters to two types of diners," Vic says. "It's a place where everyday people are coming from work in the evening and want to get something good to eat in a nice environment without feeling nervous about the cost. It's also a destination spot for those seeking an upscale dining venue to celebrate a special occasion." 
As he describes the dishes he offers and how he prepares them, his cooking techniques reflect his passion for using fresh food and simple ingredients; he has the knowledge of how to use the whole part of the animal or food item to maximize health and flavor. It's old school sustainable cooking at its finest.
Lobster House offers four specials every day. For the first, patrons can select any three of the following sixteen options, and receive a biscuit and their choice of side— mashed potato, rice, broccoli, rice pilaf, corn on the cob, asparagus, garlic baked potato, french fries, or mac and cheese— for $20. Those options are:
– a large piece of breaded and fried catfish                        – oven baked garlic parmesan tilapia
– 5-6 oz USDA choice Angus beef steak, (always fresh and never frozen), cleaned in house
– 8-9 oz chicken breast marinated and blackened. (Vic melts the beef fat from the steak he prepares and turns it into a liquid fat to cook the chicken, then grills it.)
– ½ pound clams dressed in basil pesto with the restaurant's own home-grown basil and three kinds of cheese
– ½ pound spicy beer-battered mussels
– lobster tail
– lobster bites— a variety of small lobster tail meat
– flounder baked or fried
– popcorn shrimp
– 6 jumbo shrimp fried or grilled
– home-breaded fried calamari
– clam strips
– 6 pieces of shrimp scampi
– 3 fresh oyster Rockefeller topped with homegrown basil
-a 95% crab meat made-in-house crab cake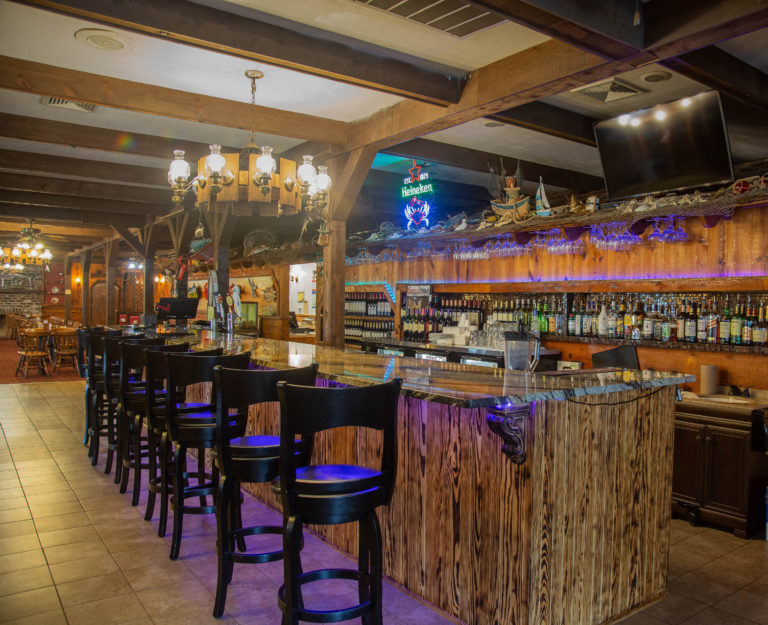 The second special: if you dine before 4pm, you can choose one of the above sixteen options, with a biscuit and side for $9.99.
The third option offers a three course dinner for two for $30. There are seven substantial appetizer options from which diners can select one to share; each person selects one main course from the aforementioned sixteen options, plus a side and a biscuit; and finish their meal with individual house-made fresh desserts.
"There are two choices for dessert," Vic says. "It's a cream horn and an eclair." 
Vic is dedicated to keeping things fresh; any remaining pastries past their second day are welcomingly distributed amongst staff, but never served to guests. 
The fourth special is a fried basket comprised of any two of the following: catfish, calamari, chicken strips, clam strips, popcorn shrimp, tilapia, and flounder. The dinner comes with fries, hushpuppies, coleslaw, and tartar sauce for $15.99.
"The sixteen choices keeps it very interesting for people," Vic says. "They can get a lot of different combinations, and it keeps them coming. We are here to provide fresh and affordable seafood to the community. The bills at most seafood restaurants are unbelievable. We built this concept on the belief that we could offer something nice at the beach that doesn't have to cost a fortune. And why settle for one item if you can get three?"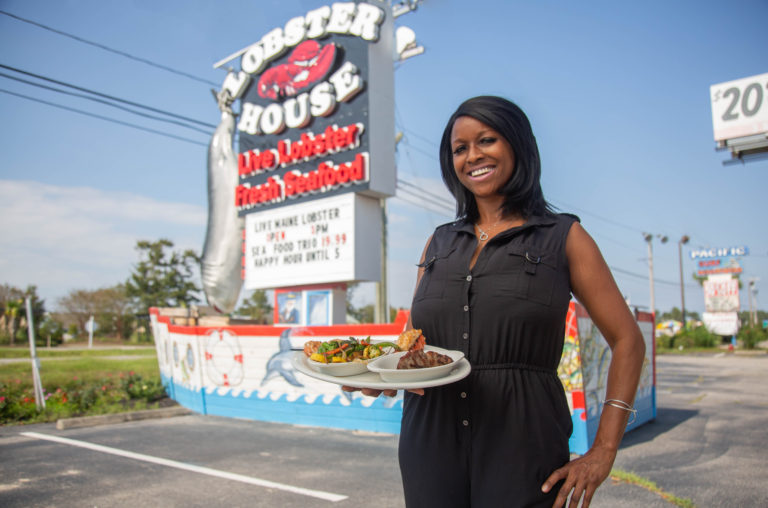 "We wanted a place where people can come everyday," Vic continues. "If you go to the grocery store to buy something to cook for dinner, you'll pay at least $20 at the register. So now you can come to Lobster House and let us cook for you."
The upscale side of the Lobster House menu features an a`la carte menu with offerings like scallops, salmon, raw oysters, and lobster. They serve steam pots on big trays, made with fresh steak tips instead of sausage. And all the fish is always fresh. The lobsters come six days a week, alive and direct from Portland, Maine. They swim around in a lobster tank in the center of the dining room, and patrons can select the one they'd like for dinner. 
"We bake our lobster tails differently than anybody else," Vic says. "We treat them with a special blackening and bake them with butter. They are delicious."
Their huge full bar is made of black and grey granite and beautifully decorated; there is ship paraphernalia throughout, and the vibe is that of an old sea captain's ship.
"What I love the most is when I enter the dining room and I feel this vibrancy," Vic says. "I see a plate put in front of someone dining with us for the first time, and I see the expression— the customer is wowed and surprised. I love to see that on people's faces— I can feel how delighted they are with the food and the service."
"I love Myrtle Beach because it's a fun town," he adds. "My feeling is that it's like it is always a holiday. I've been here for many years now. We stay open year-round, and when it's the summer season, it's a time for hard work, but also great reward. People are smiling. It's like the motto— beautiful places, smiling faces. And the smiles add to the beauty.
"And when the season is over, it's a rest time. It also feels like a holiday. Now your tired bones will get some rest, and there is more time to spend with family. I go fishing with my two sons, 2 and 5, on the pier." 
Lobster House
Open daily 3pm-9pm.