The Newest Spot for Java and Conversation in the Market Common
by Melissa LaScaleia
Inside the Market Common's recently opened family-friendly entertainment complex, 810 Billiards and Bowling, there is a new early-morning breakfast and sweet spot that just arrived to delight people with beverages, treats, and to top it all off—good talk.
Liz Callaway's 810 Cafe & Sweets serves breakfast, lunch, barista-crafted coffees, specialty teas, and sweet treats beginning at the early morning hour of 6:30, where Starbucks used to be, in the former Piggly Wiggly. 
They serve freshly-made, chef-created dishes from their kitchen, with a separate chef, breakfast, and lunch menu from 810 Bowling.
"When I first got a tour of the facility," Liz says, "I saw they had a brick oven, and I got so excited to use it. I asked the chef to create dishes to incorporate it into the breakfast menu." 
He did, and now they offer brick-oven breakfast pizzas with an egg swirled onto the crust in a culinary cream; Mediterranean style; and with meat. The food is made fast, but you can also call ahead to have your order waiting for you.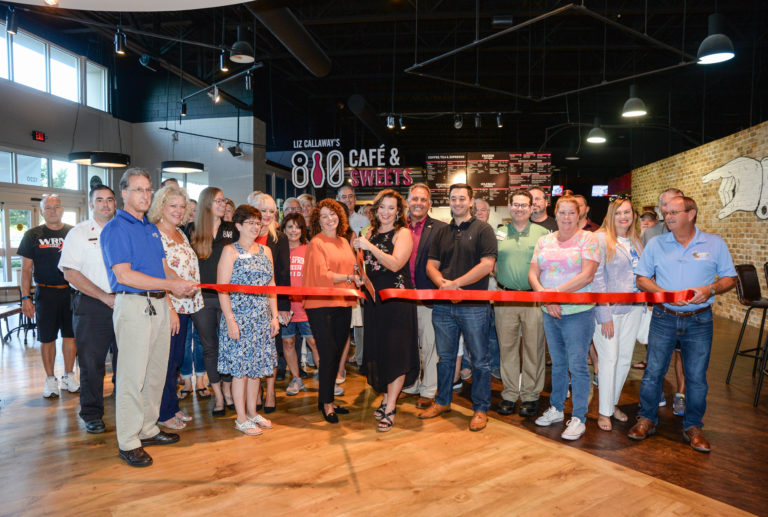 For Liz, high-quality food with local roots is important. At her cafe you'll find the breads, muffins, cookies, and other sundries of longtime Surfside Beach staple, Benjamin's Bakery. 
There are fudge, pralines, and truffles from her cousin's chocolate confectioner shop in Mt. Pleasant, Sweet Juleps. She serves creamy frozen custard by Republic Ice Cream, a small company which continues to faithfully produce their grandfather's original recipe from Coney Island here in Myrtle Beach. And she sources coffee from a supplier in the Wilmington area, roasted right in NC.
"We also sell candy by the pound," she says. "People can fill up bags with old time favorites like M&M's, Jelly Belly's, Jordan Almonds, nerds, and salt water taffy.
Liz co-hosts a hit news talk show called, The Hot Talk Morning Show With Dave and Liz on WRNN 99.5 FM. It covers local, regional, national, and global news topics and politics. It's currently the number one rated morning show on the Grand Strand. 
Several years ago, she was nominated for a national Marconi Award. She's also the spokesperson for Conway Ford, and is regularly seen on TV.
Liz already has a tremendous connection with people in Myrtle Beach due to her media presence.
"I want to be involved with the cafe because I'm very community-oriented," she says. "Since I moved here, I've wanted to absorb everything around me so I can serve people better on the air. So I attend all the events I can and people know me personally. The morning talk show has allowed me to have the reach I want to have to bring people together. With this cafe, now I can create community here.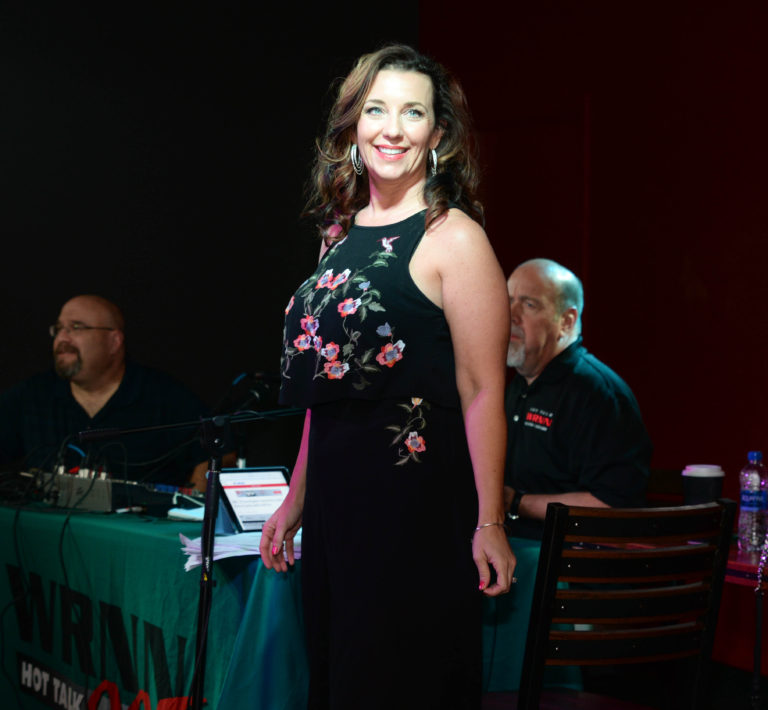 "When I first took a tour of 810 Billiards and Bowling, the team began speaking with me about what a valuable place it was for a meeting space in the Market Common, and that they were thinking
about putting a coffee shop inside.
"When the Starbucks in the Piggly Wiggly closed, there was no longer any place to get barista crafted coffee at 6:30am in the Market Common. There were always the same people there; it was a community spot. People would go there and have their coffee and breakfast. When that closed, it left a void in the community."
A few weeks after their conversation, the 810 team asked Liz if she wanted to help bring the cafe to life and bring breakfast and coffee back at an early hour.
"I had been interested in getting involved in a local business for a long time, says Liz. "When I met with the 810 Billiards and Bowling team, it felt like a natural fit. The cafe will be a place where locals and tourists can come and have that old-fashioned style coffee shop— a place to exchange information and stories."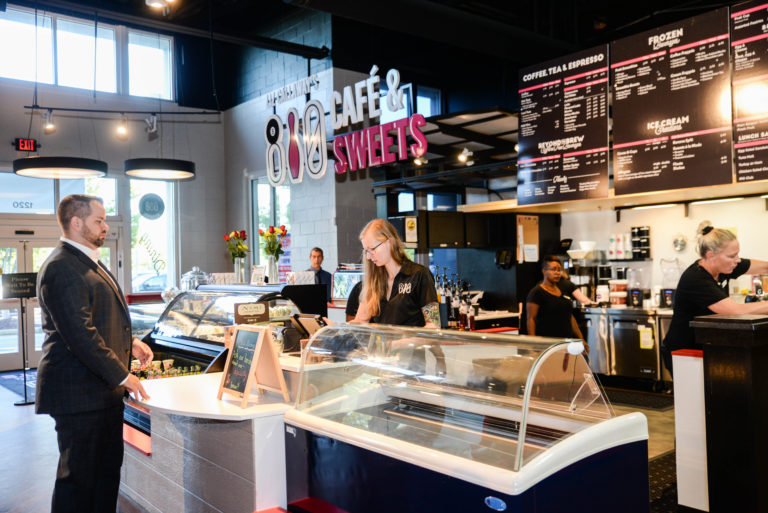 Liz Callaway's 810 Cafe & Sweets celebrated its grand opening on August 31, 2018. Liz brought her radio show out of the studio and into the cafe, live on stage. They invited the mayor of Myrtle Beach, and the new president and CEO of the chamber of commerce, Karen Riordan. They had a live studio audience, with a ribbon cutting during the show. 
"It was fun," Liz says of the event. "The listeners have gotten to know me over the years and they were excited to help me celebrate."
Every Saturday, Liz hosts Jump 'n' Java from 9-11am: free dance lessons sponsored by the non-profit Ballroom Dance Preservation Society.
"To tie in the radio show with my cafe, I created Cafe Chats with Liz Callaway," she says. "I invite guests into the cafe in the morning and interview them on stage. Then I open it up to the public for a Q & A. I plan on having more events too.
"I just want this cafe to a be a place where people can meet. What better place for great conversation than over coffee?"
This company has now permanently closed.