Interior Design In the Market Common
Laurie Dragunoff has wanted to be an interior designer since she was in high school. Originally from Connecticut, she enrolled in an accredited program for interior design at UMass Amherst, and graduated with a Bachelor of Fine Arts degree in 1990.
She's been in business as an interior designer for 22 years: first for architectural and interior design firms, then for herself, owning her own business for 16 years in Connecticut— Decorative Interiors. Her business was unique in that she owned a store as part of it.
"I always wanted my own store," she tells me. "I had a location in Middletown, Connecticut at a place called the Galleria Design Center. It's the largest indoor marble-granite showroom in Connecticut. All of the stores carry items for decorating or designing your home. I sold furniture, window treatments, accessories, wallpaper, fabrics and lighting.
People would hire me to walk around the galleria with them and help them make selections for their house."
Two years ago, Laurie's daughter moved to Charleston for college. While exploring the area, Laurie decided to come to Myrtle Beach to see a friend. She found herself in the Market Common, fell in love with it, and put a deposit down for a house. She took another year to sell her house and store up North, then moved South with Decorative Interiors.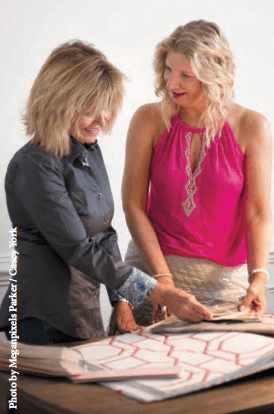 "I love everything about living here, and about being in the South," she tells me. "Once I arrived, I decided not to open another store as part of my design business. It tied me down a little, and I wanted more freedom— a change of pace, and a change of life. I've turned my house into a showroom, and run my business out of my home in Sweetgrass West.
"I have wallpaper books, fabrics books, I carry all the same lines I used to carry in my store in Connecticut. I'm supporting people in the Market Common, and they're supporting me."
Laurie explains to me how she approaches a project, and what the advantages are to having assistance with interior design for your home.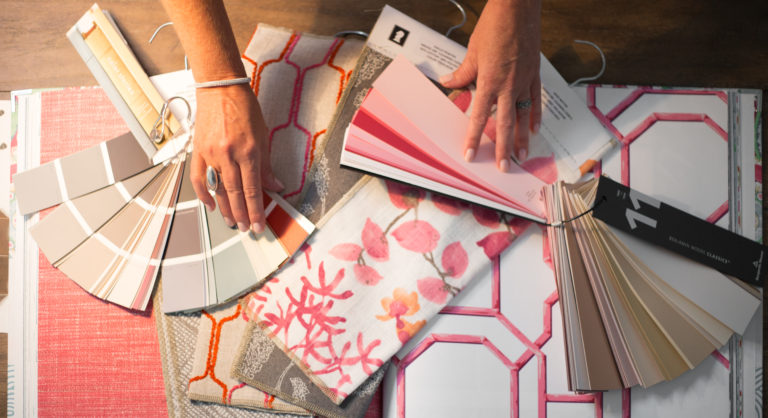 "Everyone has a style, and as an interior designer, you have to pull out what that person's style is," she says. "The hardest thing for a client to do is to visualize their finished design. If they can't speak the words to express that, then I can't show them viable options that they might pick. Often I ask them to look on Pinterest and show me examples of what they like, so I can get a sense of where the client is in their mind, so I can understand, 'okay, they like clean lines, they like contemporary,' and go from there."
"Additionally," she continues, "people when they're buying a brand new home, often don't think they need to hire an interior designer until they're ready to move in and decorate. But that's not the case. Builders don't necessarily hire experts to select tile, cabinet and flooring options. And new homebuyers don't always have the skill to pick that which will bring them satisfaction in the long run from the choices the contractor is presenting them, or find viable alternatives if they don't like the selection presented to them.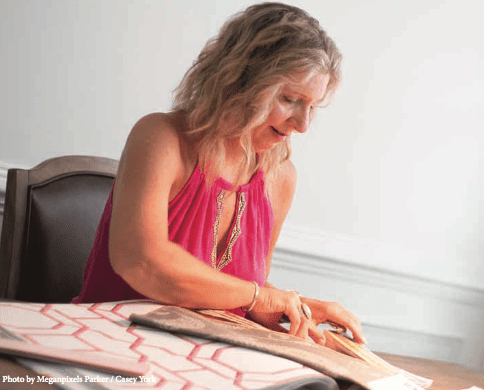 "Hiring somebody with a lot of experience is valuable, because when you try to do it yourself and make a mistake, that's costing you money," she says. "Having a cohesive, pleasing design helps with the resale value of your house. It has to look timeless, so that somebody will come in and say, 'this is perfect for me, I don't need to make updates.'" Laurie can do anything in terms of interior design, including providing drawings, floor plans, and full layout. She also helps those relocating get organized about what to keep and what to buy new, and how to t it all together.
Laurie attends continuing education twice a year to say current with her knowledge of product and where to find it, to continue to deliver the greatest possible value to her clients in the least amount of time.
Her motto is, 'Live your best life in style,' which sounds like it fits with the Market Common perfectly to us.
Unfortunately this company is permanently closed. We have admired their business and are sad to see them go.