by Melissa LaScaleia
King of Carts in Surfside Beach is a popular local business that sells, rents and services golf cars. They specialize in buying off-lease vehicles and remanufacturing and customizing them for their retail store.
Pat Dye is the general manager, and oversees all day-to-day operations along with his right hand Todd Barlow. King of Carts has a sales and service team, staff to manage the rentals, and a customer service team to help coordinate custom car builds and accessory sales.
King of Carts was founded in 2009 and has been under its current ownership since 2015. It's located in the historic Legends in Concert building. Step inside what was concert seating area to find a showroom full of custom golf cars, built to exacting specs and with a full warranty.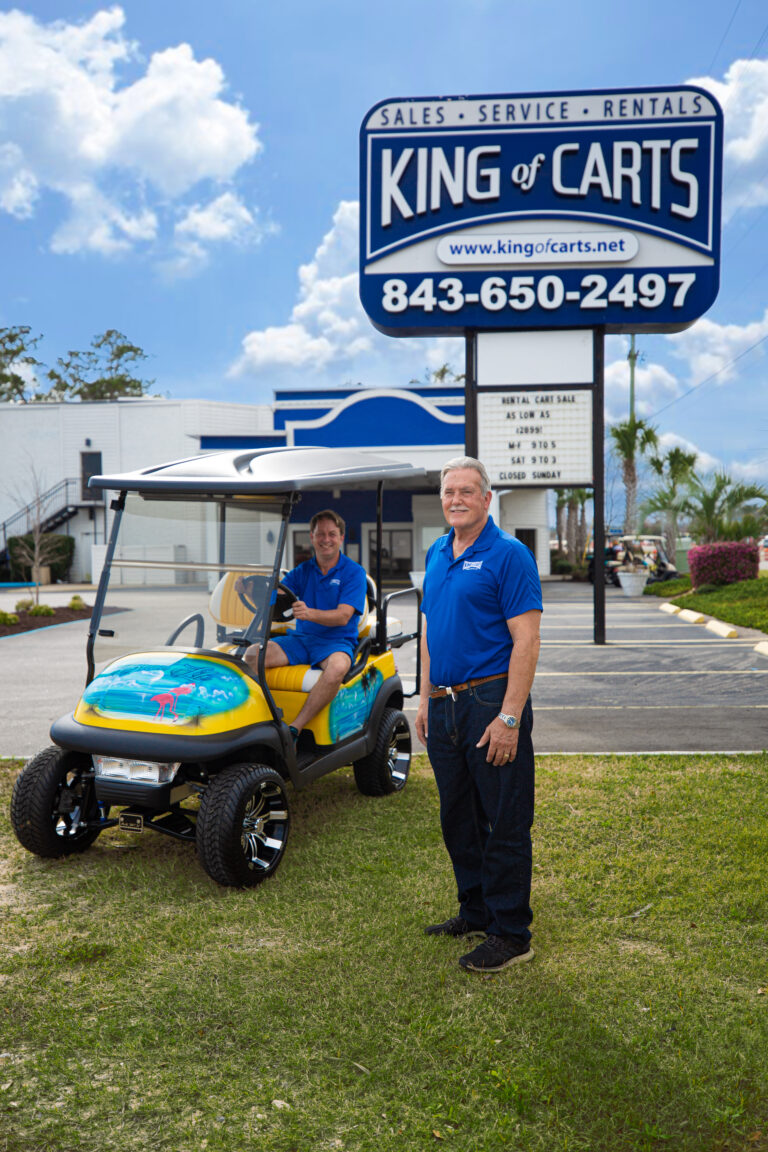 "A brand new car similar to ours can cost between $10,000 to $14,000, but our remanufactured, customized ones are around $6,000," Pat says. "We can completely rebuild a car and it can look brand new. We install lift kits, custom tires and wheels, brush guards, LED lights, blinkers, arm rests, golf bag attachments, custom steering wheels, and more.
"We have a lot of people who come in, look around and say, 'Do you have anything used in here?' But the answer is, they all are."
"We have a jovial, light atmosphere here," he continues. "During the summer months, Myrtle Beach is busier, and people can get stressed out. A lot of the time, we're the first stop that people will make when they arrive for their vacation. After many hours in the car, they're ready to decompress. They'll come here to get their car before they even check into their vacation property, so we try to make it a positive, fun experience.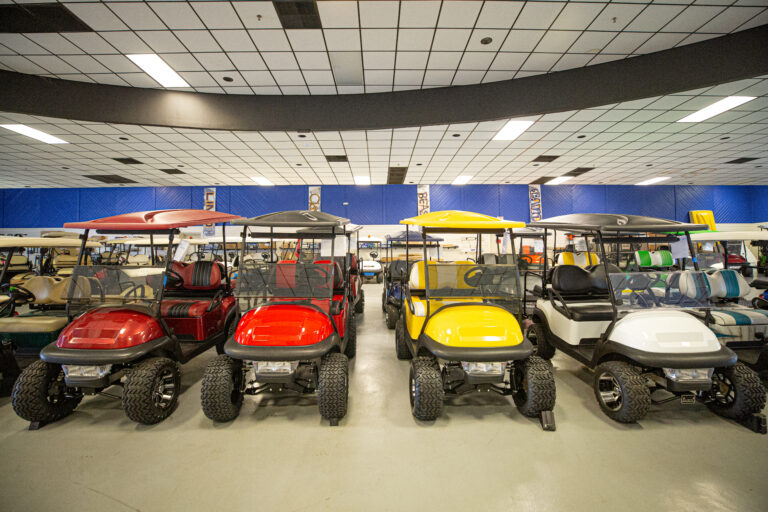 "It's also a great work environment and everyone is well trained. Our employees love working here. Everybody has a job to do, but we all have fun while we do it. We also have a tremendous number of customers that come back year after year, and those customers are like family." 
King of Carts has over 200 cars that they rent during the summer months. The company stays open late, from 8am-7pm daily, to accommodate the needs of their customers. And they offer short term hourly rentals as well as long-term rentals that can last the entire summer.
The company can also deliver your rental car, so it's waiting for you as soon as you get to town. If you prefer, you can pre-order your car and it will be waiting for you to pick up at their location on Hwy Business 17.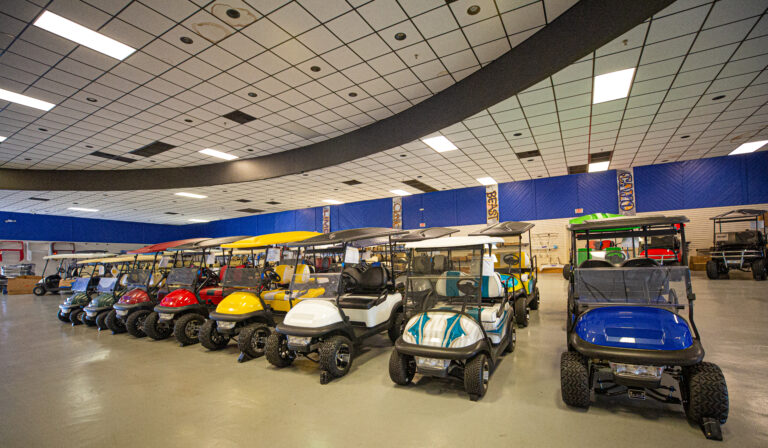 They exclusively carry the Club Car brand, because it's the only major brand that won't rust in the salty ocean environment of Myrtle Beach.
"Being at the beach, you have a lot of issues with salt air and salt water," Pat explains. "Our units have an all aluminum alloy frame which limits corrosion and wear and tear."
For service work, they do everything from manual maintenance and repairs to complete rebuilds. They can freshen up an 8-year-old vehicle, and offer custom paint jobs.
Their laid-back, happy vibe, quality of their offerings, and excellent customer service has paid off; the company has more than doubled in growth in the past few years. And they're competitively priced— they haven't raised their rates in three years.