Like a Good Neighbor, State Farm is Here
by Melissa LaScaleia
Jim Whitmore grew up in New Jersey and moved to South Carolina to attend The Citadel. He graduated in 1989, and since then, has lived all over the Carolinas, mostly in Charleston. 
For twelve years he served in the United States Army as a helicopter pilot and officer, spending the majority of that time in the South Carolina Army National Guard. 
Recently, Jim was approached by State Farm Insurance to represent them as an agent for the Horry and Georgetown County areas. He opened Jim Whitmore State Farm Agency in the Market Common this past May. 
State Farm Insurance provides both insurance and financial services. They are the largest insurance company in the U.S., and ranked as the number one auto, home, and life insurance provider, as well as the largest insurer of small businesses. 
"They have a strong and vibrant brand," Jim says. "I was attracted to them because of it, and because of the positive personal experience I've had working with them for my own needs throughout my life. 
"I was always impressed by the level and quality of service that they provide. They were always different. The bar is higher to become an agent. You have to go through a vigorous background check and interview process before you can begin training to become an agent. 
"They were looking for someone with a lot of life and business experience to lead the new office. It was a perfect fit for me since I have over thirty years of experience as a management consultant, and am also a small business owner."
At a time when a lot of insurance companies are raising prices, State Farm has actually been lowering their rates in the past few years due to technology and process improvements that they have made. 
State Farm processes the highest number of claims in the world— over 38,000 a day. Even with that scale of size, they still have a local focus and market presence with their agent focused model— another quality which really appealed to Jim.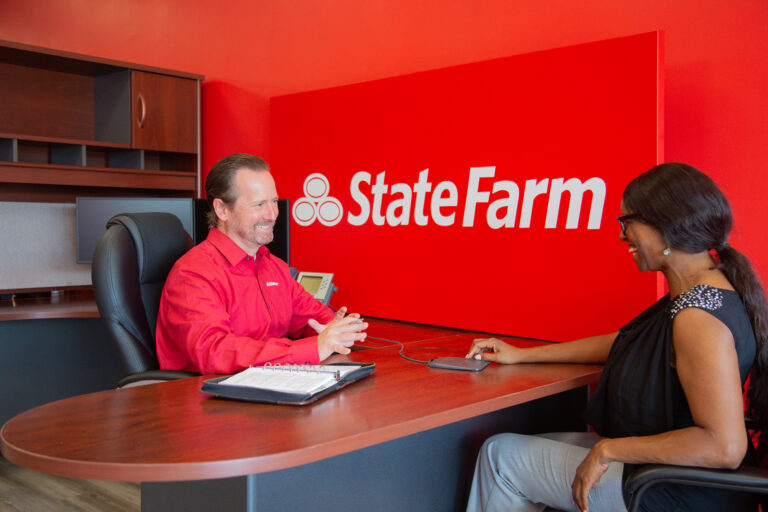 "They leverage the best of both worlds," he says. "A local business center with a global brand and presence. The power of State Farm is that we offer multiple services— life, home, and auto insurance policies— and because of this, we can be competitive in the marketplace with price." 
State Farm also has their own bank, so they have competitive auto loan rates either for new or refinanced vehicles, and offer bank rates for credit cards. One of the big differentiators with State Farm is that when somebody finances or refinances a car, they do not need gap insurance because it's written into their new policy automatically, saving both money, and several extra steps. 
"We're positioned well to help support the incredible growth happening in this area," Jim says. "That's why they decided to put a State Farm here. My favorite thing about what I do is helping people to manage their everyday life risk. And after completing an extensive nine month training program with State Farm, I was able to surround myself with a great team to back me up." 
Jim has seven licensed team members in life and health, auto, commercial, and business insurance working with him in the Market Common. 
"We're very customer focused," he says. "I'm trying to replicate the success we created in my other business in my work with State Farm." 
That other business is Pee Dee Bicycles. Five years ago, Jim started it in the Market Common. He surrounded himself with people who knew the industry well, and created a team that could represent his company in the marketplace and become advocates for bicycles. 
"Everybody who works there has to have an absolute passion for bicycles in some form," he says. "Because when someone walks in the store, we try to understand what they're looking for, and match them with the right bike for what they want to achieve. We're not selling them something, we're educating them through our knowledge and passion for the sport  If we're selling anything, we're selling a fitness lifestyle that is focused on cycling.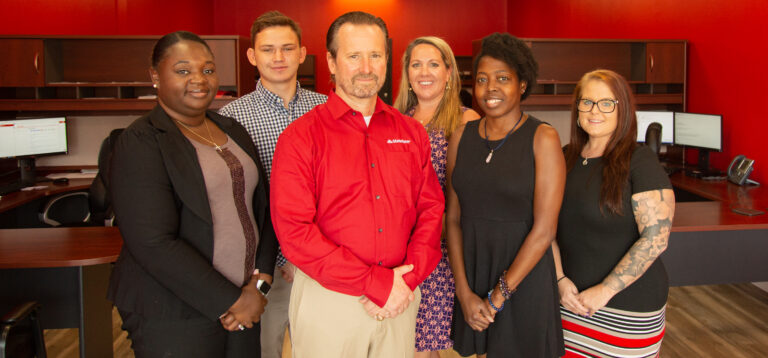 "When somebody buys a bike from us, it's not a one-time purchase, we become their trusted partner for the life of the bike, and we're there to support them. A good bike is going to last you 15-20 years; it's an investment in your health and a fun lifestyle." 
Pee Dee Bicycle carries Trek bicycles exclusively, the number one performance brand of bicycle, and Electra, exclusively, the number one comfort beach cruiser brand. 
"I aligned myself with two strong brands, Trek bicycles and State Farm," he says. "And I'm proud to represent both of them, because of the strength of the brand, the quality of the products that they have, and strength of the products that they have in the marketplace." 
Today, Jim has about ten people working with him at Pee Dee Bicycles. 
"Dana White, has done an awesome job leading our team and transforming the business to handle the tremendous growth that we have experienced in the last year," Jim says. "We serve everyone from the avid road cyclist to hard core mountain bikers, to the couple that wants to causally ride the beautiful trails in the Market Common. We spend a lot of time understanding our customers, to match them with the perfect bike that will meet their needs. 
"The focus has to be on education. If you buy something that's not comfortable, it's going to sit in your garage and rust, whereas a good bike is going to be much more fun. We want people to walk out excited, and we help get them on the path to get there. We see ourselves as being partners with our customers. It all goes back to understanding their goals. And we work on and repair any type of bike, anything from a $99 big box retailer's bike, to a high-end performance bike." 
"I love living in the Market Common," he says in conclusion, "and enjoy seeing the growth that is happening across the area. It is exciting to have two great businesses to serve the community."
Jim Whitmore State Farm
3850 South Kings Hwy.
Myrtle Beach, SC 29577
Open M – F 9am-5pm; Sa by appointment. 
843-839-3237
Pee Dee Bicycle
1600 Farrow Parkway, Unit B1
Myrtle Beach, SC 29577
843-839-4657
Open M – F 10am-6pm, Sa 10am – 5pm, Su 12 – 5pm