Jiffy Lube prides itself on top-notch customer service and quality attention for you and your vehicle. (Photo Meganpixels Parker)
Red Carpet Service For You and Your Vehicle
by Melissa LaScaleia
Steve Allison has been in the automotive service industry for over thirty years. Beginning on the West Coast in his native Portland, Oregon, he relocated to Myrtle Beach in 1994 to purchase his first quick lube franchise location— eventually acquiring a total of six. 
In 2008, he teamed up with good friend, Al Chance, and together the two purchased multiple Jiffy Lube franchise locations in Florida and also converted their six Grand Strand Shell Rapid Lube locations into Jiffy Lubes.
It took them less than five years before Jiffy Lube International recognized their dedication, hard work and customer service, naming their company as Franchisee of the Year across their network of approximately 2,000 service centers. 
The Grand Strand Jiffy Lube locations that are owned and operated by the two business partners consistently deliver on that classification, taking customer service to the next level. 
"We are super proud of the Franchisee of the Year award," Steve says. "And we intend to continue to live up to the designation. We have been able to surround ourselves with an amazing team that elevates the customer experience. Our customer service score across the company continuously ranks among the highest of all the Jiffy Lubes."
As part of their Jiffy Lube Signature Service Oil Change, they will run a full safety inspection on your vehicle; check and top off the vital fluids; and set the tires to the proper manufacturer specifications— all in about 15-20 minutes. The best part: you never need an appointment. 
They also offer a free top off service, so between oil changes you can go into any location and get your vital fluids as well as your tire pressure checked and adjusted.
Since March and the advent of Covid, the company has changed with the times, and expanded its repertoire of offerings to include in-vehicle service, right up to the payment. That way, customers and technicians all stay safe.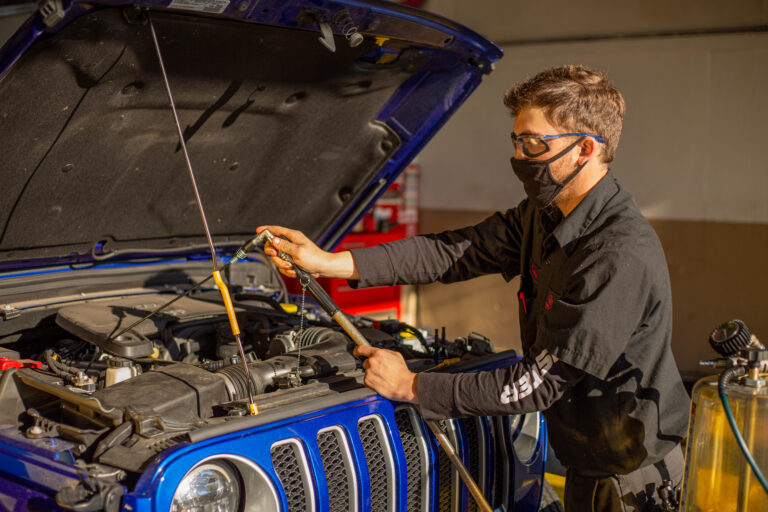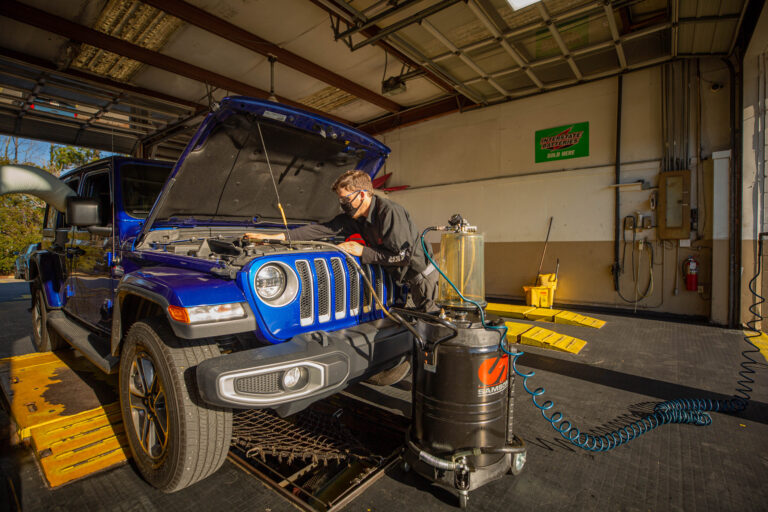 "It's all about the customers' choice," Steve says. "Our customers can go into our comfortable lounges, or stay in their vehicle while we perform their service. We realize that they appreciate a choice. 
"For many, staying in the comfort of their vehicle is more enjoyable, fun, and makes them feel protected during the pandemic. The positive comments have been overwhelming since implementing this option.
"Our customers love to be a part of the show and watch the technicians. We found that it also adds an element of trust. Even when the CDC allows people to gather openly once more, we intend to allow people the choice to stay in their vehicle."
Jiffy Lube is equipped with basements, enabling customers to pull over the open floor and have their vehicle worked on from below, making the option to remain in-vehicle even more appealing. In the rare occurrence that work requires being on a lift, the vehicle only rises a foot or so in the air; it's very safe.
For the hot summer months, the company invested in cooling units that keep customers cool in their vehicles while technicians complete the work below. They are also quiet—as this Jiffy Lube team is passionate about the small details that make a big difference.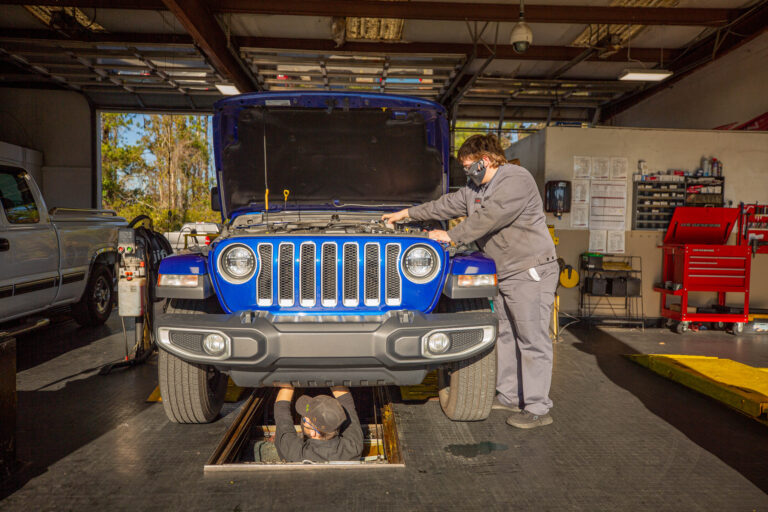 Regardless of which way you choose to have your vehicle serviced, the Grand Strand Jiffy Lubes continue to prize fast, high quality service.
"We understand that your time is valuable," Steve says. "That's why all our team members are trained and certified to get you back on the road in 15-20 minutes. We know having your vehicle serviced isn't your favorite thing to do, so we try to give you your time back, without the worry and stress of vehicle maintenance."
Back in the days when gas stations were full-service, an attendant would rush out to your vehicle to serve you when you pulled in. Today, each of Steve's Jiffy Lube locations delivers that same type of old-fashioned service. 
When you pull into one of their locations, a service technician will actually jog out to your vehicle to greet you and get you taken care of right away.
"I believe it's just the right way to welcome someone to our business," Steve says. "We believe first impressions are everything. We built our business doing things like this— nobody else does it.
"Moreover, we know that we are only as good as the team members that we have in each local store. So we are always looking to hire great people that will go above and beyond— men and women with great attitudes that truly understand our "at your service mentality." 
When you come into any of our locations, our stores are clean, our technicians— their uniforms and their hands are clean, and your vehicle is clean. We care about the details.   
"We know people can go anywhere to get an oil change and they chose us, and we simply want to show our appreciation with great service. These are the things that we are known for, and why our customers return to us each time they need their vehicles serviced. It's our mission to create a customer for life and take care of the family fleet of vehicles."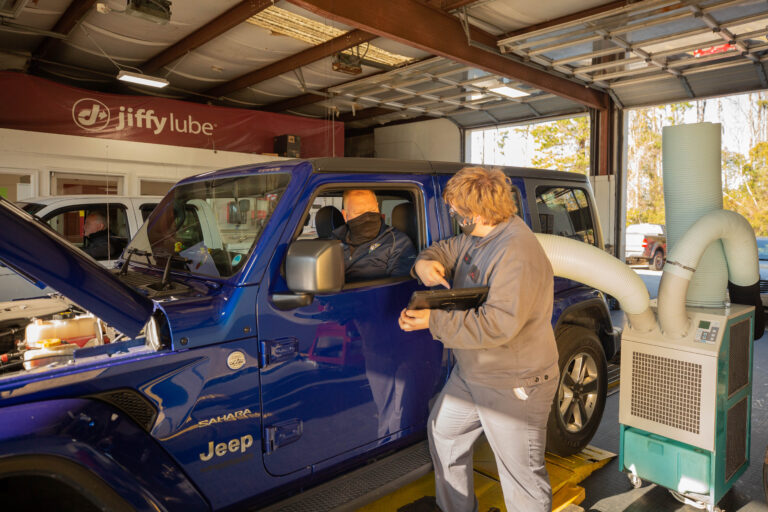 For Steve, taking care of a vehicle means prolonging its shelf-life.
"We believe that if a vehicle has 100,000 miles on it, it still has at least 100,000 miles left in it," he says. "Vehicles need to be properly maintained, but most people wait too long to service them. Some people think that because their vehicle is under warranty they don't need to maintain it, but this isn't so. How you treat your vehicle today will impact how it performs down the road. Proper maintenance is the most inexpensive insurance you can buy."
In keeping with that mission, Jiffy Lube does much more than just changing oil. They replace filters and fluids, and offer fuel system cleaning, tire rotations, and wiper blades. They now have Jiffy Lube Multicare service centers, where ASE certified mechanics perform more in-depth maintenance like brakes, tire changes, and full tune-ups. 
All Jiffy Lube technicians are trained to work on all makes and models of vehicles, including luxury and foreign ones. And going to them is easier and faster than having to make an appointment at the dealership, spending an hour, or half the day in a waiting room, or even having to take a loaner car until yours is ready.
At this time, there are three Jiffy Lube Multicare service centers in Myrtle Beach— two in Conway, and one in North Myrtle Beach; the two partners are currently in the process of transitioning most locations to be Jiffy Lube Multicare service centers.
"Nobody wants to buy another vehicle because they didn't properly take care of the one they have," Steve says. "So bring it to us, and let us take care of it for you."