We Do It All; We Get It Done
by Melissa LaScaleia
Jerribob's Mail, Print, & Design Center originally began over thirty years ago, strictly as a shipping facility. 
Jerri and Bob Bradford started the business in 1989, and over the years it evolved into a print and design center as well. After they retired in 2010, their daughter, Lisa, and her husband took it over. 
Now it's Lisa's turn to retire, and she's passed the baton to Rhonda Fussell, who purchased the business from her this past May. 
"I was living in Charlotte, and wanted to move to Myrtle Beach," Rhonda says in speaking about how she came to be the new owner. "I had a home here already. 
"I had a real estate background, but I knew I'd need a stable business to feel secure with the move. So I was looking in the papers for businesses for sale in Myrtle Beach. There were a lot of restaurants and entertainment places, but then I saw the ad for this printing and shipping business. 
"I didn't know why, but I was drawn to it. Everybody I talked to about it thought I was out of my mind, so I dismissed it. But I couldn't put it out of my mind, I kept going back to it. So finally I contacted them, and when Lisa and her husband met me, we all really hit it off. I just knew it was what I wanted." 
Rhonda has been an entrepreneur her entire life, and came from a family of entrepreneurs as well. Her mother was the first woman to ever go into the bathtub industry; her father was a builder. 
"I grew up with people telling me, whatever you want to do, make it a reality; go into it 100%," Rhonda says. "My parents pushed me to do things that I might not have ever done, or been too timid or scared to do— so nothing scares me. If I'm jumping into something, I'm jumping in. 
"I never thought I would want to get into the printing and shipping business, but here I am. Everything I've ever done in my life, I've had to learn, and this is no different."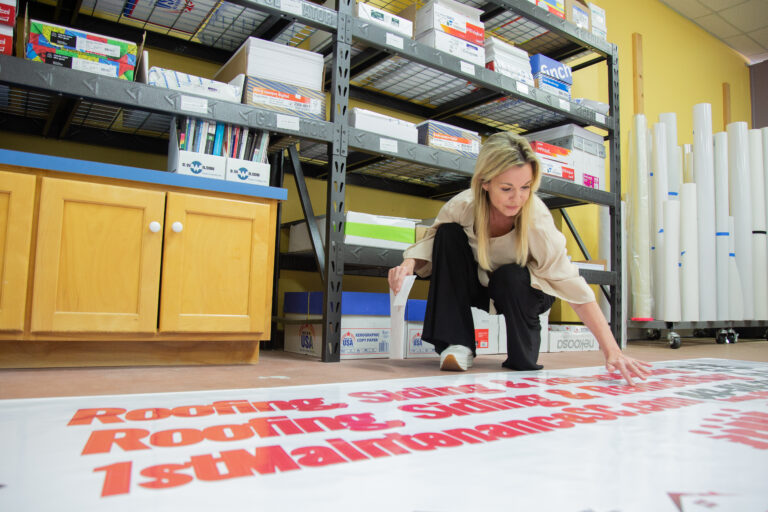 The transition has been an easy one for everyone. 
"Lisa has been great," Rhonda says. "She's trained me on everything. I feel like we're good friends, and I can always call her if I need anything. It was such a hard decision for them to make, whom to sell their family business to. They were looking for the right fit, to retain the sense of community they had created, and someone who would preserve what they had built. 
"The employees have been here for a long time, and I think they were a little nervous at first. But we really have the best time. We truly enjoy each other. It's just so much fun. And that's the way work should be." 
Today at Jerribob's, customers are first; the business itself, is a one-stop shop for everything shipping and printing. 
"The two things I got when I took over this business," Rhonda says, "are an incredible staff who can literally do anything, and incredible customers. Some of the customers have been coming here since the business started— and the customers to me are just everything." 
Jerribob's offers the community an incredible array of services. They can print almost anything. They can design custom gift wrap with your face on it; they have shredding services; notary services; virtual mailboxes; and physical mailboxes for people who are moving or are bi-coastal with no permanent address. 
They'll receive your packages and faxes; sell a comprehensive array of office and shipping supplies, as well as a wide variety of unique gift items; and customize promotional items for companies. 
"We have people who operate their entire business from this store," Rhonda says. "They use our computers, do email— we even write letters for them that they need written up.
"From your cell phone, you could email us any document and ask us to print it out. If you needed it scanned, faxed, overnighted, we could do that; if you need us to print up your business cards, your invoice forms, banners, posters or advertisements— we could do that. Just about anything you can name, we can do. We can even put your logo on Christmas wrapping paper, or put a photograph on stretch canvas for framing.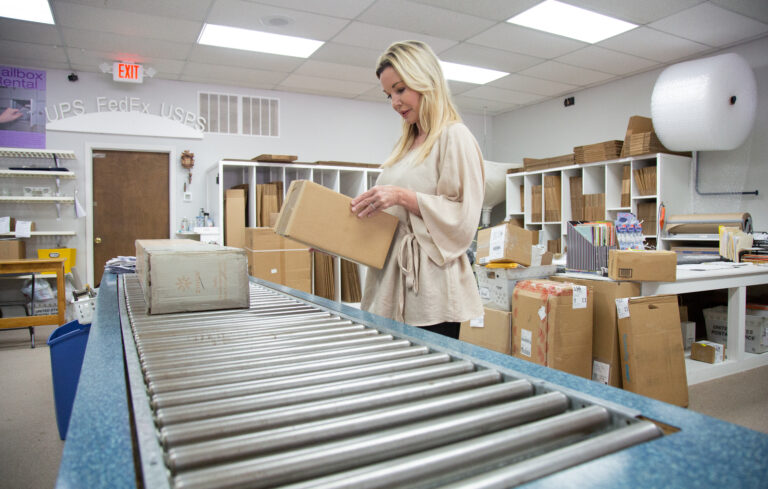 "We get a lot of golfers who come in with their golf clubs, asking us to ship them back for them. People are floored when they know everything we do here. We can probably do things your office can't do. I am absolutely loving it here." 
Another thing Jerribob's offers is their rewards program for children. During the school year, children who come to Jerribob's with a 100% score on one of their tests will get a duck stamp on their hand, and receive a rubber duck as a present. Some children collect them. 
"All of us employees make a big deal out of how great the kids are doing in school; the children get a real kick out of this place," Rhonda says. 
"People bring their pets in— the dogs know who we are, they automatically come behind the counter, looking for their treats." 
Rhonda wasn't at Jerribob's long before applying her entrepreneurial skills to create even more options to better serve her customers. 
"I'm developing a service where customers can call, and I can come and pick up their items to ship," she says. "We already offer pick-ups for most of the hotels and real estate companies in the area, where we pick up items a customer has left behind and package it up and ship it out to them. But we have a lot of elderly clients; oftentimes getting out is hard for them, and I'd love to be able to offer more services for them." 
Jerribob's already has a very unique gift store, and Rhonda has plans to increase the selection for that last minute gift. She's also gearing up to expand the coffee station and offer cakes for purchase. 
"I'm adding different things to make people feel at home," she says. "We want them to feel like they're part of a family. I really love it here. It's been one of the best decisions I've ever made. To me it doesn't even feel like work. We have so much fun together, and with our customers." 
Jerribob's Mail, Print & Design Center
1413 Hwy 17 South, Surfside Beach, SC 29575
843-215-1338
jerribobs@yahoo.com
M-F 8:30am-6pm; Sa 10am-2pm