Where Quality, Price, and Great Service Co-exist
by Melissa LaScaleia
"My wife Nell and I moved here in 1977," John Boyd, the owner of Island Furniture Porch Patio and Pool tells the Insider in an interview.  "And we've had a retail footprint in this area ever since that time."
The duo began in the wholesale lamp industry, selling lamps made out of seashells to furniture stores, boutiques, and lighting centers up and down the East and Gulf Coasts.  Eventually they opened several retail locations along the Grand Strand.  Over the years, to meet the evolving tastes and demands of their clients, they began to sell furniture.
Today their primary focus is on offering high quality outdoor furniture, including Amish pergolas, gazebos, and free-standing structures.
"We've been in this business in the South Strand since 1982; we've been at this current location since 1990; and it's been my wife and I the entire time," John says.  "And during that time, we've reinvented ourselves and what we offer every ten years or so."

The driving force pushing John and Nell to transition into carrying exclusively outdoor furniture is the recent explosion of the poly lumber industry.  Poly lumber is an environmentally friendly plastic product made out of recycled milk cartons.  Contrary to what the uninitiated may think, this is not a cheap product, either in terms of quality or price.
"Recycled plastic costs more than the original because it costs more to recycle it than manufacture it," John says.
The company who makes the furniture John stocks is Amish, and they also make pergolas and gazebos.  Most items in their catalog come in forty-two different colors as well as a myriad of color combinations.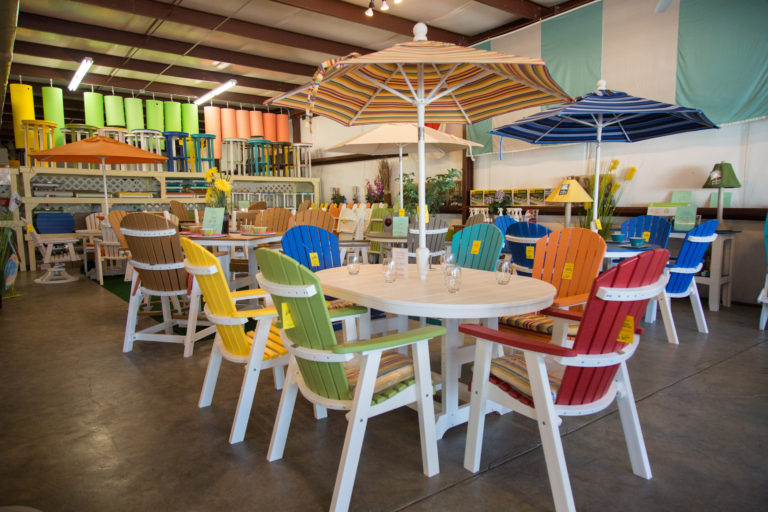 "We probably have one of the largest displays of this outdoor furniture on all of the East Coast," John says.
Poly lumber furniture produces less waste from manufacturing than other materials, doesn't wear as poorly, and doesn't require a lot of maintenance to stay looking good.  And it's primarily made in the United States.  Outdoor recycled furniture appeared on the market about ten years ago, but it took a while before people caught on to its virtues.
For those looking for more traditional styles and materials, John and Nell also carry wicker, aluminum, and teak.
"We have a variety of product lines to choose from," he says.  "I've done the shopping for you. I've traveled, I know the products, the quality, and the prices.  Everything I'm selling here is as good as you can buy on the market offered at heavily discounted prices."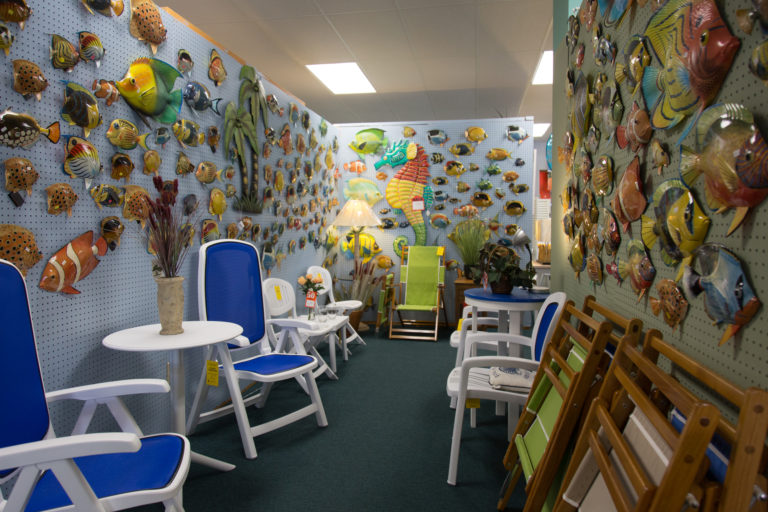 "Retail today is nothing like it was in 2006 and before," he continues.  "People then would come into the store, see a lamp they liked, and buy it.  Today, they take a picture and look online to see if they can get it for $5 cheaper."
To compete with the new shopping trends, John and Nell do their own internet research and can match or offer better prices than are found online.
"We also offer the full service that a large company does," John says.  "There is a saying in this business: there's price, quality, and service, but you can't have all three, only two.  But for us, we strive to give you all three— high quality products, at low prices, delivered with quality service."
Island Furniture Porch Patio and Pool
Open M-Sa 10am-5pm.