Where Shoe-Shopping Changes Lives
by Melissa LaScaleia
The Walking Company is a health and wellness footwear store located on Howard Avenue in the Market Common, that specializes in customization of its footwear to help you find the most comfortable shoes for you. Whether you're walking, running, or simply living life on your feet, with their latest foot scan technology, they can analyze the specific contours of your foot to determine the support you need for that activity.
The Walking Company carries a majority of the world's comfort shoe brands. They have shoes for a myriad of lifestyles: runners, walkers, hikers, construction workers, culinary workers, professionals, tourists.  There are shoes for special evenings out, the day exploring a new city, for people with a bad back, and those who just want a comfortable shoe.
Ardent flip-flop lovers need no longer feel guilty about indulging in this addictive style habit which is often touted as harmful for your feet and back; some years ago The Walking Company launched Abeo, their own exclusive line of fully customizable flip flops with arch support.
It began after the company's CEO spent an unhappy vacation in uncomfortable flip flops. He came back with a mission to create a flip flop that feels good on your feet and gives the support your body needs. The line then evolved to all kinds of footwear with three different types of arch support.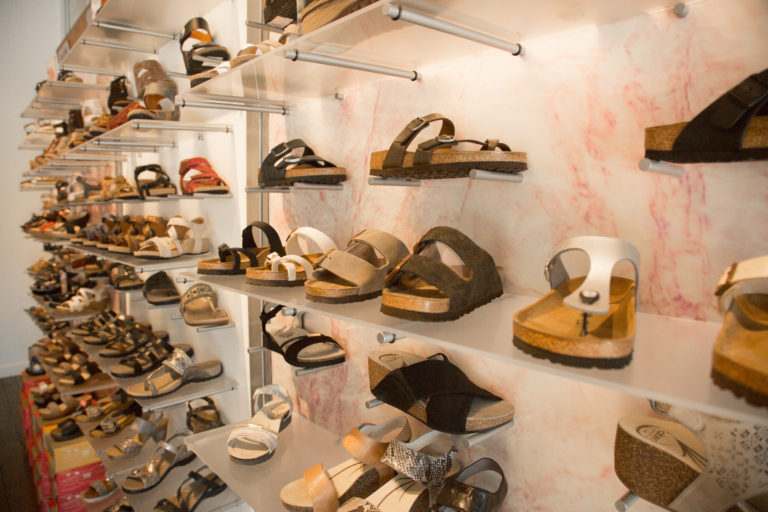 "We do an individual foot analysis and that will determine your pressure points and your arch type," Michelle Gallagher, the store manager says. "Then we use the foot analysis to determine which orthotic is right for your foot type. Orthotics benefit everybody."
Michelle Gallagher has been helping people in the customer service industry for twenty-nine years. She's been the store manager of The Walking Company for the past three. Michelle and her assistant manager, Gilly Thaxton, who has been working for the company for a year-and-a-half, both have a passion for helping people.
"When we came here, we were looking for more than a job— we were looking for a job we loved," Michelle shares. "When a woman comes in and tells us, 'My feet are hurting,' and we help her and later she comes back and wants to give us a hug because we made her feel better— that's just an awesome, rewarding experience. We honestly do not sell shoes. We change people's lives."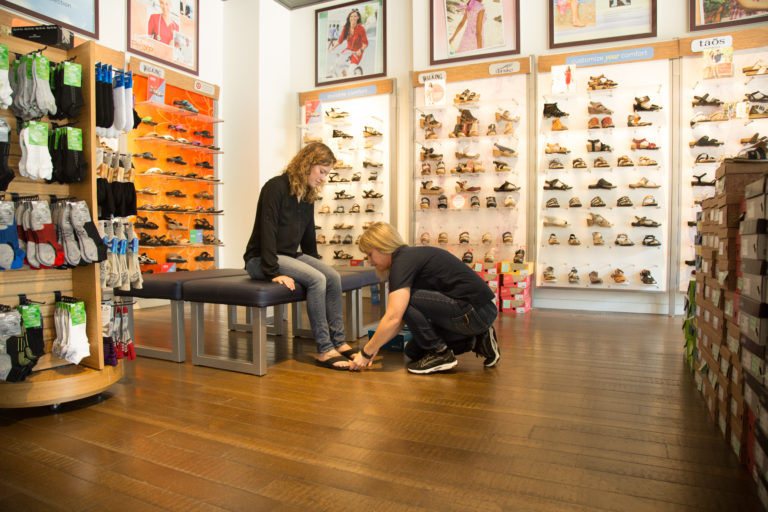 Gilly, who is originally from northwest Ohio and has lived here for eight years shares, "I get very excited when our customers feel better."
"I had a lady come in who lived in the Market Common who literally could not walk," Michelle says. "She bought shoes from us, and now she's running. We have people who leave here crying. Gilly and I, and our entire staff, will tell you that we don't want you to take a shoe if it doesn't feel great. We want you to feel good. It's the ultimate satisfaction when you've changed someone's life. It's a job, but it's a passion."
The company, which started in Santa Barbara, California, just celebrated their 25th anniversary. There are over 230 stores in the company; last year the Market Common store distinguished itself in the company for the sales they achieved.
"We experienced unbelievable success for a store located in a growing economy," Michelle says. "We had a slow start, then hit the ground running, and we are not slowing down. Our store works well in the Market Common because you have people who lead a very active lifestyle. They walk a lot, they bike, they run— they are into fitness.
"There are a lot of industries here where people are on their feet all day— they need comfort, support, and cushions. There is something for everybody here.
"Tourists often stumble upon us in a desperate state— they Google us from a hotel because they cannot walk anymore, and they come here to get their feet back in order. Other times, this is one of their destinations because we made them feel good last year and they come in announcing, 'I'm back again!'"
"When people come into our store," she adds, "they're not just shopping for shoes, they're having an experience. Often, they're looking for a life-changing experience. They are in pain, and they are done with it.
"Let us give you the opportunity to change your life. We like a good challenge."
We admired the Walking Company while they were here. They are now permanently closed in Myrtle Beach.